2017 KMA Annual Meeting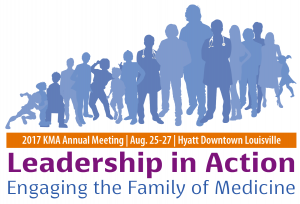 The 2017 KMA Annual Meeting will be held Aug. 25 - 27 at the Hyatt Regency, Louisville. Highlights of the meeting:
Friday, Aug. 25
"Meet the Mandates"
Keynote speakers include:
Sam Quinones, author of Dreamland, named one of the best books of 2015 by the Wall Street Journal and Slate.com., will discuss the origins of opioids, the use of these pain killers as recreational drugs and how they connect with the explosion in heroin use.
Ivana Grahovac, Director of Advancement for Facing Addiction, Inc., will speak on recovery support and addiction disorders from her own personal experience in long-term recovery from substance abuse. 
Saturday, Aug. 26
Kentucky Physicians Leadership Academy
Sunday, Aug. 27
Caucus Meetings and House of Delegates
Thank you to KMA Corporate Affiliates for supporting KMA this year, including the Annual Meeting.