KMA Virtual "Advocacy in Action Month" February 2021

KMA physicians are encouraged to engage with their legislators to promote priority issues as the Association hosts a virtual "Advocacy in Action Month" throughout February 2021.
Advocacy in Action Month will replace "Physicians' Day at the Capitol," the in-person KMA advocacy event held in Frankfort each year, out of concern for the health and safety of Kentucky's physicians during the COVID-19 pandemic.
There will be a number of ways members can participate, including a virtual member briefing that will discuss the Association's legislative priorities for the session on Feb. 1 at 7 p.m. ET. Members will also be encouraged to reach out to their legislators each Tuesday during the month as part of the initiative's "Talk Tuesdays" events, as well as to contribute to the Kentucky Physicians Political Action Committee  (KPPAC) during "KPPACtion Day" February 18.
KMA leadership and members of the advocacy team  provided an update on KMA's 2021 Legislative Priorities as well as other legislation of interest and outlined steps you can take to help make 2021 another successful year for KMA advocacy during the Advocacy in Action kickoff webinar. Click on the link below to view.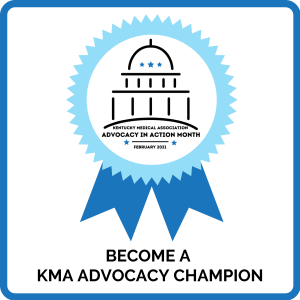 At the end of February, KMA will recognize members who complete the following actions as "KMA Advocacy Champions":
Retweet KMA's advocacy-related Twitter messages on a weekly basis
Communicate with a House, Senate, or relevant  legislative committee member each week
Write a Thank You note to a House and/or Senate member
Complete the Advocacy Response Form each week to let KMA know about your outreach