Community Health and Advocacy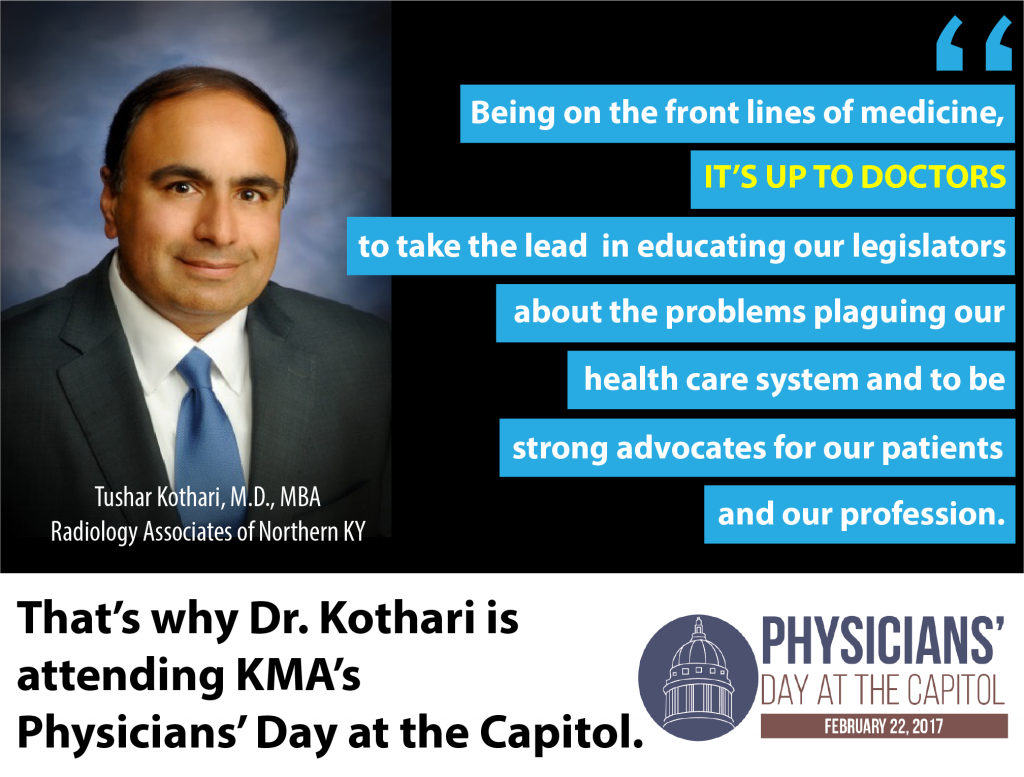 The Kentucky Medical Association is the only association in Kentucky that represents all physicians and patients before the Kentucky General Assembly, the courts, governmental regulatory agencies, the media and Congress. The KMA works to protect the practice of medicine in Kentucky and to assure that patients have the access to the care they deserve. 
KMA developed advocacy priorities for the 2016 legislative session and was successful in advocating for the passage of two of the four issues. Besides the advocacy priorities, KMA monitored and spoke on behalf of physicians on other issues that came before the Kentucky General Assembly in the 2016 session. Click here to see how legislators voted on issues important to physicians.
In recognition of the key role physicians play in leadership, KMA has developed the Community Connector Leadership Program (CCLP) to provide an opportunity for physicians to enhance their leadership skills through education and direct community involvement. Community Connectors are physicians who are engaged in their communities in an effort to promote KMA policies and the practice of medicine in Kentucky by working with business, government and civic leaders.

Work Remains as the 2017 Legislative Session Winds Down
As the 2017 session of the Kentucky General Assembly enters its final days, there's still work to be done on bills important to physicians and their patients. One KMA priority bill – Senate Bill (SB) 4, which creates Medical Review Panels in Kentucky – is on its way to the governor, but other important bills are still in the legislative arena.
Smoking Cessation: SB89, a KMA priority bill that would remove barriers to tobacco cessation treatments recommended by doctors for smokers who want to quit, awaits a third and final reading in the House of Representatives. The bill, sponsored by Sen. Julie Raque Adams (R-Louisville), ensures that smokers who want to quit will have access to, and coverage for, FDA-approved tobacco cessation medicines and services recommended by the U.S. Preventive Services Task Force. It requires both Medicaid MCOs and private insurers to cover those treatments and significantly reduces restrictions and limits of coverage that often act as barriers for patients seeking smoking cessation services. The bill was reported favorably by the House Health and Family Services Committee March 2 and received second reading on the House floor March 3. It is scheduled to be heard on the floor Tuesday, March 14.
Domestic Violence Reporting: SB86, a KMA priority bill sponsored by Sen. Alvarado, is yet to be heard in a House committee; it has been posted in the House Judiciary Committee. SB 86 would amend the state's domestic violence reporting law by eliminating direct reporting by healthcare providers to the Cabinet for Health and Family Services. Instead, providers would link victims of domestic and dating violence to protective services for those who choose to accept them. The current domestic violence reporting requirement has three major flaws that must be addressed. First, data from CHFS shows that mandatory reports of domestic violence rarely result in protective services being provided to a victim. Second, mandatory reporting laws can be a barrier for individuals who want to reach out for services. Finally, victims can face increase risk by reports of domestic violence being made. As a result, research from the University of Kentucky found that if women knew in advance that their case would be reported, they are significantly less likely to report abuse or contact a domestic violence shelter. The legislation, proposed by the Kentucky Coalition Against Domestic Violence, removes a potential barrier for individuals who want to reach out for services. SB 86 was passed on a 38-0 vote in the Senate Feb. 23. While prospects for SB 86 remain unclear, KMA continues to advocate that the legislation be heard in committee and passed by the full House prior to the end of the 2017 legislative session.
Peer Review Protections: SB 18, which effectively protects the peer review process to allow physicians and hospitals to assess their work without the possibility of their words being used in a medical malpractice claim, also nears a final reading on the House floor. The bill, sponsored by Sen. Ralph Alvarado, M.D. (R-Winchester), would make medical peer review discussions confidential and privileged and not subject to discovery, subpoena or introduction into evidence for lawsuits. Several unfriendly amendments to the bill have been filed, and KMA appreciates the efforts of doctors to encourage their representative to support the bill without those amendments. If adopted, SB 18 would put the Commonwealth's peer review statute in line with 48 states across the country. SB 18, like SB4, is a critical step in reforming Kentucky's legal liability environment, making the Commonwealth more attractive to doctor recruitment and retention, and promoting greater patient safety.
Other bills of interest
Prescription Limitations: House Bill 333, a bill that would make it a felony to illegally sell or distribute any amount of fentanyl, carfentanil and related drugs tied to an increase in drug overdoses in Kentucky, received a second reading and was returned to the Senate Judiciary Committee March 7 for further action. The bill includes a provision to limit prescriptions for Schedule II controlled substance to three days, with several broad exceptions. The bill was overwhelming approved by the House of Representatives but would need action by the Judiciary Committee and the full Senate before moving forward.
Smoke-free Schools: The future is uncertain for SB 78, sponsored by Sen. Alvarado, which would prohibit the use of tobacco products at schools, in school vehicles and at school-sponsored activities. The law would take effect with no later than the 2018-19 school year. The bill was approved by the full Senate Feb. 15 and was referred to the House Education Committee, where it has not received a hearing.