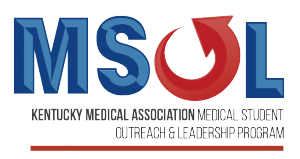 The Kentucky Medical Association Medical Student Outreach and Leadership Program is designed to promote community involvement, as well as to give students an opportunity to learn more about the political, social and economic issues in the health care system. Those who complete the program will be recognized by KMA.
The MSOL program is available to students at the University of Kentucky and University of Louisville, and in 2019 was introduced at the UK College of Medicine Bowling Green campus and the University of Pikeville-Kentucky College of Osteopathic Medicine.
Since its inception in 2015, more than 430 students have participated in some aspect of the program, with more than 200 graduating from all program requirements.
Participants in the MSOL Program must complete four steps.
Complete an online webinar.
Complete a public health outreach project.
Attend the KMA Legislative Advocacy Presentation held at the local Medical School.
Attend one of the other KMA medical student presentations being held at the local Medical School:
Health Care in Kentucky – Overview of the medical industry, health and the marketplace in Kentucky
Basics of Health Care Finance (Part 1) – Overview of the health care financial system, including the basics of Medicare, Medicaid and the physician reimbursement services
Basics of Health Care Finance (Part 2) – Continuing discussion of the basics regarding the business of medicine, along with an overview of employment contracting issues.
Contact Amber Laflin at laflin@kyma.org for more information.
Read more about the MSOL program featured in Medical News