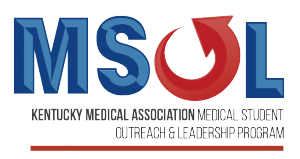 The Kentucky Medical Association Medical Student Outreach and Leadership Program is designed to promote community involvement, as well as to give students an opportunity to learn more about the political, social and economic issues in the health care system. Those who complete the program will be recognized by KMA.
Participants in the MSOL Program must complete four steps.
Complete an online webinar.
Complete a public health outreach project.
Attend the KMA Legislative Advocacy Presentation held at the local Medical School.

Health Care in Kentucky – Overview of the medical industry, health and the marketplace in Kentucky
Basics of Health Care Finance (Part 1) – Overview of the health care financial system, including the basics of Medicare, Medicaid and the physician reimbursement services
Basics of Health Care Finance (Part 2) – Continuing discussion of the basics regarding the business of medicine, along with an overview of employment contracting issuesAttend one of the other KMA medical student presentations being held at the local Medical School.
Contact Laura Hartz at hartz@kyma.org for more information.

Mason Johnson Values Mentorship and Seeks to Give Back to His Community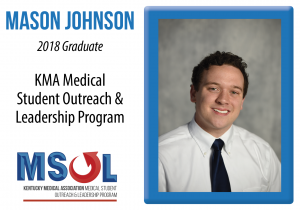 Mason Johnson's biggest mentor is his brother Ryan. "I've always looked up to him," Johnson said. "He's like a second parent to me."
Johnson grew up in Pikeville and attended undergraduate school at the University of Kentucky where he earned a bachelor's degree in biology. Mason is a first-generation college graduate and the first in his family to become a doctor. He's currently a second-year medical school student at UK.
"I'm proud of him, not only for what he's accomplished so far, but for just being an all-around good person," Johnson's brother said.
His mom, Diana, is a hairdresser and his dad, Justin, is a retired coal miner. "They're some of my biggest supporters," Johnson said.
Johnson knew he wanted to become a physician after participating in the University of Pikeville's Professional Education Preparation Program (PEPP) during the summer before his senior year of high school at Shelby Valley High School.
According to the program's website, "The program seeks to address the critical shortage of physicians and dentists in rural and under-served communities of Kentucky by supporting students who hope to return to their home county or a similar geographic area to practice
medicine or dentistry." He enjoyed it so much that he participated in the program two more times—UofL's PEPP program before his freshman year of college and UK's during the summer before his junior year of college.
"I realized the level of health care disparities in my hometown and the shortage of doctors and health care workers, and I use this as a motivation when things get tough (in medical school)," he said.
Johnson is a recent graduate of KMA's Medical Student Outreach and Leadership Program (MSOL). For the program's community service requirement, he volunteered in the Salvation Army Clinic, interviewing patients. "It's important to give back to your community," Johnson said.
He said the MSOL program helped him realize he doesn't have to wait to become a doctor to be a health care advocate. The last two years, he's served as a medical student government ambassador for his class.
As an undergraduate, he participated in UK's chapter of the College Mentors for Kids after-school program all four years of college. "I had mentors help me growing up and to potentially be that person for one of those kids is nice," Johnson said.
Johnson is engaged to Katie Thacker, also from Pike County. Both graduates of Shelby Valley High School and UK, the couple entered and recently won a wedding sweepstakes hosted by WTVQ, a television station in Lexington. The giveaway covers $30,000 in wedding costs that will go toward their wedding in March. "It was a big relief (to win)," Johnson said. "It will make it so much easier."
In his spare time Johnson likes to spend time with his new puppy and attend UK basketball and football games with Katie. "And wedding planning," he added.
Faihza Hill Seeks to Serve the Underserved, Be Involved in her Community and Impact Families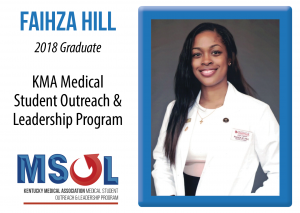 Faihza Hill has a lot of grit and determination.
Hill was faced with a major obstacle in high school when she tore her ACL playing basketball, a sport she's played since she was 9 years old. "When I initially got hurt, it was very devastating for me," she said. "It felt like a piece of who I was, was being taken away prematurely. I was very determined to try to get back to my baseline."
After undergoing three surgeries, she wanted to prove to herself that she was still capable of succeeding.  "Unfortunately, my surgeries weren't as seamless as most," she said. "My body underwent a lot more damage than anticipated. It made it harder. But I still wanted to prove to myself that I was capable of doing it. I trained, and I pushed through. There were a lot of nights in the gym when I was by myself and I was trying to train my body to run again. It took a lot of grit."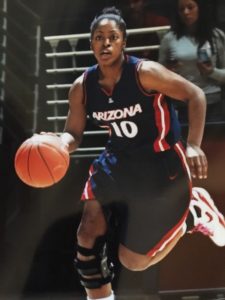 She attended the University of Arizona and played on their women's basketball team even though she did not receive an athletic scholarship.
"I come from a long line of outstanding athletes," Hill said. "My mother played basketball for Berkley and my father played football at Purdue. I have uncles and cousins that played football in college as well."
She said this experience taught her to be kinder to herself and listen to her body. "It reminded me that I'm human," she said.
Hill is now a third-year medical school student at the University of Louisville and is the first person in her family to become a physician. She is completing a Distinction in Medical Education degree and holds a Master of Science in Physiological Sciences and a Master of Public Health with a concentration in Policy Management both earned from the University of Arizona.
"My goal is to become an outstanding physician who is great at the medical sciences, who is involved in community outreach, who advocates for my patients, who is able to be involved in medical education and understand that policies are what create opportunities," Hill said.
This desire to serve others was instilled in her by her mother, Mazetta, and father, David, who worked with the San Francisco, Calif., city and county government for over 35 years helping underserved youth in the community. "They provided a positive outlook for those kids who grew up in the inner city and acted as role models and mentors for many generations," Hill said about her parents.
Hill was influenced not only by her parents to become a physician, but also by her cousin Deja, who was born premature and was diagnosed with cerebral palsy, hydrocephalus and severe asthma.
"Despite the statistical odds, they (the doctors) were still going to try everything they could," Hill said. "It was through a lot of prayer and it was through medicine that my cousin was able to survive. I was really touched with how they interacted with us."
"I felt like I wanted to be able to provide that same type of care and comfort for other families," Hill said. "Watching the impact my parents had on the community, I wanted to figure out a way to intertwine both of those worlds."
Hill comes from a close-knit family and says she can't name just one person who's had the greatest influence in her life. "Everyone has embedded a piece of themselves in me and they've all placed such love and support behind me, I feel like I'm walking in their footsteps," she said.
She lives by the principle her great grandfather James Reece taught her dad, who passed it on to her— "Wisdom is the principal thing; therefore, get wisdom: and with all thy getting get understanding" (Proverbs 4:7).
"Regardless of what I'm doing or what obstacles I come up against, I try to live by that principle," Hill said.
Before she moved to Kentucky, Hill succeeded in accomplishing one of her goals—to impact her community. She completed a community needs assessment for minority women in Pima County, Calif. on breast health and barriers to care and submitted this to Susan B. Komen, who used it to help meet their needs and fill the gaps in care. "I'm really proud of this work that gave these women more access to resources and education," she said.
Why MSOL?
She participated in KMA's Medical Student Outreach and Leadership (MSOL) Program to give her an opportunity to learn more about Kentucky and to learn more about the policies that are in place in Kentucky and how the medical association is active here in the community.
"This was a great opportunity for me because it integrated and promoted community health and involvement, but it also has an advocacy component and provided us with some leadership skills that we can take with us in whatever profession we decide to go into," Hill said.
For the MSOL community outreach requirement, Hill participated in UofL's School of Medicine "Snuggle Squad" at Norton Children's Hospital where she spent time with at risk babies who weren't getting a lot of human interaction other than what was provided by the staff. "It was therapeutic for them, but it was also therapeutic for me because medical school is tough," Hill said. "We spend hours in the library trying to learn and we don't have very much interaction with patients. It gave me more drive to fight through the hard days."
While she was at Norton, she got a chance to speak with social workers where she learned more about how the foster care system works with the healthcare system. "Learning how that whole process works is very helpful for all of us to be mindful of for our patients in the future," she said.
Even though her family is "a million miles away," Hill says she enjoys spending time with her family when she's not in the classroom. Sometimes they visit her when she's on break. "We explore the country and drive around to different states that we haven't been to and we absorb the nature. It's so beautiful over here."
Kristin Schutzman Inspired by Grandmother to Become a Physician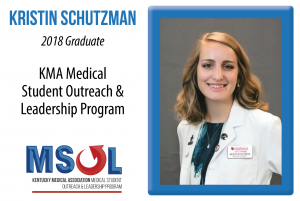 Kristin Schutzman has known since childhood she wanted to be involved in medicine. Her maternal grandmother and retired nurse, Jean Corron, inspired her to pursue her dream.
"I've always really looked up to her and got that drive to do something in the medical field from her," Schutzman said. "She's always been a very giving, loving person. I know that carried over to her work as a nurse. I've always tried to emulate that aspect of her. She's such a good person — a total saint."
Her grandmother worked well past retirement age but decided to retire about two years ago to take care of her husband who has since passed away.
"She would tell me about medicine and her love for her career, Schutzman said. "Seeing how much passion and love she had for caring for patients really influenced me."
The oldest of four siblings, Schutzman grew up in Alexandria in Northern Kentucky and is the first person in her family to become a doctor. She graduated from Bishop Brossart High School where she discovered her love of learning and started to realize she wanted to go to medical school. "That was confirmed throughout college and during the application process for medical school," she said.
After graduating from Thomas More College with a major in biology and double minor in chemistry and Spanish, she was accepted into the University of Louisville medical school.
Currently a second year medical school student, Schutzman is interested in becoming a pediatrician. However, she was initially interested in cardiology. "There are a lot of heart problems in my family," she said.  After starting medical school, she's had some experience working with kids, which helped solidify her interest in pediatrics.
Last summer she did a pediatric internship at UofL where she got to spend four weeks shadowing a doctor and see patients on her own. She got to present patients to physicians, "which was a really cool experience," she said.
Schutzman is a 2018 graduate of KMA's Medical Student Outreach and Leadership (MSOL) Program. She said the program exposed her to some of the aspects of the medical field that she doesn't get to see in the classroom such as the business of medicine and the legal system— "things that really impact how we can practice medicine," she said.
"Since I'm interested in pediatrics, advocacy for patients is a really huge component. Obviously, kids can't really advocate for themselves. I wanted a better idea of things I could do in the future as a physician and start doing them now."
For the community outreach portion of the program, she volunteered with Norton Children's Hospital as a part of the Students Making Illness a Little Easier (SMILE) program, where she played with children to help them forget about being sick.
"It was a very rewarding experience as I hope to be a pediatrician," she said. "I enjoyed spending time with these children to get a better idea of what they go through as patients and helping to make that process easier on them."
She's also helped rebuild houses for families in need through Housing Opportunities of Northern Kentucky (HONK), and she's worked with Family Promise, an organization through her church that helps keep homeless families together. She helped set up the space where they stayed, served meals and provided entertainment for the children.
During medical school she became part of a new group called the Louisville Diaper Campaign to help raise awareness of the diaper gap in Louisville. "A lot of low income families struggle with this," she said. "Government assistance programs don't help cover the cost of diapers. Families have to deal with, do I turn the heat or do I pay for diapers? It's a really big issue that most people don't know about unless it personally affects them."
In her spare time, she and her husband Craig, a third year medical student at UofL, like to check out the food scene in Louisville, visit family and friends in Northern Kentucky and see superhero movies—especially the Marvel movies—the day they come out.
Craig is interested in possibly specializing in Emergency Medicine, combined medicine pediatrics or family medicine.
They have thought about potentially working together someday. His sister is a nurse practitioner. "We've thrown around the idea of opening up a family practice someday," she said.
"We'll see where life takes us."
Her Love of Learning and Helping Others Drives Future Physician Hannah Graff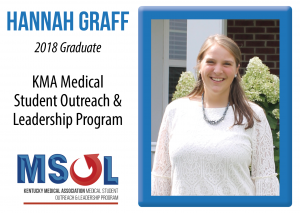 Hannah Graff has known since kindergarten she wanted to become a doctor.
It was around this time she had to get stiches. "I remember watching them put the stitches in and basically sew my leg," she said. "It made me want to be able to fix things."
Her interest in medicine was fueled during high school. "I remember being fascinated by how the body works and how things can go wrong but they can be fixed." She dissected a frog in high school, and called it, "the coolest thing in the whole world."
She grew up in Northern Kentucky and was homeschooled off and on during this time. "My parents left it up to us," she said about where she and her three brothers wanted to attend school.
She had the opportunity during her last two years of high school to attend the Gatton Academy of Mathematics and Science located on Western Kentucky University's campus. "It's one of the best decisions I've ever made," she said. "It challenged me to go further and to fall in love with learning that much more."
Graff will become the first physician in her family when she completes her medical training at The University of Kentucky. She's currently a second year medical school student and is interested in pediatrics.
She received her undergraduate degree in biology at UK with minors in math and German. She's currently a member of the United States Army in the Health Professions Scholarship Program. This program offers prospective military physicians a paid medical education in exchange for service as a commissioned medical department officer.  She dreams of being stationed in Germany someday.
One of the reasons she decided to participate in KMA's Medical Student Outreach and Leadership Program (MSOL) was because of her desire to learn more about health issues facing Kentuckians and how to advocate for her future pediatric patients. "You have to advocate for things to change," she said. "And my patients won't be able to advocate for themselves."
Her mother, Carole, reinforced in Graff her belief that it's important to know what's going on around you so you can know what the actual issues are and determine where you can make a difference. "My mom always said, 'It's great to give help, but you need to give help for where it's needed, not just where you think it's important.'"
For Graff's community service portion of the MSOL requirement, she helped plan an event at Mary Todd Elementary School in Lexington to help educate students about the importance of sleep. "We had a researcher come in and talk about what sleep does, how it affects you and why it's so important," she said. "We had activities for the kids like, 'When should my bedtime be vs. what is my bedtime.'"
She's had an interest in the value of sleep since high school where she wrote a research project on why schools should consider changing the time they start based on a teenager's circadian rhythms.
In her spare time, she enjoys visiting The Arboretum, the botanical garden located on UK's campus. She also enjoys dancing and spending time as a volunteer with the children's ministry at her church.
But the majority of her time outside of class is dedicated to her upcoming wedding this month to her fiancé, Josh Fugate, a sales engineer in Georgetown.
Charles Shofner Motivated by Grandmother's Health Problems to Become Physician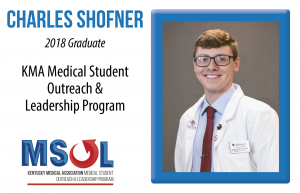 Growing up, Charles Shofner spent a lot of time at Jewish Hospital vising his grandmother who had heart problems and multiple surgeries. Her health started to decline when he was in middle school.
"That's really when I became captivated by medicine and the power that it has to bring second chances and bring people together," he said. "I knew I wanted to be a part of the medical world, but I didn't know until my last year of high school that I wanted to be a physician. I wanted to take on more responsibility of the patient care. I wanted to have more of a say rather than following other people's recommendations."
A first generation college student, Shofner is currently a second year medical school student at the University of Louisville. He grew up in Central Kentucky and attended Marion County High School.
He said for a long time he didn't know he wanted to be a doctor but knew he wanted to make a difference in people's lives. Maybe that's why when he told his family he wanted to become a doctor they asked, "Are you sure?" And he said, "Yes, I'm positive."
"My family is super proud," he said. They've started asking him about their medical aliments and joked, "I feel like I get a text message from my mother on a daily basis," he said. "The message might be, 'I think I hurt my toe. Should I be worried? Should I see a doctor'? I don't know how to answer that yet. Holidays are definitely not the same anymore."
He graduated from the University of Louisville in 2017 with an undergraduate degree in biology and psychology. "I'm a Cardinal through and through," he said.
He knows his psychology degree will come in handy as a physician. "I think being a psychology major at UofL as an undergrad taught me to appreciate the mental health side of things and that medicine is not solely founded on the basis of science, but there's some art and compassion behind it too," he said.
Shofner is a 2018 graduate of KMA's Medical Student Outreach and Leadership Program. Through this program he learned, "It's never too early to start advocating in the medical field," he said. "As physicians, we have to advocate for our patients every day. As a medical student, one of the ways you can start advocating for your patients is to find topics you're passionate about and advocate for them either in the Kentucky legislature or by giving back to your community."
Advocacy and community service are important to Shofner. During his undergraduate education he served as director for UofL's Relay for Life. He also spent time in Frankfort during his senior year lobbying for cancer support bills. When he started medical school and saw that it was still possible to be involved and advocate but now on the medical side of things, he said, "I was super pumped and knew I had to get involved in a program like this (MSOL). It does a good job of teaching you sides of medicine that we aren't necessarily taught in medical school. Things like finance, advocacy and even the politics of medicine," he said. "But I think that's the real world of medicine. Medical students should take the time to learn about that because it's basically there for the rest of our lives."
For the MSOL service outreach component, he was camp director for Camp Cardiac, a week long camp at UofL's Medical School for Louisville high school students interested in pursuing medicine.
"As director I was tasked with planning and directing the entire week," he said. "The camp lasted from eight to five every day. I have a lot of respect for teachers. Lesson planning is not easy." He said during the week, they dissected pig hearts, live streamed into a cardiac surgery at Jewish, practiced some suturing skills and were able to speak with doctors and nurses and researchers.
"Because of my grandmother and all of her heart problems, cardiology has always been something that I have been passionate about," he said.
When he's not studying, he's a huge movie goer and loves blockbusters and the classics. "But global health is probably my largest passion," he said. Last summer he was one of the co-trip leads for the Medical School service trip to Ecuador. Sixteen of his fellow students spent two weeks in the Amazon providing medical care to over 700 Ecuadorians.
Traveling is something he's always planning. "When I get back from one trip, it's where am I going next?"
He is also a foodie. "The food scene in Louisville is fantastic," he said. "I'm always trying to find the next great hidden restaurant."
Future Physician Leader Taylor Moody Kai Follows in Her Grandfather's Footsteps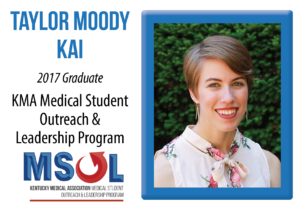 Taylor Moody Kai's grandfather, Paul E. Moody Jr, M.D., was a pediatrician for more than 50 years. Before he passed away, when he learned she was going into medical school, "he was pretty excited about it," Kai said.
Kai, a third year medical school student at the University of Kentucky, is interested in specializing in Combined Internal Medicine & Pediatrics. "He would be pretty happy that I'm loving peds so far during my first rotation," she said. "He was always convinced I'd be a pediatrician one day."
"I love kids and I love pediatrics but I know that's not what I want my full practice to be," she said. She's interested in being double board certified in internal medicine and peds. "I think it's the best of both worlds," she added. "With med peds, you get a lot more training with children. I want that to be half of my practice. I think I would like to work in a primary care setting. If I'd like to specialize further, I could."
Kai's interest in medicine was sparked after she took an honors anatomy and physiology class her senior year of high school at Corbin Independent. "I really loved the science and I've always loved working with people," she said. "I thought that medicine would be something for me to consider."
However, she also loved fashion and initially majored in Communications during her undergraduate studies at UK, thinking she'd work at a magazine. But when she did some shadowing and volunteering in the medical arena, she realized medicine was her passion and "never looked back," she said.
Kai is married to Marc Kai, also a third year medical school student at UK. They met during the first week of medical school orientation. "I just knew in a couple of weeks," she said about her future husband. They were married in December 2017.
She enjoys being married to someone who understands her schedule and what it's like being in medical school. "It's a cool experience because we completely understand the stressors and the ups and downs of being in medical school," she said. "We have the same breaks, which is really nice, and we're on a similar rotation schedule. It's been nice during our first board exam period not feeling guilty that you don't have time to spend with your significant other."
Kai says people find her to be quiet but very emphatic and hard working.  "I think I'm a very positive person also," she said. "I'm always looking for the bright side of things."
A graduate of KMA's Medical Student Outreach and Leadership Program (MSOL), Kai said she really enjoyed the Lunch and Learn presentations which touched on KMA advocacy efforts, public health issues, medical business administrative and compliance burdens, an overview of health care in Kentucky and the basics of health care finance. "These (topics) are really important for physicians to understand, even if I don't end up doing anything political," she said. "It's good to know how it all works and how it affects our practice."
Kai is no stranger to community service, a component of the MSOL program. During her undergraduate career at UK she worked with the incoming freshman class, participated in welcome weeks and trained student leaders. She also served as a teaching assistant in genetics labs and in organic chemistry and worked one summer with the GEAR UP Kentucky program as a student development advisor.
"I'm always looking at ways to further develop my leadership skills and expand my horizons," she said.
Last year Kai served as one of the co-coordinators for the pediatric clinic at the Salvation Army Clinic in Lexington. She made sure the clinic ran smoothly, had the needed supplies and helped get the word out.  She also volunteered as an interviewer for the patients.
She currently volunteers as a mentor with local pediatric patients who have a high Body Mass Index (BMI). "We basically run or walk with them and coach them about living a healthy life, being active," she said. We'll talk about their school and life and whatever stress they may be under. In the coming year, I'll be leading the activities we do before the run."
In her spare time, Kai likes to knit, bake and read. She and her husband are also active in many fitness activities.
"We like to go on group bike rides with the Bluegrass Cycling Club," she said. "We go running with John's Run/Walk Shop in Chevy Chase. We really want to be active especially since we want to be physicians. We think it's important to live the healthy lifestyle we recommend to our patients."
Kandice Roberts is Passionate about Public and Global Health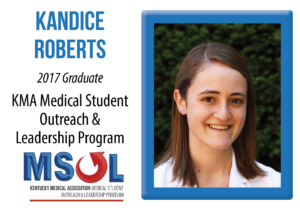 Kandice Roberts knew when she was in grade school that she would go into medicine. As the first person in her family on both sides to attend medical school, she was inspired by her brother Jared, who very shortly after birth, started getting sick.
"He had pneumonia I think nine times by the age of four," she said. "Later we found out he had common variable immune deficiency."
She remembers having a conversation with her dad when she was about 10 years old, before her brother had been diagnosed. Her dad told her if she worked hard enough she could do anything she wanted with her life. "He just casually mentioned I could even become a doctor and help people like Jared," she said. "Right then, it was like a switch flipped inside of me and I knew that's how I wanted to spend the rest of my life."
That decision has been the guiding factor that has already helped make a difference in many lives, including her brother's. "My sister and I are close," Jared said. "She's always been my role model and she gives me good advice. She's setting the bar pretty high."
"She's willing to outwork anyone. If she sets her mind to something she's going to do it," he added.
Roberts says her drive and determination are "all for the sake of my future patients and the people I'm able to serve now."
She grew up in Louisville and graduated from Sacred Heart Academy. Roberts then attended the University of Louisville, majoring in biology with a minor in Spanish and Global Public Health. During her undergraduate studies, she participated in a medical Spanish program one summer at the Universidad Veritas in San Jose, Costa Rica, where she learned about their health care system. Her favorite class, Conflict Resolution in Health, got her interested in global health and broadened her view after learning about barriers to providing health care, how people around the world deal with conflict and how people's health can be influenced.
Currently entering her third year of medical school at the University of Kentucky, Roberts is hoping to be proficient enough in Spanish to communicate with the Spanish speaking population in the United States as well as abroad. "I knew that it would be a valuable skill going into medicine," she said. "I really want to go to underserved areas in Spanish speaking countries."
She's well on her way. She's already served as a medical clinic Spanish interpreter for Kentucky Racing Health Services Center for backside workers at Churchill Downs. "I miss doing that," she said. Even though she wasn't confident in her Spanish, she was determined to do her best. "They really appreciated my help," she said.
Her interest in global health was also sparked by a book she read in high school called "Mountains Beyond Mountains" by Dr. Paul Farmer. He started Partners in Health, a nonprofit organization based in Boston that has opened free clinics all around the world targeting the most in-need populations. Roberts started a student chapter of their grassroots network, Partners in Health Engage, at UofL. "I'd like to work with them in the future as a physician if the opportunity arises," she said.
"I have a strong interest in public health as well," she said.  A graduate of KMA's Medical Student Outreach and Leadership Program (MSOL), Roberts said the program was "a good way to learn more about how I can make an impact through policy as well as serving as a physician."
"There's only so much you can really do in that physician role to make real global change," she said. "A lot of that comes from policy. I want to learn how that works and how I can get involved in policy as a physician."
One of her favorite things about the MSOL Program was participating in KMA's Physicians' Day at the Capitol. "I met a lot of really great physicians who've had a big impact in policy," she said. "It was really inspiring and I may consider that in the future."
She said the MSOL Program gives students the opportunity to learn about things that are important that they wouldn't necessarily learn in medical school because there's not enough time.
One of the requirements of the MSOL program is community service. Robert's community service experience is extensive. One experience that stands out is her participation as a Big Sister in the Big Brothers and Big Sisters program. She got to know Chelsey, her little sister, very well. "I got to know all her siblings and her mother," she said. "I really felt like I became a part of her life. I still talk to my little sister today even though we're not matched."
"Chelsey's grades improved, her behavior got better as well as her attitude towards a lot of things," said Teina Self, Chelsey's mom. "Kandice was sweet to everyone and Chelsey misses her."
She had to stop participating in Big Brothers Big Sisters when she entered medical school.
But volunteering and community service are important to Roberts. "It's something I want to keep up with throughout my career," she said.
She volunteers at the Salvation Army Clinic in Lexington where she interviews adult patients and has served as the public relations and recruitment officer.
She's considering specializing in combined internal medicine and pediatrics but is keeping an open mind going into rotations. "I would like to be able to serve both children and adults," she said.
In her rare moments of spare time she enjoys playing musical instruments and has taken guitar, piano and drum lessons. She also taught herself to play the ukulele. "I've always loved music," she said. She participated in choir in high school and during part of her undergraduate studies. "It's nice to be able to keep up with it and it definitely provides some stress relief."
Fun-Loving, Caring and Hardworking Describe Future Physician Alex Emerson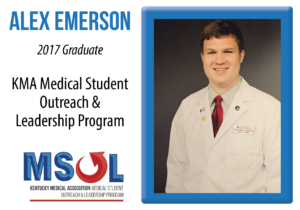 Alex Emerson knew early in life that taking care of patients would be part of his future. "I've always been drawn to helping people," he said.
He hopes the first thing people say when asked to describe him is that he's "easygoing and "lighthearted," he said. "I like to think I'm a funny person. I try to get others around me to laugh and loosen up. I hope that comes across in my patient care and my patients feel comfortable with me."
His mother, Anita, is a mammographer at The Christ Hospital in Cincinnati and his father, George, is a retired microbiologist who worked in a lab at Providence Hospital (now Mercy Franciscan Hospital).
Emerson's experience being in and out of the hospital as a child also impacted his career choice. "I always liked how the doctors treated me," he said.
A human anatomy class at Covington Catholic High School in his hometown of Ft. Wright, Ky., helped solidify his decision. "I was amazed by how the human body worked," he said.
He also worked in a nursing home as a resident aid in high school and loved talking to the people and hearing their life story.
Currently a third year medical school student at the University of Louisville, Emerson is in clinical rotations specializing in Combined Internal Medicine & Pediatrics.
During his OB/GYN rotation, he witnessed childbirth for the first time on the labor and delivery ward at the UofL hospital. "It just amazes me that for the most part, everything works out to produce a healthy baby," he said. "I've loved it. It's fun to get out of the classroom, interact with patients, provide care and get to hear their stories. You build your critical thinking skills and learn how to develop your diagnosis."
After volunteering at Kosair (now Norton Children's Hospital) he said, "I've loved the kids and how they just always looked on the positive side of things no matter how bad their situation was."
Emerson's next rotation is in a gynecologist private practice at Norton Suburban.
He met his fiancée, Jennifer Lyons, during undergraduate studies at the University of Kentucky where Emerson double majored in biology and chemistry. She is currently a third year veterinary student at Auburn University. They plan to marry two weeks after they graduate next May.
"I am grateful to my fiancée Jenn and my parents for the love and support they have provided me throughout medical school," he said.
From the beginning of Emerson's medical school, he looked up to Michael Ostapchuk, M.D., M.S.Ed., former UofL associate dean for medical student affairs who is now the associate dean of Graduate Medical Education at East Tennessee State University. "I loved how he interacted with patients," Emerson said. "He always gave them hugs. They all loved him. He's a very compassionate provider who was also pretty funny and was always making his patients laugh."
Ostapchuk thinks highly of Emerson as well. "Whatever the conversation, career planning or just saying hi, it was a delight to speak with Alex," Ostapchuk said. "His personality is such that everyone who meets him feels at ease. Alex did an amazing job during his first and second year of medical school. Once he started his clinical clerkships, he shined even more. His knowledge is certainly excellent, as are his interactions with peers, teachers, and hospital and clinic staff. His rapport with patients is remarkable."
Emerson has had several opportunities to interact with others during his participation in KMA's Medical Student Outreach and Leadership Program (MSOL) last year.
"Going into med school, I kind of knew the patient side of being a doctor from a patient's point of view," he said. "But there's a lot more—the politics, the economics—that I really didn't understand. I wanted to learn more about the legislature that's involved with medicine and how physicians can impact legislature and laws." He said MSOL gave him a better idea of "how the system works."
Community service is required as an MSOL participant. Emerson served as UofL's Medical Student Council Service Chair last year. In this role, he set up several service projects for the students.
"Service is a big aspect of medicine," he said. "A lot of students don't know who to contact or don't feel comfortable taking the initiative to start a service project so I would take that initiative, contact some people, get something together and get students signed up across the classes."
He worked with Toni Ganzel, M.D., dean of the UofL School of Medicine, to fundraise for the Kentuckiana Heart Walk, helped raise money for Gilda's Club, worked with Supplies Oversees and made stuffed animals for the Boys and Girls Haven. "I loved it," he said.
He's also served as president of Wildcat Service Dogs, a student-run organization at UK that raised, trained and educated the public about service dogs.
"I learned a lot about service dog rights and the rights of people with disabilities," he said. "I got to educate the public about that. It became a passion of mine."
He and Jennifer share a fox red Lab named Rory that was released from advanced training. "She was just a little too unsure of the foster dad," he said. "When they offered her back to us, we jumped at the opportunity because she's just a good dog." Now he describes Rory as their "security blanket."
In addition to time spent with his fiancée and dog Rory, Emerson loves to read. "I like to say I'm a bibliophile," he said. "I always have to have a book even if I don't have time to read it. It always has to be there." He also enjoys camping and hiking with his family and Jenn on weekend getaways. "It's nice to get away from busy life and sit outside and enjoy nature and not have to worry about your phone and email," he said.
Ostapchuk said Emerson's impact will continue to make a difference in the lives of others. "Alex's future, both personally and professionally, promises to be amazing," he said. "He is an intelligent, warm, and caring person. It has been my pleasure knowing and working with him and I look forward to watch him excel as he moves through his life and career."
Megan Rajagopal Chooses Opportunities that Challenge Her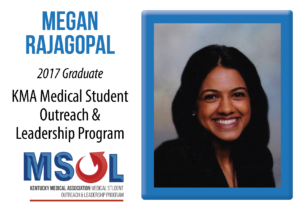 Megan Rajagopal is studying to become a neurosurgeon—a specialty she initially wasn't considering.
Her father, Karuna, encouraged her to go into politics, a field she says he's really into. But that didn't interest her like medicine did. She took a biology class in seventh grade that solidified her passion for science and medicine. Growing up in California, she chose the health track in high school and majored in biology at the University of California at Los Angeles.
She came to Kentucky to study medicine in part because that's where her father obtained his master's degree and also because, "It was the best school I got accepted to," she said.
Currently a fourth year medical school student at the University of Kentucky, she's shadowed physicians in her field and has learned from them, especially the attending physicians in the neurosurgery department at UK. "Each one had a pretty big impact," she said.
Her surgery rotation at UK was the deciding factor. "I really liked all the surgeries they did," she said. "It was fascinating. It was like nothing I'd seen before."
Rajagopal is also a musician. She's played the violin since she was three and has even played in UK's orchestra during medical school. She compares music to medicine. "The way in which you learn (the violin) is similar," she said. "It's an apprenticeship model. I go to lessons and watch my teacher play and she watches me play and critiques me. I practice and come back. In residency it's kind of the same thing. You present ideas to your attending. You do surgeries and your attending is there and gives you feedback on how to get better. Then you read and practice on your own and come back next time and see if you got better."
She picked a field that requires a seven year residency, but that doesn't seem to faze her. "I thought it was really interesting and I didn't mind studying," she said. "It was just fun."
Rajagopal had the opportunity to go back home to California during a rotation at the University of California at Irvine near her parent's house. "It was pretty busy but at least I got to go home at the end of the day," she said. "That was nice."
Her father is a fluid dynamics specialist at Boeing in California. "He monitors the air flow of the space shuttle when it comes back into the atmosphere," Rajagopal said.
Her mother, Geetha, is a stay at home mom and is an active volunteer in Megan's former elementary school in California. She's also a leader in the organization Guide Dogs for the Blind. "She has a lot of fun volunteering," she said.
Rajagopal describes herself as "shy" but has pushed herself out of her comfort zone, especially as president of the Medical Student Section (MSS) last year at UK and as the UK representative on KMA's Board of Trustees. During her MSS presidency she was in charge of close to 300 medical school student members and had about ten people on her board. "I was in charge of a lot," she said. But her shyness quickly diminished since she had to emcee events and talk to a lot of people. "I got over that pretty fast," she said.
She also participated in KMA's Medical Student Outreach and Leadership Program which she says, "Everyone would benefit from." "I learned the basics of how the American Medical Association fits into the government, how laws are made and knowing the process of how to change something."
Rajagopal is headed to Virginia in July for her residency at Virginia Commonwealth in Richmond. She doesn't know anyone there, but said that's how it was when she came to Kentucky to study medicine.
Even though Rajagopal is unfamiliar with her soon to be new surroundings, with her background and leadership experience, it seems she's prepared for a new challenge. "It will be fine," she said.
Life Events and Leadership Opportunities Guide Direction of Future Physician Kevin Kwan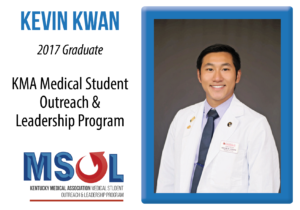 Can one person or event change your life? For Kevin Kwan, who initially planned on becoming a pharmacist, several people and events changed his.
A second year medical school student at the University of Louisville, Kwan is now on track to become the first physician in his family.
Growing up, he witnessed his grandmother collapse on the floor of a supermarket in China. "When they took her to the hospital, the first question they asked was 'can you afford the treatment?' not about her condition," he said.
"I didn't want to feel helpless again," he said. "The lack of my ability to do something was the driving factor."
Years later, as a sophomore majoring in chemistry at the University of Kentucky, he attended an awards ceremony where he was recognized as a Buick Achievers Scholar. During the ceremony, he met Larry Clark, now a retired Kentucky State Representative, who asked him what he wanted for his future. "At the time, I told him I was interested in pharmacy, but I also wanted to explore the medical field in general," Kwan said. "He got me in touch with the Greater Louisville Medical Society and I did a two-year summer internship program with them."
Bert Guinn, MBA, CAE and GLMS executive vice president and CEO, put together Kwan's internship that allowed him to interact with physicians and also learn about the advocacy and collegial side of organized medicine.
"I figured that he would learn pretty quickly whether or not medicine would be a good fit," Guinn said. "Kevin was very eager to learn and help out with anything and everything around the office. He participated in our Wear the White Coat Experience, attended our board meetings, set up a new physician writer's blog and helped us out with the production of our monthly Louisville Medicine Magazine. He even helped direct parking for physicians and their families at our Presidents' Celebration. He was everywhere, and he must have liked it."
That summer internship went so well that he came back and did it again the following year.
Kwan continued to seek leadership roles and completed KMA's Medical Student Outreach and Leadership Program (MSOL), where he served as the student contact for UofL medical school students. He's also the medical student section representative on KMA's board of trustees.
Through his participation in the MSOL program, Kwan learned information not taught in the classroom. "Learning about tort reform was very insightful," he said. "I learned that doctors weren't protected from lawsuits."
Kwan was also surprised to learn how long it takes to implement changes in health care. "There are a lot of other factors involved (in health care) that aren't just about treating the patient—especially in the financial department," he said. "I gained a better understanding of the billing processes of hospitals and how they work."
His MSOL experience also made him aware of the health care disparities in rural counties and the shortage of physicians. "Their access to care is so limited," he said.
Kwan is the first generation of his family born in the United States. His father, Wood, is a refugee from China and his mother, Siyi, immigrated to the United States from China with "$5,000 to her name," he said.
"My parents did the best they could to make sure I was healthy enough to go to school," Kwan said. "They made sure I took my medicine on time and took me to the doctor if I got sick and they stressed the importance of healthy eating. It's something they didn't have growing up."
Kwan said he wants to "be someone who can make a difference."
"Kevin obviously has that higher calling (to help people), and it's a real honor and privilege to be a part of his journey," Guinn said. "Medical school is tough for good reason. But, Kevin will have that MD after his name before we know it, and it wouldn't surprise me if he ends up being GLMS President someday."
Anita Shanker Leads By Example and Seeks to Develop Rapport with Colleagues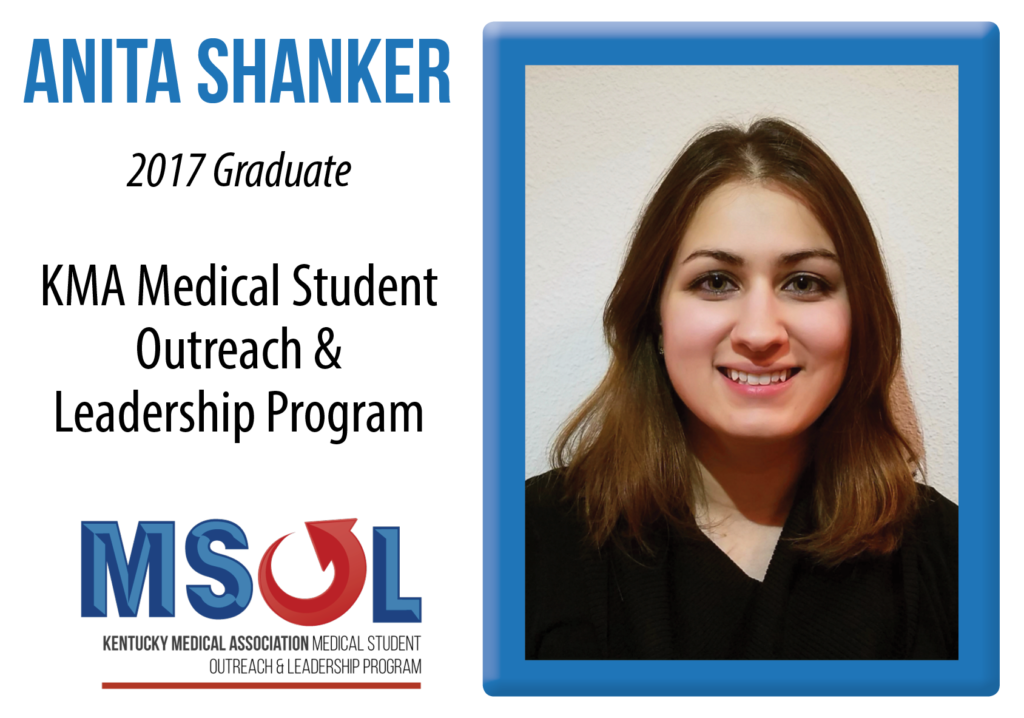 When Anita Shanker heard the words "outreach" and "leadership" she knew she wanted to be involved in the KMA Medical Student Outreach and Leadership Program (MSOL).
Currently a second year medical school student at the University of Kentucky, Shanker initially became involved in MSOL program last year as the UK student coordinator.
"Getting involved was a bit of an accident," she said. When she heard the description of the MSOL coordinator after class one day, she immediately decided to run for the position and got it. She quickly became more involved and "started to see where our chapter could grow and change," she said.
She was initially interested in MSOL because "It seemed like a good way to get information about things we really don't talk about in our medical school classes like the economic and business side of health care," she said. "These are really going to be part of our everyday life when we become physicians whether we want it to or not."
Participating in MSOL taught her "there are a lot of moving parts (in medicine)." "It's important to be aware of the current economic climate and how to negotiate the job market once I graduate. It was really meaningful and beneficial to learn about these things early on," she said.
The advocacy portion of the MSOL program resonated with her. She took a college course on health disparities and the social side of medicine where she learned that what physicians can do in the clinic is very minimal. "I learned that the difference physicians make for patients in the clinic only determines about 10 percent of their total health outcome," she said. "What also comes into play is their access to health care, social situation, where they live and their behaviors," she said.
With the advocacy education provided by the MSOL program she saw "a way to stretch beyond that 10 percent." When we're advocating for these policies, we're not only advocating for medicine, we're advocating for the patient."
Shanker attended KMA's Physicians' Day at the Capitol last year where she met with Rep. Derrick Graham, who represents her hometown of Frankfort. She was also accompanied by a physician who'd already made an appointment with Rep. Graham. She listened to their conversation about their families and their jobs. This was an eye-opening experience for her because she said, "I could see the rapport between them and only at the end of conversation did they really get down to the meat of the issue."
"This showed me how important it is not only to have a professional relationship with the people I'm working with but a personal one as well in order to build rapport and really have an impact," she said.
She exhibits this personal rapport philosophy in her leadership.
She said being the coordinator for the MSOL program gave her the push to run for the Medical Student Section (MSS) co-president, a position she currently holds.
"The MSOL program was a great stepping stone to doing more with our MSS chapter," she said.
Her goal for this year has already been accomplished.
She wanted to see the UK MSS chapter be more involved with the KMA through the local Lexington Medical Society (LMS). To this end, they now send at least one student to all the LMS meetings "to contribute in any way they can," she said. Also, last year they submitted four resolutions to the KMA Annual Meeting, all of which passed.
The chapter currently volunteers at Mary Todd Elementary in Lexington by teaching monthly science and health lessons. They were recently invited to be on a student panel at Bryan Station High School in Lexington where they hope to "bolster lessons in health classes" and mentor high school students interested in medicine.
Under her leadership, "We designed a whole new executive branch with committees so we could expand our realm," Shanker said about the MSS chapter.
She's strived to be an approachable presence and run informational executive meetings where all the committee chairs are up to date on what's going on in each committee and are free to share ideas.
"I want students to feel they can approach chapter leadership and let us know what we can do better or expand on," she added.
This approach is working. Up to 75 percent of each class has signed up to participate in the MSS chapter.
She's interested in working in global health, which resonates with her personal enjoyment of traveling. During her undergraduate studies as a French and biology major at UK, she studied abroad in Paris and in Switzerland. She's also traveled to India, her father's birthplace, and to Spain, her boyfriend's country of origin.
Shanker said she's always been interested in art and science, but while art is a hobby, science was something she "couldn't do without day-to-day," she said.
She's taking a class called "The Stories We Tell Each Other" about the presence of medicine in art, literature and music. "We see medicine from the side of the practitioner but we also see how it's viewed from the side of the patient," she said. "You see the emotional side behind it. When you're working with people it becomes an art."
Violet Patty Shackleford Pursues Medical Career with the Support of Her Family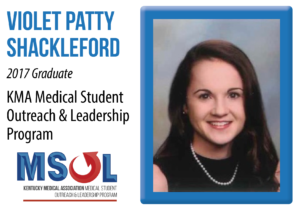 Violet Patty Shackleford grew up in Mayfield, a small town in Western Kentucky. After she graduates from the University of Kentucky College of Medicine in May, she'd like to return there and "use the things I've learned," she said.
She decided to study medicine in high school. "I grew up in a family where both of my parents are nurse anesthetists," she said. "I've known workers in the health care community for a long time. "
"Anesthesiology was at the bottom of my career choices," she said when she entered medical school.
But that's exactly what she's interested in pursuing. Her parents laughed when they found out, "and probably always will," she joked.
"They never pushed me in that direction," she added.  "When I decided on my own that's the career I wanted to pursue, they were very excited for me."
She initially thought about going into internal medicine or pediatrics. But it was when she started clinical rotations that she discovered she enjoyed being in the operating room and also became interested in anesthesiology. "Anesthesiologists have to know a lot of broad general medicine and they apply it in a unique way in their field," she said.
Both she and her husband Taylor, also a fourth year medical school student at UK, are currently interviewing for residency positions. They met in their first year of medical school and married last October.
"Meeting Taylor has been my greatest blessing in life thus far," Shackleford said.  "Medical school is a really challenging time. It's the most difficult thing I've done academically. It's mentally and emotionally challenging. Having him with me has been just wonderful. We study together. He understands my schedule and when I'm tired because he's going through it as well. To be able to support each other and pursue our careers has been awesome."
Both participated in KMA's Medical Student Outreach and Leadership Program (MSOL) together.
"Medical school is focused so much on your studies," she said. "You tend to forget what your career looks like and the bigger picture. When I found out it (MSOL) was connected to KMA and physicians who have leadership roles in the community, I really wanted to be a part of it and learn what things might look like for me in the future."
Her favorite part of the program was the community service requirement. She was part of a team of medical school students from UK who volunteered at Mary Todd Elementary in Lexington where they taught students about different health issues and planted a garden.
In her free time, Shackleford enjoys cooking, especially trying new recipes. She also likes to read and exercise. Their new cocker spaniel, Carlee, also keeps them entertained.
Megan Mercer--A Person of Integrity Striving to Reach Her Full Potential
"Keep your eyes on the stars and your feet on the ground."
Megan Mercer keeps this quote by Theodore Roosevelt on her desk to remind her to be mindful of her foundation while striving to reach her full potential.
A third year medical student at the University of Louisville, Mercer has already established a firm foundation among her peers. She said friends would describe her as a "very consistent and stable person" and "a person of integrity." She's also someone they look to for advice. "I'm always there for them and I keep my word," she said.
One way she's striving to reach her full potential is through involvement in programs she feels will help make a difference in both her life and in the lives of her future patients. During her first year of medical school, she was the KMA legislation and advocacy chair for her student group. That's where she heard about KMA's Medical Student Outreach and Leadership (MSOL) program.
"I thought it was really a great thing to be a part of because we had so many lectures and seminars about the landscape of health care in Kentucky. As things change in the state and as health care evolves, it's good to be up to date on that for both yourself and your future patients—knowledge is power."
Community service, a requirement of the MSOL program, comes naturally to Mercer. She's already helped sort medical supplies, introduced children to potential career paths, taught CPR and life support to fellow medical students and directed student-lead medical clinics at Supplies Overseas, the Cabbage Patch Settlement House, UofL and The Healing Place, respectively.
The Healing Place experience made an especially big impact on her. "It was a great opportunity to grow as a future physician because it allowed us to interact with patients that really needed our help," she said. "It was moving to me to see people who've been in a rough patch in their life but are taking the initiative and having the courage to go through the program and to try and do better by themselves and get their life back on track."
Mercer went through a rough patch herself growing up when she experienced a sickness in her family. Her mom, Karen, a widow, helped get her through. "She's my biggest cheerleader and my rock," she said.
After graduating from Ballard High School in Louisville, Mercer double majored in biology and psychology at UofL. "It was interesting to learn about the body and the mind," she said. "Biology covered the physical sciences but it was interesting to see how people think. I know that mental health is also a growing concern in our community and a big focus in health care. It's nice to be conversational about those topics and have some theory behind that."
She initially thought about becoming an engineer but "missed the societal impact and getting to see the people that you're helping," she said. "Medicine seemed like a natural choice. I wanted to help other families going through similar trials and tribulations."
During her senior year in college she participated in the Guaranteed Entrance into Medical School (GEMS) program and after completing the requirements, was automatically accepted into UofL's School of Medicine.
The first in her family to pursue medicine, Mercer works with UofL's Department of Surgical Oncology and has participated in several quality of life studies for breast cancer patients. "It's probably the thing I enjoy most in medical school," she said. She's currently working on a study on how people feel after surgery, the best way to manage pain and the outcomes of surgery.
She's also on the evaluation and assessment subcommittee that helps keep medical education at UofL "on the cutting edge," she said.
In her spare time, Mercer enjoys film and digital photography. "It's awesome to see beauty in everyday things and get to capture that on film," she said. Cycling, hiking and cooking are also among her favorite pastimes.
Monzolesso "Joel" Bagah-Kognagba
Monzolesso "Joel" Bagah-Kognagba Enjoys Giving Back to His Community
As a child growing up in Togo, West Africa, Monzolesso "Joel" Bagah-Kognagba remembers missionaries coming to his country to help with vaccinations and assisting his community. This experience, combined with the fact that his father had lost his sight before Bagah-Kognagba was born, factored into his decision to become the first in his family to study medicine. "After going into medicine one day I could bring his sight back," he hoped.
Bagah-Kognagba came to the United States with his brother when he was 17 years old. They joined their mom, who was already living in the U.S. since 2003 thanks to the Diversity Visa Lottery program.
"It was a big change," Bagah-Kognagba said. French is his native language, so he said his main challenge was learning English. But through his English as a Second Language (ESL) classes at Hobart High School in Hobart, Ind. and his new found friends, he quickly learned.
After high school, his mom suggested he consider medicine.
A double major in biology and chemistry at Millikin University in Decatur, Ill., this magna cum laude graduate enjoyed shadowing several physicians during his undergraduate program. After this experience, he said, "I never looked back."
Currently a second year medical student at the University of Louisville School of Medicine, Bagah-Kognagba is interested in specializing in cardiac electrophysiology. "You can see immediate results," he said. He recalled a procedure he witnessed in which a patient's heart was not working correctly, but right after the operation, the patient was "back on his feet."
Also, he feels cardiology is a field where he can spend more time with patients and discuss their diet and social life, factors he feels are important to health.
As a 2017 graduate of the KMA Medical Student Outreach and Community (MSOL) program, Bagah-Kognagba said the program allowed him continue his active community service and taught him how to manage his time.
His community service experience is vast. During his undergraduate program at Millikin, he served as historian of Alpha Phi Omega Service Fraternity where he participated in a variety of community service projects including helping with street cleanups, Girl Scout cookie sales and blood drives. But his work with Alzheimer's and Parkinson's patients in nursing homes "was the hardest part" because of the emotional toll. "Seeing these patients who were once clever and strong—now it's an emotional hardship to see that you have to repeat yourself and how they lost their strength and cognition," he said.
During his time as vice president of the American Chemical Society at Millikin, he helped local children learn "how cool science is" by teaching them how to extract fake DNA and how to make slime.
He also served as a general chemistry and organic chemistry tutor during his time at Millikin, and said the main thing he learned was "there are different ways of solving problems" and that "I make mistakes too."
"In Togo, the concept of time is not as strong as in the U.S.," Bagah-Kognagba said. "The MSOL program allowed me to have deadlines I can meet."
In his limited free time, he enjoys working out and watching movies and television. He tries to watch movies in French so he can keep up his vocabulary skills.
Thanks to his new found time management skills, he also sets aside time each Friday to plan out his week.
But his favorite activity is skateboarding to class. "It's one of my favorite times in the morning," he said.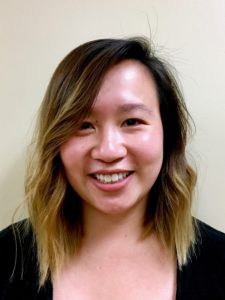 Public Policy and Research Interest Amanda Su
The daughter of Taiwanese immigrants, Amanda Su is the first person in her family to study medicine. She majored in economics at Cornell University in New York, but always kept pre-med in the back of her mind.
"My parents always thought it was a really stable career so they planted that idea very early on," she said. Su said as an undergrad, she "tended to gravitate to health policy."
"I wanted more patient contact and to be more directly involved," she said about her career choice. "Policy is the management of medicine."
A 2016 graduate of the Medical Student Outreach and Leadership Program, Su heard about the program while attending a KMA presentation on insurance, a topic she says medical school students don't hear much about. "It was good motivation to continue doing the things I enjoyed." A self-proclaimed deep thinker, Su says research gives her that opportunity.
"I've been doing research since my sophomore year of college," she said. "I got involved in a lab that was looking at the accuracy of guidelines for evaluating myocardial infarctions and cardiovascular disease—that's the first entry way into effectiveness and quality control."
After obtaining her undergraduate degree, she worked in a lab at Massachusetts General Hospital in Boston evaluating the cost and effectiveness of integrated care for patients with HIV/AIDS, tuberculosis and other chronic illnesses.
"I have a different perspective than a lot of medical students in that my econ degree allows for little bit more of a policy overview," Su said. "I've been able to continue my interest in that through research."
During her time at the hospital, she worked on a number of projects, one of which involved working with the Mozambique government on point-of-care testing effectiveness.
"If you did point-of-care testing early on, you could capture a larger group before they had complications, before they had infection from opportunistic disease that would be more costly to treat than prevent," she said of her findings.
She also evaluated the projected lifetime costs of HIV in the U.S. and found it was cheaper than the management of many other chronic diseases like diabetes. "The management of HIV is not as expensive as we previously thought." Su was also part of a team of researchers that published a paper about how diseases are transmitted among drug users in Appalachia.
Between medical school and research, Su also makes time for volunteering. Last year she helped run a nutrition clinic at the Salvation Army Clinic in Lexington. "Obesity and nutrition are the cause of such a huge portion of the diseases we see today," she said. "Addressing these issues earlier on is a lot more cost effective than dealing with the disease once it's already manifested. Nutrition has such a huge aspect on our health from a public policy standpoint."
Currently in her third year of medical school at the University of Kentucky, Su said that she's surprisingly considering specializing in psychiatry.
"There's no easy public policy fix to psychiatry so I think I'm much more interested in it and can have a lot more patience for it," she said. "There's still a lot of public health policy we can do in psychiatry."
Su is also an avid traveler. After her first year of medical school, she went on a 50-day trip around the world by herself where she bungie jumped off a bridge over Victoria Falls in Africa and rappelled into caves in Vietnam. She said, "I had time to reflect and learn more about myself and what I'm like alone in a completely foreign setting and how I would handle pressure."
With these life experiences under her belt, she's well on her way of navigating the intricacies of the health care and public policy arena.
UofL Medical Student Strives to be Innovator on the Front Lines of Medicine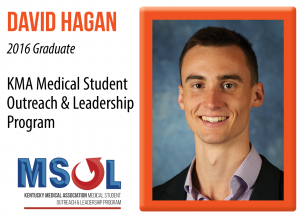 David Hagan's long term goal is to identify problems within the health care system and develop solutions.
"It's every physician's job to look at ways to make things better," said the second year medical student at the University of Louisville.
Hagan has a head start. While pursuing a degree in bioengineering at the University of Louisville, he participated in several co-ops at Cook Medical in Bloomington, Ind., a company that develops, builds and distributes devices for minimally invasive medicine.
He started out as an engineering major but switched to bioengineering after working at Cook.
"I'm really interested in design, inventing and coming up with new ways to do things," Hagan said. "With all the regulation in engineering, it's hard to invent new things without seeing the clinical problems yourself. Physicians are the ones who see the clinical problems."
During his time at Cook, Hagan tested devices to make sure they lined up with FDA regulations, conducted early prototyping of urology devices using 3D modeling and printing and worked with the otolaryngology, head, neck and surgery team where he also did prototype and design work. After he graduated from UofL, Hagan worked at Cook full time for a year in the interventional radiology department.
"Working as an engineer in a medical device company was confirmation that I wanted to innovate on the front lines," Hagan said.
Hagan is the first in his family to pursue a medical degree. His parents, Mike and Joy Hagan, taught English in China, where Hagan spent his early years. They moved back to Louisville when he was 14.
"It was quite a change from international school where I went to school with Nigerians, Australians, Koreans and some Americans," he said.
Hagan speaks Mandarin and some Korean. He hopes to use his foreign language experience as a physician. "Tons of Chinese students are coming to U.S. and they're bringing their parents," he said. "It will be nice to have some Mandarin speakers who can connect with them."
Hagan is active in the Innovation in Medicine Club at UofL, where students regularly meet with physicians. "It's a way for me to continue to channel the sentiment of continued creativity and improvement even as we're going through medical education," he said.
A 2016 graduate of KMA's Medical Student Outreach and Leadership Program (MSOL), Hagan said the program was "an opportunity to reach out to other people and see what's going on in Kentucky." He was especially interested in the business side of medicine and enjoyed learning about potential issues with Medicaid and government funding.
The MSOL program includes a public health component that Hagan completed through various community service activities, including his medical mission trip to Brazil last summer. He got to see patients by himself, work with a translator and present patients to physicians. But the highlight of his trip was being able to play soccer at every village where they set up clinics.
In a game against a team with some of the best local soccer players, he headed a ball for the winning goal. "Nobody expected this from the American," he said.
Soccer helped Hagan decide to pursue medicine. He played soccer in high school but tore his ACL during his senior year. This sidelined him from the sport, but gave him more time to focus on academics, including researching his injury.
"One door closes and another one opens," Hagan said of the injury that helped open his eyes to a career in medicine.
Compassion and Leadership Skills Evident in Her Community Involvement
Abby Baumgartle has a desire to serve her community as a physician. But she's already making a difference as a second year medical school student at the University of Louisville.
She's prepared and served meals for the homeless, provided medical care for refugees and helped organize an event to raise money for people in an addiction recovery program.
The spirit of giving, and caring for others, runs in the family.
Her mother, Kathy, is a registered nurse at Clark Memorial Hospital in Jeffersonville, Ind. "She was the biggest influence on me and my sister wanting to pursue a career in the medical field," Baumgartle said. Abby's twin sister, Morgan, is studying to be a nurse anesthetist at Middle Tennessee School of Anesthesia in Nashville, Tenn.
"They're both incredibly caring, awesome nurses who do a great job taking care of people," Baumgartle said of her mom and sister, whom she considers her role models.
Her father, Tim, is a mechanic for Duke Energy in Clarksville. "He has to put up with all our dinnertime chatter about gross things—and deals with it," she said laughing.
Baumgartle's sister has been a resource for her, especially this year. "Second year has been more clinical and less basic science, so I've been texting her as I'm studying," she said. "I feel like nurses gets a practical education—she'll tell me realistically how I'll use what I'm learning."
A native of Georgetown, Ind., Baumgartle's interest in medicine goes back to her days as a student at Floyd Central High School. She's considering specializing in internal medicine. "I really like the idea of having long-term longitudinal care with my patients," she said.
Baumgartle was among the first graduates of KMA's Medical Student Outreach and Leadership Program (MSOL) and lauded the focus of the program. "It's a great intro into the politics of medicine—it's a business. We don't really get exposure to that in the classroom."
"I thought he (KMA Executive Vice President Patrick Padgett) did a great job of laying out Kentucky policy in a basic way where I can know the difference between Medicare and Medicaid and the different reimbursement processes."
The education is important for medical students, she said. "I think it makes you want to study harder since you see how what you do will impact your patients in the future. It gives you a nice break away from the books. You can dip your foot in the water to interact with people in the community you'll be both working with and treating in the future."
Baumgartle has already been actively involved in helping people in her community, a requirement of the MSOL program. She's prepared and served meals to homeless residents of a Volunteers of America Family Emergency Shelter, participated in a free health screening event for recent refugees through UofL's Kidney Mentoring and Awareness Program (Kidney MAPS) and took part in the Healthcare Classic 5K Run/Walk to benefit residents of The Healing Place, an addiction recovery program in Louisville.
The Kidney MAPS experience provided her with an unforeseen challenge. She had to explain to non-English speaking refugees who had never had their blood pressure taken what she was going to do. She said she was able to communicate through hand motions and demonstrations. "They were very grateful," she said. "They acted like we were moving mountains for them," she said.
Last year she participated in the Healthcare Classic 5K Run/Walk, created by UofL medical school students in 1989. She agreed to be one of the primary leaders this year. Even though it was a lot of work, she said, "I learned how to manage my time between school, booking a park, finding insurance and reaching out to businesses for donations. It helped build some of my business and communication skills."
Baumgartle is not through helping her community. "I look forward to new opportunities to act as a leader in our community in the coming years," she said.
Desire to Interact with Patients Drives Rooshil Patel
Friends of Rooshil Patel describe him as focused.
As a second year medical school student at the University of Kentucky, Patel is focused on learning the science behind medicine. But his desire to connect with patients is the focus that really drives him to succeed.
"I've always wanted to dedicate my career, my life, to helping others," he said. "I've always been good in science and doing something that combined my interest in science and the care I can provide to patients made medicine a clear choice for me."
Four of his uncles are physicians. Through their advice, he learned what the field was about, how they interacted with patients and how they were able to give back. "That was very appealing to me," Patel said.
His family moved to Chicago from India more than 30 years ago. He credits his parents as his inspiration. "They didn't have much," he said.
His father, Mukesh, worked hard and is now a successful franchisee for multiple Subway restaurants and also owns a motel.
"He was so strict and everything is very particular with him," Patel said about his childhood. "I didn't like it growing up."
Now, though, he's thankful for this upbringing. "It's shaped me into who I am today. I just want to be half the man he is. He's very inspirational in everything he's done," Patel said of his father.
Patel moved with his family from Chicago to Kentucky when he was in the fifth grade. His parents moved for business opportunities and, "they were tired of the cold weather," Patel said, laughing.
A 2016 graduate of KMA's Medical Student Outreach and Leadership Program (MSOL), Patel said he would recommend the program to medical school students. "To be a functioning physician, especially in this time, where there's a lot of government influence in field, it's important to know what's going on," he said. "The MSOL program helped highlight a lot of things I would not have known if I didn't attend."
Part of the requirements of the MSOL program is involvement in public health. To that end, Patel has served in several organizations, including the Salvation Army Clinic. There, he serves as an interviewer and a floor manager where he interviews patients to obtain their history, assigns patients to students, makes sure the rooms are clean after patients have completed their visits and makes sure the paperwork is submitted at the end of the day.
Patel said the Salvation Army Clinic is one of the avenues where first and second year medical school students can have direct interaction with patients.
"You report to an on-site physician to make sure what you're thinking is right," he said. "You learn a lot in the classroom but you really can't compare it to learning in the field."
Patel plans on volunteering there for the remainder of his time in medical school.
He said his time at the Salvation Army has also helped him develop his bedside manner.
"Right now (in class) we're just focused on diagnosing the patient," he said. "We can be quick to forget that they (patients) are human and talking to a patient really reinforces that notion."
Compassion for the Uninsured and Underinsured Drives Samantha Edwards
Growing up in New Albany, Ind., Samantha Edwards didn't even think about becoming a doctor. "It was the last thing I thought I would end up doing," she said.
She majored in English/creative writing at Ball State University, where she obtained her undergraduate degree in 2010. About a month after graduating, she said, "something clicked."
Her grandparents were terminally ill at the time and she didn't feel like she had any tangible skills that could help them. "I found myself wanting a skill I could utilize in the here and now so I could feel like a useful contributor," she said.
But she wasn't ready to go back to school yet. Instead, she went to work for the Indiana Department of Insurance where she worked on the team that helped roll out the implementation of the Affordable Care Act (ACA) regulations expansion. "I got a lot of insight," she said.
She met patients who were gainfully employed but didn't have insurance benefits. "I encountered a lot of people who were in difficult situations (for health care coverage) that didn't fit the mold," she said.
Through this experience, she decided she wanted to learn more about insurance regulation and the policy side of medicine. "It's an area that needs a lot of work right now," she said. "I want to tackle this problem."
After she worked at the Indiana Department of Insurance, she lived in Thailand and taught English for six months. "All the money I made working was spent on travelling," she said.
In 2013, she was ready to go back to school. She discovered the University of Louisville Post Baccalaureate Pre-Med Program for students who hadn't taken more than 12 hours of science courses. She hadn't taken any.
"It's been tough," she said. "I felt behind academically in the sciences than my peers. They are a lot younger than me. Some took a year off and went straight from undergrad to med school. They all seemed like they hit the ground running. I would study very hard, but it wasn't reflected in my grades."
She finally feels like she's starting to find her rhythm in her second year of med school.
No one expected her to go into medicine. "I've always get excited about something new," she said. "Some were hesitantly supportive, not sure it was going to happen. They thought of me as a creative person and that I would go into something creative, or artsy."
She said she likes medicine because, "You're not just doing science—the science is used to inform the way you interact and treat people. It's a blend of both and there's a huge humanitarian component to it because you're treating people and you get to interact with them."
Edwards learned a lot about medicine and interacting with people by spending time with her grandfather, George Wolverton, M.D., who was a family physician in Clarksville, Ind. She said he was a pioneer of preventive medicine who had a great impact on his patients. When he died in 2011, the online obituary comments were incredible, she said. One remark stated, "Dr. Wolverton was the only one who could help me when no one else could."
Her uncle, Steve Wolverton, M.D., is a dermatologist in Indianapolis, and is on the faculty at Indiana University. "I'm able to ask him a lot of questions," she said. "He's also an inspiration. He's been mentoring me through the whole med school process."
Another inspiration for Edwards was KMA's Medical Student Outreach and Leadership Program (MSOL), which she completed last year. "It helped me walk me down the path of where I want my career in medicine to go," she said.
She specifically remembers KMA Executive Vice President Pat Padgett's talk about the Affordable Care Act. "He talked about how the ACA was directly related to Kentucky—which I learned a lot from," she said. His presentation covered the health care population in Kentucky, the challenges Kentuckians face and kynect, the state health insurance exchange, which has since been dismantled. "This inspired me to stay in this state and tackle the specific problems people in Kentucky face—and there are a lot of them," she said.
Edwards encourages students to participate in MSOL now and not wait until they're practicing medicine. She's co-chair of the resolution writing committee composed of first and second year UofL medical school students. This group submitted resolutions to the KMA House of Delegates last year and plans to submit resolutions to the AMA this year.
Edwards' passion to help the uninsured and underinsured carries over in her volunteer work with Surgery on Sunday Louisville, a nonprofit organization that provides in-kind outpatient surgical and endoscopic care to income-eligible members of the community. KMA member Erica Sutton, M.D., is a surgeon who heads this organization and for whom Edwards served as a medical scribe. "I think very highly of Dr. Sutton and I like the opportunity that I got to learn more from her," she said.
She's scrubbed in several times, but just to hand tools to surgeons or to hold a laparoscopic camera. She also volunteers at the Family Community Clinic, one of the primary care medical homes that refer patients to Surgery on Sunday.
When she's stressed from school, she likes to walk her dog, a Brittany Spaniel named Dude, do puzzles and garden. She also enjoys watching television, but stays away from medical shows, preferring to watch Game of Thrones or Parks and Recreation.
Motivated by Family, Friends, Church and Community Service
Liz Mirsky "fell in love" with medicine when she was in grade school. In fact, her friends called her "the mom."
"I always had this yearning to make sure that everybody in the group was cared for and that everybody had what they needed," Mirsky said. "I realized this would be a really useful trait to have in someday caring for people in my own clinic or in my office."
At that point, she said, medicine became her constant motivation. She shadowed and volunteered in high school and never wavered from her desire to be a doctor—"it only grew."
That desire to pursue a medical career was complemented by the work ethic she saw in her parents, who faced the challenge of not only settling their young family in the United States, but also learning the language and culture.
Mirsky was five when her parents moved to Lexington from Bulgaria in 2000. Her father, Alex, was a pro basketball player with the Bulgarian National Team, but his career was over by the time Liz and her sister, Becky, were born. Her mother, Ellie, had a master's degree in Arabic.
The couple was looking for better jobs and opportunities for their children.
"That's when we won the Green Card Lottery and left everything behind to come to the U.S.," she said. "We brought whatever we could carry, hopped on a plane and came to the U.S. in search of new opportunities."
But it wasn't as easy as all that. The couple's first priority was to learn English. "They read whatever they could get their hands on and TV was helpful," Mirsky said.
She counts her parents' dedication and hard work among the reasons she decided to become a doctor.
"I got to watch what my parents were willing to do to support their family," she said. "They were so persistent; they kept going to school all while they were working to support the family."
Her father is a nurse at St. Joseph East Hospital in Lexington and her mother is an accountant at Comfort Keepers in Lexington, a private service that hires out nurses.
They set an example and instilled in Mirsky that "I could do anything I put my mind to," she said. "No matter how hard it would be, I knew I'd have their support. They gave me a good work ethic."
As she enters her third year of medical school at the University of Kentucky, she is looking forward to exploring her interests in pediatrics, possibly in anesthesiology or oncology, and OB/GYN.
When KMA established the Medical Student Outreach and Leadership Program (MSOL) in 2015, Mirsky knew she had to sign up.
"Yes, I have shadowed and volunteered, but I'd only seen the clinic side of things," she said. "I knew I needed to learn more about things like health care and finances."
The MSOL program includes a series of "Lunch and Learn" presentations aimed at helping medical students prepare for the challenges facing them in their professional careers. Mirsky especially liked the subject of local health care in Kentucky.
"Now that everything's potentially going to change, learning the basis … and some of the specifics of what it needs to be, I think that will be helpful for me to make sense of whatever new thing comes our way," she said. "I think the lectures in the MSOL program really gave me a good foundation."
While the Lunch and Learn presentations are open to any student at UK and the University of Louisville, gaining the MSOL recognition requires participants to complete a public health outreach project. Mirsky's community involvement has been vast. She recently got involved with the Salvation Army Clinic in Lexington where she is the smoking cessation officer. She leads a support group for the women every Tuesday. "Seeing their dedication and the efforts they put into quitting is really another inspiration for me," she said.
Mirsky enjoys playing the piano in her spare time and plays every weekend at the Lexington Seventh-day Adventist Church where she is a member. She studied piano at the School for the Creative and Performing Arts at Lafayette High School but knew music wasn't going to be her career. "I pretty much had my eyes set on being a doctor in grade school," she said.
She also likes to read. She says with a laugh she reads "any non-textbook material—any book I can get my hands on. My library is stacked both horizontally and vertically."
Mirsky is among the first class of 23 MSOL graduates. "I think it was very well planned out," she said about the program. "They gave us the dates of the lectures in advance, which is always so appreciated for medical students. I think the content and the information they taught was very valuable."
"I think if would be helpful to all medical students."
Preventive Care and Public Policy Are Focus of this Future Physician
Nadine-Stella Achenjang, who goes by "Stella," credits her family as her role models.
"I'm so proud of all my siblings," she said. "They continue to inspire me to do better. We encourage each other to push forward and to do better."
One of five children, Achenjang falls in the middle. Her older sister Joyce graduated from medical school last year and is in residency at Saint Louis University. Her oldest brother Roland has an MBA and is a director of pharmacy. Her younger brother Gilmore is working in finance.  And her youngest brother Niven started college at Stanford this year.
She is also inspired by her father, Fidelis, and her mother, Lucia, who moved the family to the U.S. from Cameroon, West Africa, in 2000.
"For them to just pick up and move to a foreign country for their children and having to start all over in a place that's foreign to them— I think they're amazing," she said.
Her dad is a chemistry professor at Union College in Barbourville and her mother is a nurse at Christian Care Communities in Corbin.
With these family achievements she jokes, "I can't be the black sheep in the family."
She's well on her way to success. Achenjang is a second year medical school student at the University of Kentucky, where she earned a bachelor of arts in biology and a minor in Spanish.
Her interest in medicine was sparked when she took an anatomy class at Knox Central High School. "I was fascinated with how our bodies work and I needed to know more," she said.
Achenjang decided to further explore her interest in medicine and participated in the Summer Medical and Dental Education Program at the University of Louisville after graduating high school. "This program focused on showing students what medical school was like," she said.
"During this course, we learned a lot about diabetes, obesity and metabolic syndrome," she said. "That got me thinking about preventive medicine and preventive care. I know whatever I end up doing, I want to somehow get involved in preventive care."
She also participated in the Professional Education Preparation Program at UofL and at UK.
"These programs helped me to become more of an individual because I was away from home, away from my family and in a city I didn't know," she said.
In addition to these programs, she also recommends KMA's Medical Student Outreach and Leadership Program (MSOL), which helps medical students prepare for the challenges facing them in their professional careers.
"I have an interest in public policy—it's a long term goal for me," she said. "I know the Kentucky Medical Association is a great advocate for physicians and patients and they do a lot with policy. That got me interested in the program.
"Also, it's great info and free food also never hurts," she laughed. "You get a good lunch and learn about being a physician in Kentucky."
Achenjang understands the importance of community involvement, a requirement of the MSOL program. "If you see a need in the community, you work to be a patient advocate."
As the undergraduate liaison for the Student National Medical Association at UK, she works closely with the Multicultural Association of Pre-Health Students on campus. This year the associations hosted a regional educational conference. "The focus was on nutritional disparities and how difficult it is for people in the lower socio economic class or certain areas to receive good nutrition."
Achenjang is also the community service chair for the UK Global Health Alliance and is a member of the UK Pediatrics Interest Group.
Achenjang cited another benefit of KMA's MSOL program: "You learn things you don't think about, like insurance."
She said she learned about "the fight between insurance companies and physicians."
"The insurance company sets the prices, not the physician or the hospital, which I thought was kind of crazy," she said. "I don't know why that's OK."
She enjoys running, exercising, cooking and traveling.  "Any chance I get to go somewhere I am gone," she says. She's traveled mostly to Spanish-speaking countries through study abroad and medical trips.
She hopes to use her knowledge of Spanish in her medical future. To keep up her skills, she has helped teach English to the Hispanic workers at Keeneland, is involved in a Spanish club at UK, reads her Bible in Spanish and writes in her journal in Spanish.
After medical school, she's interested in working abroad, but says she needs to stay in the U.S. to help pay off her loans first.
"I'm keeping it very open," she said.  "I want to do global health."
Family Ties and a Desire to Help Provide Guidance for Christian Moser
Christian Moser's family background, combined with a determination to have a positive impact in people's lives, drove him down the path to become a physician.
His father, Neal Moser, M.D., a pulmonologist, serves on the KMA Board of Trustees and the KMA Commission on Legislative and Political Advocacy. His mother, Kim, a registered nurse, was elected last year to represent the 64th district in the Kentucky House of Representatives. She is also the first non-physician in the country elected to chair a physicians' political action committee. Moser also has three uncles who are physicians and multiple cousins who are nurses and dentists.
But his biggest role models are his grandfathers, Roy Moser, M.D., who helped start a practice in Northern Kentucky where his father works today, and Floyd Poore, M.D., a recently retired hospitalist who ran for governor of Kentucky in 1991.
"To me, they're proof that a good physician can earn the love and respect of their whole community simply by showing up, doing their job to the best of their ability, and by treating each patient with respect and more than just a problem to be resolved," he said.
"Medicine is all I've ever known," said Moser, who is in his second year of medical school at the University of Louisville.
His family background was just one contributing factor to his decision to become a doctor. He had the opportunity to shadow physicians during two medical mission trips to Nicaragua and that helped confirm his choice.
"I wanted to work in a field where I can get to know people on a personal level, to hear their story, so to speak," said Moser. "At the same time, I wanted to have the greatest possible positive impact on their life. Once I started shadowing, it didn't take me long to see that the doctor-patient relationship is the best of both worlds."
During a medical/dental mission trip to Nicaragua with a cousin his sophomore year, Moser got to see firsthand how doctors can have a positive impact on patients' lives. After examining two siblings and determining they had a parasitic infection caused by malnourishment, one of the doctors helped buy food for the family.
"The mother broke down crying, she was so grateful," Moser said. Another patient was an obese woman who didn't know she had diabetes. "No one explained to her that her diet could cause diabetes," Moser said. "We taught her everything we could about how to manage her diet and where to go from there."
Moser grew up in Taylor Mill, Ky., and is the middle child of five boys. "My two older brothers would fight and my two younger brothers would fight and I would just fly under the radar," he said, laughing.
After graduating from Summit Country Day School in Cincinnati, Ohio, Moser majored in political science at UofL. "Politics, aside from being something that fascinates me, shapes just about everything we do," he said.
His personal involvement in politics began in high school when he did a two-week internship in Washington for former Congressman Geoff Davis. Then, during his freshman year of college, he interned with state Rep. Sal Santoro, answering phones and emails. Today, as president of UofL's Medical Student Section, he encourages his classmates to get in touch with their legislators. "These are our representatives," he said. "They take the things we say very seriously."
Moser is a member of the first class of KMA's Medical Student Outreach and Leadership Program (MSOL), which, Moser said, "is perfectly designed to fit with our crazy, hectic schedules."
With just four course requirements, students learn the basics of Medicare and Medicaid, how to negotiate contracts, health care demographics in Kentucky and the nation, and how to contact legislators and write resolutions to directly influence the political process.
"With the amazing resources provided through KMA, the American Medical Association and the Greater Louisville Medical Society, we're showing medical students exactly how they can address the shortfalls of health care in Kentucky, and to cause real change at an institutional level," he said.
Sreeja Sanampudi Encourages Others in Ambitious Journey to Become a Physician
Sreeja Sanampudi will be the first person in her family to become a doctor. "I'm excited about that," this self-proclaimed bookworm said.
She hopes to own a hospital someday and treat everyone "regardless of their ability to pay," she said. "I would not charge anything for the poor people, but would charge double for the rich people."
Born in India, her family moved to Baton Rouge, La., when she was 9.
"For them to leave everything behind, come to a country they didn't know anything about and start a brand new life—I think that's very brave," she said of her parents. "I wish I had that kind of courage."
Her parents still live in Baton Rouge where her father, Prasad, is a mechanical engineer and her mother, Jayasree, is an accountant.
She has one sibling, an older brother, Ashwin, who is a chemical engineer in Alabama.
Throughout middle and high school, Sanampudi volunteered at Our Lady of the Lake Hospital and Baton Rouge General Hospital. "I could see myself doing what they were doing—helping people and just being a support when people are vulnerable," she said.
Sanampudi completed her undergraduate degree at Louisiana State University and says, "I'm a huge Tigers' fan." She moved to Kentucky to enroll in medical school at the University of Kentucky and also professes to love UK basketball.
Currently in her second year of medical school, Sanampudi gives tours to students interested in enrolling in the UK College of Medicine. "I show them around and talk to them about what it's like to be a medical school student," she said. "It's not all that scary," she tells them. "If I can get in to it (medical school), so can you."
Encouraging others comes naturally to Sanampudi, just as her mother does for her. "I can call my mom for anything," she said. "She reassures me when I doubt myself, especially before taking a difficult test. She reminds me that I studied really hard."
She said her mom lightens her mood by telling a joke or talking about something funny. "She gives me confidence," Sanampudi said. "My parents are really proud. They're so supportive."
She hasn't picked a specialty. "I feel like my horizons are wide open," she said.
Sanampudi recently completed a five-week cardiology unit where she learned more about the dangers of smoking. This knowledge helps her at the Salvation Army Clinic, where she assists with a smoking cessation support group. She's been successful in helping several women quit smoking.
"We help them make goals for each week but I tell them it's OK if you don't meet your goals," she said. "We just want them to come back next week to keep them accountable. I feel like I make a difference."
A 2016 graduate of KMA's Medical Student Outreach and Leadership Program (MSOL), Sanampudi found the program helpful. "I didn't know how the administrative side of it worked, or about being a doctor in general," she said. "I learned about what doctors can do in terms of legislation and for their community. It was a good way to get my feet wet."
She's frustrated that some lawmakers who are not involved in medicine help make the rules concerning the medical field. "We (students) can help make a change in the government and provide our own opinions," she said.
Sanampudi recommends MSOL to other students. "The worst that can happen is that they can learn something," she said, laughing. "That's never a bad thing to learn about something that you don't know."