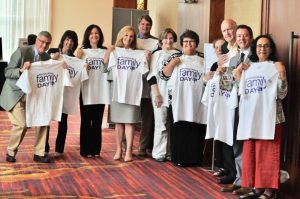 We are Kentucky's Volunteer Voice of the Family of Medicine whose mission is to Strengthen the Family of Medicine through Advocacy, Education and Friendship.
KMAA provides an opportunity to unite with other physician families across Kentucky and the nation. We address your unique interests and concerns, keep you up to date and provide an organized voice for your support of the physician(s) in your family and the future of medicine.
Our membership is comprised of physician spouses, physicians, medical student spouses and medical students. We need your support to succeed.
Our objectives are educational and charitable as we assist in those programs of the Kentucky Medical Association that improve the health and quality of life for all people; promote health education; encourage participation of volunteers in activities that meet health needs; support health-related, charitable endeavors; coordinate and advise concerning the activities of the county alliances; cultivate friendly relations and promote mutual understanding among physicians' families.
Join Our Mailing List to receive our online newsletter, KMAA E-Connection. Contact Nancy Swikert nswikert@me.com
Make a Difference
Join us in supporting this wonderful family of medicine through networking opportunities, developing leadership skills, and gaining health information.
Become a Member or Renew your Membership
Please use the links below to join or renew your membership. We are partnering with AMAA for our dues renewals, etc. and you may still have choices of your membership level.
New membership application
https://amaa.memberclicks.net/index.php?option=com_mc&view=mc&mcid=form_207940
Rejoin membership application
https://amaa.memberclicks.net/index.php?option=com_mc&view=mc&mcid=form_210508
KMAA calendar year runs from October 1 to September 30. Contact Rhonda Rhodes for additional information about membership. rhoda40@hotmail.com
Links – See the following websites for information of what is going on with Alliances around the country.
American Medical Association Alliance: amaalliance.org
Southern Medical Association Alliance: smaalliance.org
Expense Voucher: Contact Charlotte Burton, Treasurer, charlotte.reid.burton@gmail.com for an application for reimbursement for expenses related to the KMA Alliance.
Policy and Bylaws: Click here for KMAA bylaws.  Click here for KMAA policy. Contact Anita Garrison anitag222@me.com for more information.
——
Contact us:
KMA Alliance
P. O. Box 7741
Louisville, KY 40257