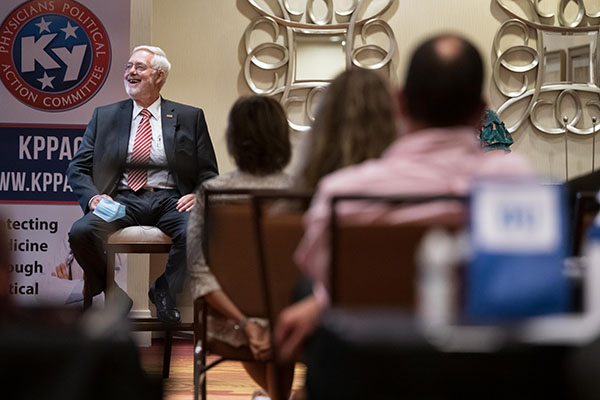 Current and former CME coordinators or assistants at a KMA accredited organization are eligible to apply for certification through KMA. Current CME coordinators/assistants must have been in their current position for at least one year, and former coordinators/assistants must have held the position for at least one year and have been out of the position two years or less.
To qualify, those seeking certification must attend a KMA CME Coordinator Conference or a state, regional or national workshop within the last year of exam administration.
Tests will be administered annually as needed. Material covered in exam will cover the Essentials, accreditation policies and KMA CME Accreditation Program policies and procedures. Coordinators must score a minimum of 80 percent to receive the CCMEC (Certified CME Coordinator). Successful applicants will receive a printed certificate and their name will be listed on the KMA website. The certification will be good for two years, after which coordinators/assistants must take a recertification exam.
The required fee will cover the exam, workshop and certificate (may retake the exam one time without paying an additional fee).
Certification is encouraged for all accredited providers, but is not required for accreditation purposes.
For more information or if you have questions, please contact the Education Department at (502) 426-6200.
All CME Coordinators in Kentucky are encouraged to take advantage of educational activities with our without the CCMEC certification. Defined criteria addresses requirements to maintain certification credentials.
CME coordinators must earn 12 credits in each two-year recertification timeframe. Here are ways to receive those credits.
Three credits for providing a lecture at the annual conference.
Credit for attending the entirety of the annual CME conference each spring.
Three credits for attending another facility's reaccreditation survey as an observer. (Must fill out a summary sheet of findings.)
Up to four credits for serving as a mentor to a new coordinator.
Three credits for providing one-hour lectures relevant to the Essentials under which coordinators work.
Three credits for prep/speaker or one credit for participants if a facility receives excellent review of a certain Element during an initial accreditation/reaccreditation survey if the facility's coordinator provides a one-hour lecture; additional credits would be available for providing an educational lecture.
Credit for credit for attendance at the Annual ACCME Conference. (Participants are given certificate of attendance at the actual conference as proof.)
Coordinators who do not turn in 12 credits each cycle must retake the exam in order to maintain his/her certification. Each coordinator is responsible for keeping up with their continuing education credits and turning them in at the end of each cycle to the KMA CME office. Activity focus should be geared to the Elements under which coordinators work. Any program scheduled that are not related to those Elements must be approved before approval to issue CEUs. KMA CME staff must review each facility request to schedule a continuing education-approved activity prior to the presentation. Web classes offered through the ACCME in which participants pay for participation are approved for continuing education activity.