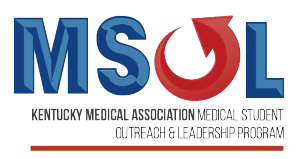 The Kentucky Medical Association Medical Student Outreach and Leadership Program is designed to promote community involvement, as well as to give students an opportunity to learn more about the political, social and economic issues in the health care system. Those who complete all five requirements will be recognized by KMA.
The MSOL program is available to students at the University of Kentucky College of Medicine on the Lexington, Bowling Green, Northern Kentucky, and Morehead campuses as well as, the University of Louisville School of Medicine and the University of Pikeville-Kentucky College of Osteopathic Medicine.
Since its inception in 2015, more than 700 students have participated in some aspect of the program, with more than 300 graduating from all program requirements.
Those who complete the following five steps will be recognized by KMA.
Basics of Health Care Policy
Attend the lecture covering the most pertinent public health and health care economics issues for new physicians to help them understand the health policy landscape. To register for this Oct. 19, 2023 Zoom webinar at 5:30 p.m. Eastern Time, click here. 
Impact of Health Care Policy on Young Physicians
Attend the lecture discussing how many of the policy issues covered in the "Basics of Health Care Policy" might impact new physicians and how they can navigate the current health care marketplace.  To register for this Nov. 7, 2023 Zoom webinar at 5:30 p.m. Eastern Time, click here. 
Basics of Effective Advocacy
Attend the lecture highlighting the fundamental components and well-established techniques of effective advocacy so that new physicians can couple this knowledge with their medical expertise to improve the practice of medicine and promote better health policy and patient outcomes. To register for this Dec. 5, 2023 Zoom webinar at 5:30 PM Eastern Time, click here. 
Public Outreach Project
Complete a public health outreach project in your community. These projects are coordinated through the school and must be submitted to the school's MSOL program coordinator.
What you Learned Essay
Upon completing the first four requirements, participants must submit a short one paragraph description on what they learned from the program.
Contact Laura Meffert at meffert@kyma.org for more information.
Read more about the MSOL program featured in Medical News