Advocacy

Co-Pay Accumulator Adjustment Programs
Tobacco Prevention and Cessation Programs Funding
Prior Authorization for Medication-Assisted Treatment
Click here to see clips of KMA members advocating in support of KMA priorities.
Click here for a special message from KMA President R. Brent Wright, M.D. regarding the 2020 session.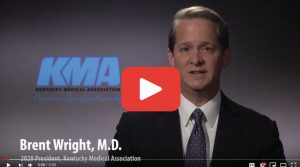 Click here to learn about KPPAC, KMA's political action arm, which increases the medical community's impact on the pro-medicine makeup of the Kentucky General Assembly.
Click here to use KMA's Online Legislative Action Center to:
 Receive updates and talking points about issues important to you;
Identify your legislators by ZIP code;
Find legislators' contact information;
Email legislators directly; and
Link directly to bill summaries and text, along with other important information.
Stay in touch with your legislator and the issues:
Call your legislator directly –502-564-8100
Leave a message on the Legislative Message Line –800-372-7181
Send a fax –502-564-6543
Follow the issues – Visit the Kentucky Legislative Research Commission online
Resources
Legislative Alerts
Receive emails/texts regarding important legislation.
Voting Record
See how your legislator voted on KMA priorities.
How a Bill Becomes a Law
Learn the process of creating legislation.
Find Your Legislator
Lookup your Representative/Senator.
Key Committees
Know the members of key legislative committees
Legislative Calendar
Know important dates during the legislative session
Legislative Tracking Service
Follow important pieces of legislation.
Legal Handbook