Thank You to All of Our KPPAC 100 Contributors!
The Kentucky Physicians Political Action Committee launched the KPPAC 100 in 2016 with the goal of becoming a $100,000 PAC. These Physician Leaders in Advocacy play a major role in ensuring pro-medicine candidates are elected.

Learn more here.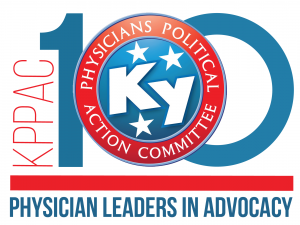 Every election cycle, KPPAC works diligently to find and support pro-medicine candidates, but we need your help to continue our efforts.  KPPAC is funded through independent contributions. Therefore, YOU are the key to KPPAC's success.  By contributing, you are taking a stand with your fellow physicians and electing pro-medicine legislators to represent our interests in Frankfort.  We are stronger when we are united.
To make your contribution, click on the "Contribute" button to use our secure PayPal account, or click here for a form that you can complete and mail with your personal check to KPPAC, 9300 Shelbyville Road, Suite 850, Louisville, KY 40222. Levels of contributions are listed below:
Family contributions require 2 individual contributors within a household.