Posted March 30, 2021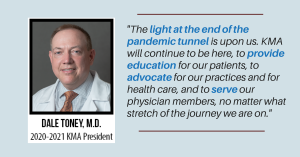 It's officially been more than a year since the COVID-19 pandemic swept across Kentucky and the world. In many ways, March 2020 feels like just yesterday. In others, it may as well have been a lifetime ago.
While all of lives changed dramatically, the availability of the COVID-19 vaccine has provided a light at the end of the tunnel and some semblance of normalcy feels like it could be right around the corner. However, there's still work to be done, and I'm proud to share with you some of the contributions of the KMA, through public health and advocacy, that are helping return Kentucky patients and physicians back to their lives.
Last week, the KMA and the Kentucky Foundation for Medical Care announced the launch of the "Take It From Me" campaign, in partnership with the Foundation for a Healthy Kentucky, the Kentucky Primary Care Association and the Kentucky Hospital Association. "Take It From Me" encourages residents to receive the COVID-19 vaccine as soon as they can, and includes social media advertisements as well as a series of video and print public service announcements. The PSAs feature a diverse group of residents reassuring others to "take it from me" that the COVID-19 vaccine is safe and effective. I was excited to be part of these spots, and would encourage you to watch and share the PSAs, available here.
KMA is also wrapping up an extraordinarily successful legislative session in Frankfort. While this session was challenging, due to COVID-19 restrictions at the Capitol, a number of inclement weather delays, and the general rush that always accompanies a "short session," KMA advocacy team members and physicians from across the state stepped up to adapt to these changes and help see a number of important bills cross the finish line. At this time, legislation expanding telehealth, providing payment parity for mental health services, and protections for patients against co-pay accumulator policies have all been signed by the Governor. On Tuesday, the General Assembly also passed legislation which removes prior authorization requirements for medications used to treat alcohol and opioid use disorder, as well as COVID-19 liability protections. Both of these bills await signature by the Governor. These are tremendous wins for Kentucky physicians and patients, and much needed during a year when health care has been challenged like never before. KMA will be providing more information about the new laws and their importance to medicine in the coming weeks, and I would encourage you to stay engaged to learn more about their impact on your practice and patients.
Finally, it is important to note that many of our colleagues have worked very hard at all levels of society as leaders during the pandemic.  In government through state and local public health departments, as elected and administrative leaders with M.D. or D.O. after their names, and those who have stepped into the public eye through traditional or social media to encourage healthy activities have all played a vital role.  Many of these physicians have been active in organized medicine as local, state and national leaders, as well as graduates of the KMA Community Connector and KPLI programs.  I am very proud of these individuals and the role that KMA played in helping to train, connect, and work with them this past year.  Physician leadership training will continue to be a core function of KMA and we now have many colleagues to tap for their invaluable experience to continue this training.
The light at the end of the pandemic tunnel is upon us. KMA will continue to be here, to provide education for our patients, to advocate for our practices and for health care, and to serve our physician members, no matter what stretch of the journey we are on.