Leadership isn't Measured by Age
Middlesboro Elementary Students Work for Change, Get Smoking Ban Passed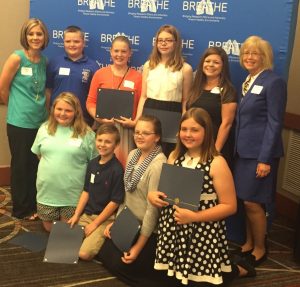 Chloe Burchett saw a problem in Middlesboro, one that she wanted to fix.
"Smoke always makes my brother have an asthma attack … like when we walk into Walmart, people are always smoking by the doors and I hate walking through that," Chloe, AGE, said.
She had the opportunity to make a difference through a "Destination Imagination Team" as a fourth grader at Middlesboro Elementary School during the 2014-15 school year. The seven students on the team were selected based on a variety of assessments used throughout the school and district.
"The mission of the team was to develop opportunities that inspire the global community of learners to utilize diverse approaches in applying 21st century skills and creativity," said teacher Kelsey Massengill, who helped guide the students on the team. But Massengill is quick to point out she only served as a coach to ensure the students stayed on track — she didn't directly help them with their ideas or project.
Students picked the challenge of a service learning project. "One of the guidelines was the project had to be something the students viewed as a concern within their community," Massengill said.
Chloe and others saw smoking as a big concern. At the time, 33 percent of Bell County residents smoked. The fourth graders decided to make a presentation to the Middlesboro City Council in an effort to ban smoking in public places to protect nonsmokers from secondhand smoke and, perhaps as an extended result, to help decrease the number of smokers.
Once the students picked smoking as their challenge, they were self-motivated to make this change within their community, Massengill said. The students attended city council meetings and presented research about Bell County smoking-related health issues. Their presentation included a petition with more than 400 signatures and information about the health effects of smoking. Students also performed a skit they created to highlight the problem and present a solution.
Their persistence and efforts paid off — the City Council passed an ordinance that bans smoking in all public places.
Several of these student leaders will be on hand to share their amazing accomplishment at KMA's Leadership Academy Sept. 10 during the 2016 KMA Annual Meeting Sept. 9-11 at the Marriott Louisville East. The theme of this year's meeting is "Wellness in a Weekend."
The students' success demonstrates the power of leadership and how important it is to grow and develop these skills at any age.
"This has taught me that even young people can do big things!" said Middlesboro student Jack Yoakum.