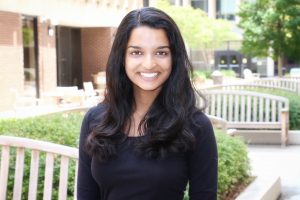 Why did you decide to become a physician?
I wanted a career where I could form connections with people and advocate for those who cannot do so for themselves. My experiences in college such as participating in the Summer Health Professions Education Program and the Summer Undergraduate Research Experience in Environmental Health Science gave me a further look into the work that physicians do and made me realize that it is the right career path for me.
Why did you decide to participate in KMA's Medical Student Outreach and Leadership Program?
I saw the MSOLP program as a great opportunity to learn more about the community where I am learning and may one day practice medicine in.
What are some key things you learned?
I learned how to not only how to advocate for my patients but also how to advocate for myself as a physician. Coming from a family of no physicians, this was especially useful for me. I learned important tidbits of advice such as the importance of using an attorney while signing a contract as a physician and other useful financial information with is not presented in the regular medical school curriculum. I also learned about the unique healthcare needs of Kentuckians including the proportion of Kentuckians on Medicare and Medicaid and how the Affordable Care Act has helped Kentuckians.
Would you recommend the MSOL program to other students and why?
I would definitely recommend the MSOL program to other students as is provides great information on how to be fairly compensated in your future career as a physician as well as the best avenues to take to advocate for your patients.
One of the requirements of the program is participation in a public outreach program. What was yours?
I volunteering to help give COVID vaccines in our community.
What do you enjoy doing in your spare time?
I enjoy going on long walks, doing yoga and listening to one of Taylor Swift's many albums
When you graduate, where do you plan on practicing?
I plan to have a General Pediatrics Practice in Kentucky.