AMA Matters to Kentucky Physicians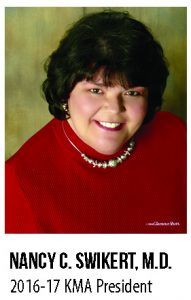 Several members of KMA leadership recently attended the AMA National Advocacy Conference held in Washington D.C. We had presentations with updates on what the AMA is working on with Congressional members on a daily basis regarding federal input for physician practices and patient health care. We were given talking points to then go meet with our individual state Congressional members.
Your KMA delegation met with Sen. Mitch McConnell's chief staff, Sen. Rand Paul, Reps. Brett Guthrie, Hal Rogers, Andy Barr, John Yarmuth and Thomas Massie, but were unable to link up with Rep. James Comer. We also carried the state issues and concerns of our physicians and patients from the Kentucky regions to which these elected Congressional members represent.
The AMA and KMA work together to provide seamless oversight in protecting physician practices and patients' health care rights. All this can't happen without the individual face and input of a local physician who votes for that legislator. Votes matter most. Taking time out of our practices and families to travel and visit with these legislators on behalf of the physicians and patients in Kentucky is vital. Without our presence, Congress can vote on "principles" and not be as accountable as when they have looked you in the eyes and heard the reports of how their decisions made in Congress are affecting local constituents. We are your heart and voice. You help make that possible by being a member of the KMA and AMA.
Sadly, many Kentucky physicians are not members of KMA and AMA. For now, they receive benefits from these efforts, but for how long? If KMA and AMA membership drops, many of the benefits will cease to exist. Kentucky physicians and patients will then become voiceless in participating in their health care. Health policy can then be "dictated" without any knowledge of impact on constituents. Please don't let that happen to your patients, children and grandchildren.
If you're a member of KMA, thank you. I would ask that you consider joining the vital networking body that is the AMA. Click here to find many of the benefits of membership. It takes all of us to make a difference!