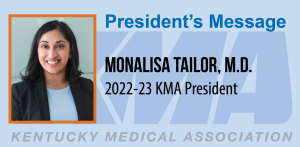 Last week I had the pleasure of attending the 2023 AMA Annual Meeting in Chicago, and like our own KMA Annual Meeting, the experience reminded me of how lucky we are to have such great leaders (and opportunities for leadership) through organized medicine.
I was extremely proud when our own Bruce Scott, M.D., was elected President-Elect of the AMA. Dr. Scott previously served as the KMA's Speaker and then the AMA's Speaker of the House of Delegates, navigating the organization through the incredibly trying pandemic years, and also served as our KMA President from 2018-2019. Through these roles and numerous others, Dr. Scott has advocated for vulnerable populations, improvement in public health and reduction of administrative burdens in health care. Witnessing his election to this position was exciting and I am certainly looking forward to watching how well he represents Kentucky and our country's physicians as AMA President in 2024-2025.
I also was thrilled to catch up with some of the young female physician leaders in attendance at the meeting. Pictured here with me is Abby Rawls, a medical student from the University of Kentucky College of Medicine-Bowling Green campus who was serving in her new position as MSS At-Large Officer, as well as Donna Hill, M.D., the KMA RFS representative. I also spent time with Juliana Cobb, who serves on the AMPAC Board as the medical student representative. I am excited for these young ladies as they begin their journey with organized medicine and know they will accomplish great things.
The AMA Annual Meeting certainly got me looking forward to our own KMA Annual Meeting, which is quickly approaching in August. We have a wonderful lineup of education, networking, and policymaking in the works for attendees, including a special symposium on health disparities across Kentucky and how physicians can be part of the solution, titled "Addressing Social Determinants of Health Through Innovation and Inspiration." We will welcome a panel of experts from around the state to this discussion, and I encourage you to register soon. The Annual Meeting will also include the launch of our "Meet the Mandates" education sessions, which will be offered virtually and allow physicians to obtain all state-mandated CME before the end of the three-year cycle.
I hope each of you have eased into the summer season and are enjoying the warmer weather and a slower pace of life. The AMA meeting reminded me we are better together advocating for the House of Medicine on all levels, from our local county medical societies, to the KMA and the AMA. I'm thankful to these organizations for continuing the advocacy, leadership, and education physicians need, no matter the time of year.