Members to receive access to 30 hours of CAT I CME credit each three-year cycle FREE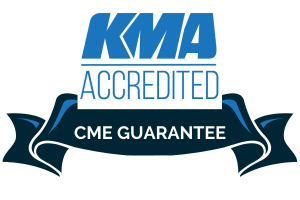 KMA is introducing a new member-only benefit that will allow physicians to receive access to at least 30 hours of Category I Continuing Medical Education (CME) credit each three-year cycle at no cost.
The "CME Guarantee" program allows members to receive education on a wide range of topics, including mandatory licensure requirements, up-to-date clinical guidance, and professional development through a catalog of virtual enduring material. Members can simply log in to their account at kyma.org/CMEGuarantee to access the material. KMA will also keep track of the CME each member completes through the program.
"I'm proud of the way the KMA pivoted during the pandemic to offer so much education online to our members," said KMA President Neal Moser, M.D. "The CME Guarantee program builds on top of that success to allow our busy physicians the ability to complete their CME requirements anywhere, anytime, and at no cost."
Sessions may be offered in live or pre-recorded formats to provide flexibility and options for members. All live education will be provided in a recorded format following the session. Members must complete the evaluation form following each course within the year the course is available in order to claim credit.
KMA members are encouraged to check out the latest course offerings, upcoming sessions, and those that may be expiring soon, by viewing the "CME Guarantee" section of each issue of Kentucky Health eNews, the KMA's bimonthly email newsletter, beginning in September.
"As physicians, we've never been busier, and I'm so thankful to the KMA for providing such a valuable benefit to our members," said Dr. Moser. "I hope each of you will take advantage of this program and allow KMA to take finding quality, cost-effective CME off your plate."
If you have topics you would like KMA to consider for future educational sessions, please contact KMA Education Director Miranda Mosley, mosley@kyma.org.