KY COVID-19 Healthcare and Public Health Update Webinar
The next Kentucky Department for Public Health (KDPH) COVID-19 clinical/public health situation update webinar is scheduled for Tuesday, March 16 at 11:30 am – 1:00 pm
During the webinar, KDPH will offer up-to-date information on the outbreak and will cover several current topics of interest to healthcare providers and public health practitioners. Topics will include (but may not be limited to):
Community Prevention Strategy Changes
Vaccination Progress and Availability Update
Vaccination Adverse Reactions
COVID-19 Variant Strain Update
Breakthrough infections after vaccination
Reinfection with COVID-19
Please register for COVID-19 Healthcare and Public Health Update Webinar on Mar 16, 2021 at 11:30 AM EDT at: https://attendee.gotowebinar.com/rt/905613162489223694
After registering, you will receive a confirmation email containing information about joining the webinar. After the webinar, all registrants will receive a link to a video archive of the presentation along with a copy of the slide deck so will be able to view at a later time if you are unable to attend.
Question and answers will be provided either at the end of the presentation up until 1:00 pm and/or through and post-presentation send-out.
---
Centers for Disease Control Science Updates
To help inform the Centers for Disease Control (CDC)'s COVID-19 Response, the Response's Office of the Chief Medical Officer has collaborated with the CDC Office of Library Science to create a series called COVID-19 Science Update. This weekly series provides brief summaries of new COVID-19-related studies on many topics, including epidemiology, clinical treatment and management, laboratory science, and modeling. Viewers can also sign up to receive updates directly via email.
https://www.cdc.gov/library/covid19
---
2021 Kentucky Physicians Leadership Program Now Accepting Applications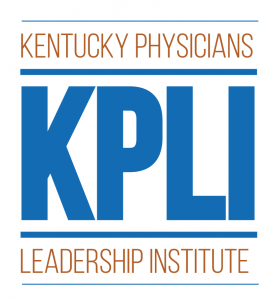 Applications are now available for the 2021 Kentucky Physicians Leadership Institute (KPLI), the premier leadership training program for physicians in Kentucky.
An initiative of the Kentucky Foundation for Medical Care and the Kentucky Medical Association, the award-winning KPLI program is designed to enhance the leadership skills of physicians who can fill emerging leadership roles and influence health care policy in the ever-evolving world of medicine. Since its inception in 2017, graduates of the KPLI program have achieved success in local, state and national level leadership roles.
The 2021 KPLI program will be offered in-person (with appropriate precautions for COVID-19) over the course of three weekends, with the event culminating during the 2021 KMA Annual Meeting.
The Personal Side of Leadership: July 16-17, 2021
The Business of Leadership: July 30-31, 2021
From Leadership to Advocacy: August 13-14, 2021
Leadership in Action: August 28, 2021 at Annual Meeting
The program application and more information is available here.
---
Kentucky Hospital Association COVID-19 Dashboard
The latest update of the Kentucky Hospital Association (KHA) COVID-19 Dashboard is now available here. The dashboard is an effort to provide current information about hospitalizations and ICU bed usage rates due to the novel Coronavirus.