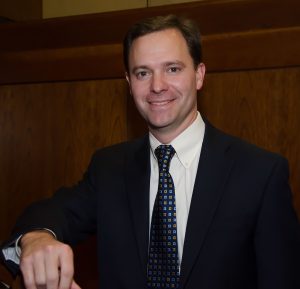 KMA Director of Advocacy Cory Meadows received the 2016 KAEPS President's Award in recognition of his tireless service to Kentucky physicians and their patients. The Kentucky Academy of Eye Physicians and Surgeons presented the award May 13 during its spring meeting and scientific seminar.
KAEPS President Julie S. Lee, MD, of Louisville called Meadows "a true advocate for medicine in Kentucky.
"He genuinely cares about doctors and patients, and he works diligently to elevate the quality of medical care for all Kentuckians," Dr. Lee said. "Cory understands the complexities of today's medical challenges, and he finds a way to somehow cut through the political gamesmanship to bring about positive changes. We all tend to complain about what's wrong in Frankfort, but Cory is one of the few people who actually does something to solve problems."
Frank Burns, MD, KAEPS Legislative Chair, pointed out Meadows joined KMA at a difficult time in relations with the legislature.
"Cory has set a new tone for the KMA with a work ethic and a personal approach that has been extremely successful," Dr. Burns said. "Our legislative efforts and the victories that physicians enjoyed during the 2016 session would not have occurred without the tireless effort that Cory put forth. Cory should be commended for his work and the KMA members that worked with him are extremely grateful to have him as our lobbyist."
The KAEPS President awards the President's Award in recognition of outstanding contributions to the Academy. Dr. Lee pointed to Meadows' work during the past legislative session—and previous sessions—in choosing him for the recognition.
"He has emerged as a hero for medicine by speaking up for physicians across Kentucky," she said.