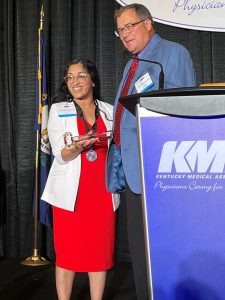 Monalisa Tailor, M.D., a Louisville internal medicine physician, was installed as the 172nd President of the Kentucky Medical Association (KMA) over the weekend during the organization's Annual Meeting, which was held in-person for the first time since 2019. Dr. Tailor is both the youngest and first female President of color in the history of the Association.
A native of Bowling Green, Dr. Tailor is board certified in internal medicine and advanced cardiac life support. She is employed by Norton Healthcare. Dr. Tailor previously served as Vice Speaker of the KMA House of Delegates as well as on numerous KMA commissions and committees. She also served as President of the Greater Louisville Medical Society (GLMS) from 2020-2021 and currently serves as the GLMS Board Chair. Dr. Tailor has been the recipient of a number of community leadership awards, including being selected for the Tower Award for Women Leaders in Science and Healthcare by Presentation Academy, the Young Professional Association of Louisville Award, and the Louisville Business First Forty Under 40 Class of 2020.
In her inaugural address, also available on the official Kentucky Medical Association YouTube Channel, Dr. Tailor discussed her goals for the year, including a focus on "rejuvenating medicine," given the challenges the profession has faced over the last several years.
"For those of us working in healthcare, the COVID-19 pandemic has left an indelible mark on our lives. Stress and burnout are at an all-time high in our profession, while mistrust and misinformation among our patients could be considered an epidemic in itself. Now more than ever, we need to come together as physicians to combat these issues and reinvigorate ourselves so that we can continue to provide the best care for the people of the Commonwealth." Said Dr. Tailor.
KMA Officers Elected During 2022 Annual Meeting
In addition to the installation of the President, KMA members elected four other officers during the 2022 meeting. Michael Kuduk, M.D., of Winchester was elected President-Elect, and Evelyn Jones, M.D., of Paducah was elected Vice President. Danesh Mazloomdoost, M.D., of Lexington, was elected Speaker and Heidi Koenig, M.D., of Louisville was elected Vice Speaker of the KMA House of Delegates.
KMA Award Winners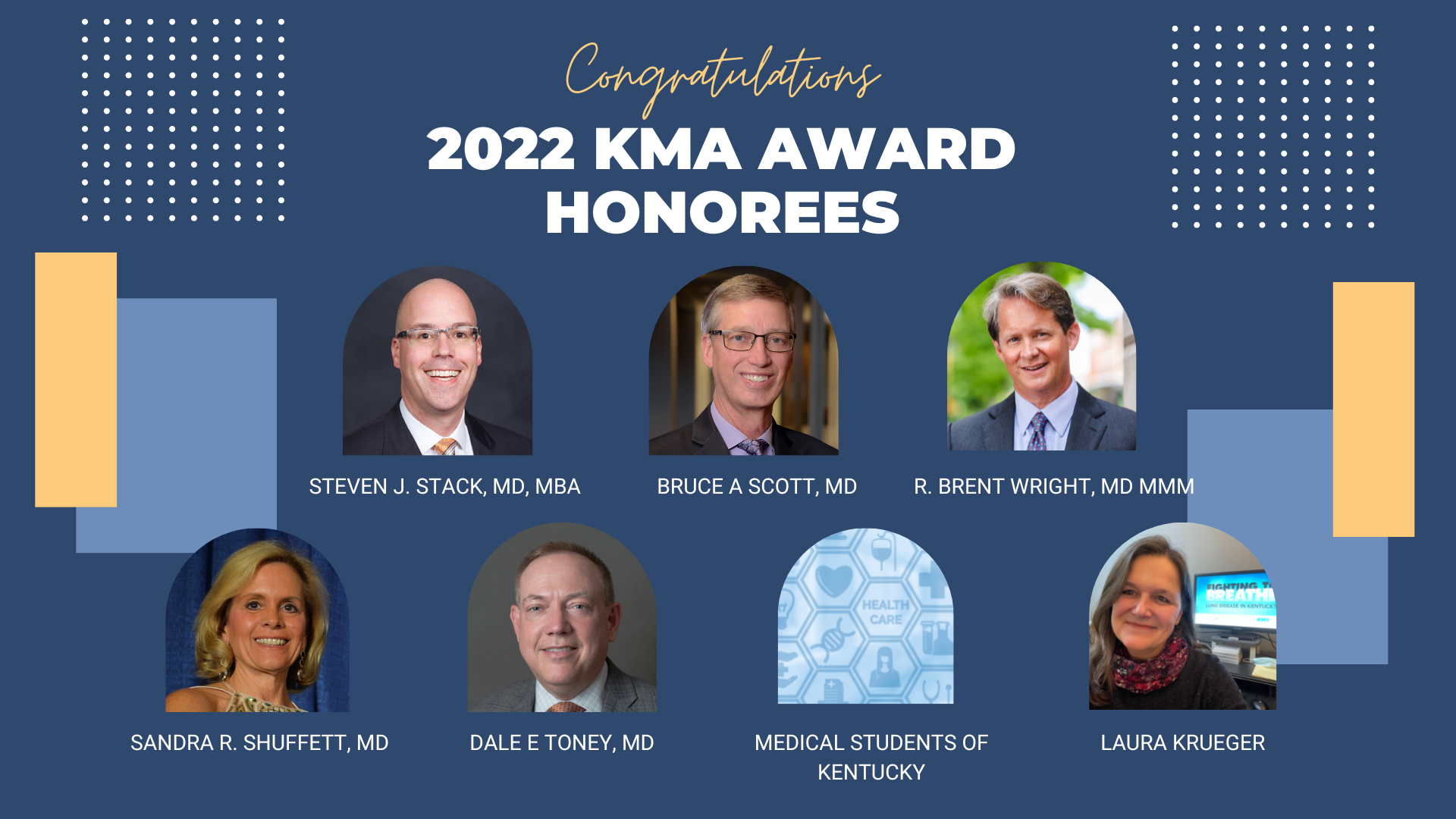 KMA presented awards to seven individuals or groups during the President's Celebration Reception, held on Aug. 27. Short videos of each award recipient were shared during the reception, which are now available on KMA's YouTube Channel.
Three individuals were recognized with the KMA's Distinguished Service Award, the Association's highest professional honor. Bruce Scott, M.D., a Louisville otolaryngologist, Steven Stack, M.D., an emergency room physician and Commissioner for the Kentucky Department for Public Health, and R. Brent Wright, M.D., a Glasgow family medicine physician, were honored for their contributions to medicine.
In addition, Sandra Shuffett, M.D., a Nicholasville radiologist, Dale Toney, M.D., a Lexington internal medicine physician, and the medical students of Kentucky received the KMA's Community Service Award. Laura Krueger, a health program producer who spent more than 10 years with Kentucky Educational Television (KET), received the Debra K. Best Outstanding Layperson Award.
Kentucky Physicians Leadership Institute Graduates Eleven Physicians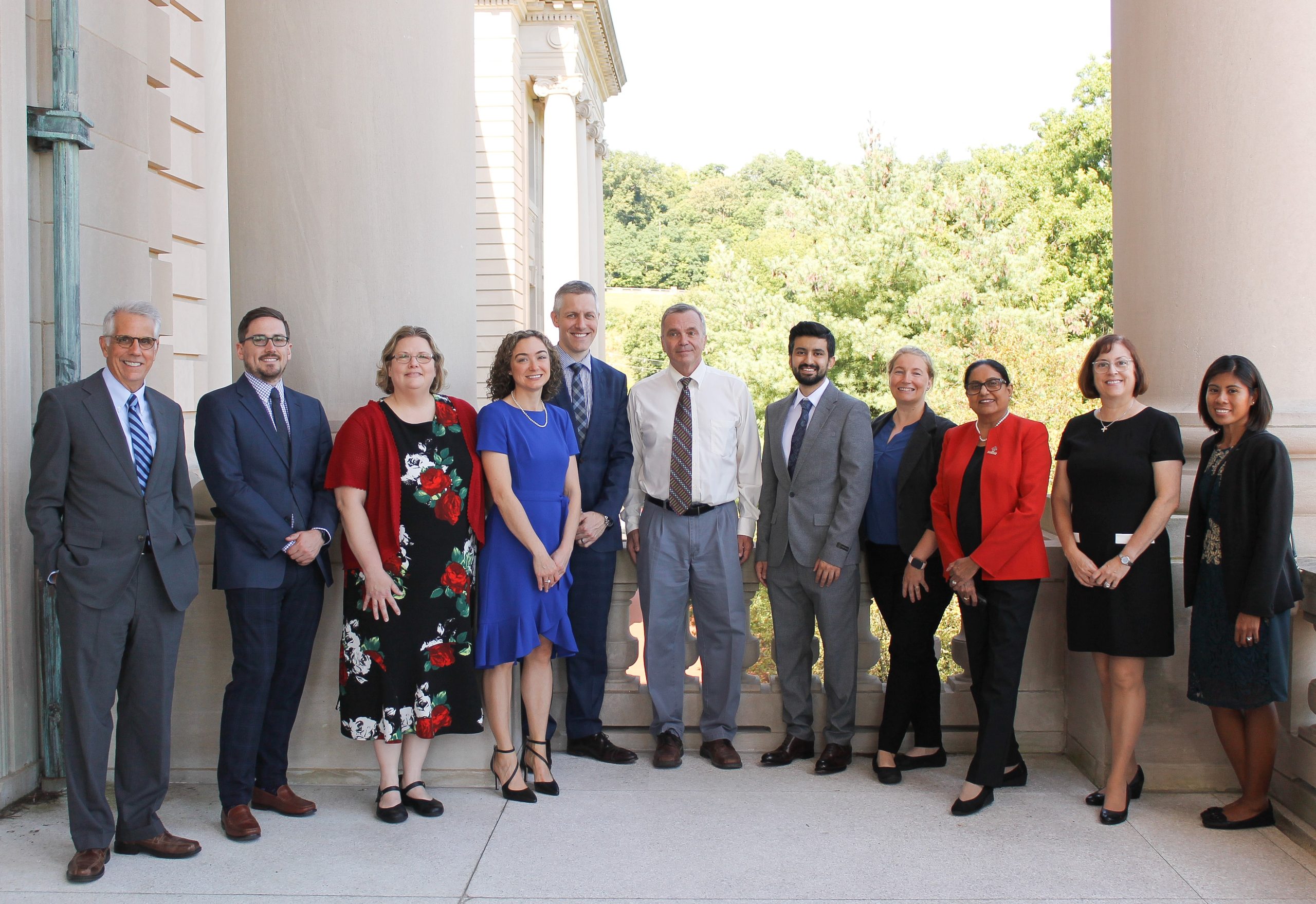 Eleven physicians were recognized during the Annual Meeting for completing KMA's award-winning Kentucky Physicians Leadership Institute (KPLI). Participants completed a series of learning events that aim to cultivate physician leaders across the state. Members of the 2022 class are Dylan Adamson, M.D., of Louisville, Faizan Babar, M.D., of Lexington, Aneeta Bhatia, M.D., of Louisville, Amanda Evans, D.O., of Edgewood, Tina Fawns, M.D., of Georgetown, Lesley Kellie, D.O., of Louisville, Casey Miles, M.D., of Bowling Green, Steven Neus, M.D., of Foster, Elizabeth Ottman, M.D., of Owensboro, Ryan Shapiro, M.D., of Smithfield, and Mark Slaughter, M.D., of Louisville.
KMA Medical Student Outreach and Leadership Program Graduates 87 Students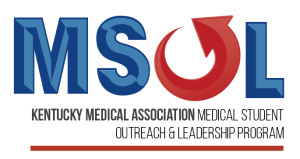 KMA also honored graduates of its Medical Student Outreach and Leadership (MSOL) program over the weekend. Eighty-seven students from four campuses across the state completed the program this year, which is designed to engage students early in organized medicine and create future physician leaders through educational sessions and community involvement. A listing of students and their respective medical schools is available here.