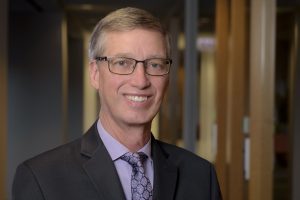 The 2023 American Medical Association (AMA) Annual Meeting in Chicago included the election of KMA Past President Bruce Scott, M.D., as AMA President-Elect, as well as the adoption of a new policy declaring Medicare physician payment reform an urgent advocacy and legislative priority for the AMA.
Dr. Scott, a Louisville otolaryngologist who served as KMA President from 2018-2019, will become President of the AMA in June 2024. In his work with the KMA and the AMA, he has advocated for access to care for vulnerable populations, improvement in public health and reduction of administrative burdens in health care.
"With physician burnout surging, prior authorizations taking more and more time and resources away from patient care, and an unsustainable Medicare system, I will advocate relentlessly during my presidency for the AMA Recovery Plan for America's Physicians," he said in an AMA press release.
Following the election, the AMA House of Delegates declared Medicare physician payment reform an urgent advocacy and legislative priority for the AMA. The House of Delegates also modified existing policy to implement a comprehensive advocacy campaign to achieve the enactment of reforms to the Medicare physician payment system consistent with AMA policy.
The AMA, in collaboration with 120 other physician and healthcare organizations including the KMA, has outlined the Characteristics of a Rational Medicare Payment System, which include an annual inflationary update for physicians that can put the nation's healthcare system on sustainable financial ground.  Additionally, these reforms would:
Ensure financial stability and predictability
Promote value-based care
Safeguard access to high-quality care
Temporary fixes and ongoing cuts to the Medicare physician payment system are not sustainable. When adjusted for inflation, Medicare physician payment has effectively declined 26% from 2001 to 2023. Without long-term reform, physician practices could be forced to close their doors leaving Medicare patients without access to high-quality care.
Bipartisan legislation has been proposed in H.R. 2474, the Strengthening Medicare Patients and Providers Act, that would provide annual inflationary updates, based on the Medicare Economic Index (MEI), for Medicare physician services, similar to updates received by other healthcare providers.
Join the fight to fix Medicare now by contacting your lawmakers and urging them to support H.R. 2474, an important first step in the fight to fix Medicare.
To learn more about the broken physician payment system and what Congress can do to fix it, visit fixmedicarenow.org.