Posted January 5, 2021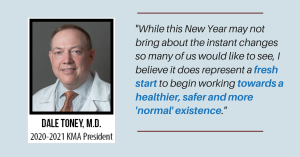 We're only a few days in, but 2021 is already shaping up to be a monumental year for healthcare and physicians.
Despite the rollout of the much-anticipated vaccine, the COVID-19 pandemic is still raging across the country. Just last week we sadly lost another Kentucky physician to the virus. Dr. Don Miller was an emergency room physician from Bowling Green who tested positive in early December. He will be deeply missed by his colleagues, family, friends and community. His loss echoes the importance of doing all that we can to combat this enemy.
I know there have been many logistical challenges associated with distributing the vaccine across the state. The Kentucky Department for Public Health is aware of this, and Public Health Commissioner Dr. Steven Stack released this statement to providers last week, which was shared with KMA members. If you have received your vaccine, I would like to encourage you to share about the experience both with the KMA and your patients, so we can help educate the public on its safety and efficacy. While it may not be widely available for some time, it's important that we stand united as physicians and scientists to promote this important achievement and help end the pandemic. You can email your photos or experiences to Emily Schott, schott@kyma.org.
It may be hard to believe, but this week also marked the beginning to the 2021 Kentucky General Assembly. The COVID-19 pandemic has certainly changed how many things are conducted, and the 2021 session is no exception. While things may look different this year, the advocacy of KMA will remain steadfast. I'd like to bring your attention to our priorities and how you can get involved in advocating for them during this unprecedented year.
The 2021 General Assembly is a 30-day "short session" and is expected to be busy and contentious, but healthcare issues will likely be given needed attention in lieu of the pandemic. KMA's full list of 2021 priorities and descriptions is available here, but they include access to care (telehealth expansion, mental health parity and copay accumulator policies) liability protections (particularly for treatment of COVID-19 patients) and public health issues, such as prior authorization for MAT, tobacco local control, deceptive drug advertising, and tobacco prevention and cessation funding.
In place of KMA's annual in-person "Physicians' Day at the Capitol," we are introducing KMA "Advocacy in Action Month," which will be held as various events throughout February. There will be a number of ways physicians can participate, including a virtual member briefing that will discuss the KMA's legislative priorities for the session on Feb. 1 at 7 p.m. ET. Registration for that event is free and available here. Members will also be encouraged to reach out to their legislators each Tuesday during the month as part of the initiative's "Talk Tuesdays" events, as well as to contribute to the Kentucky Physicians Political Action Committee (KPPAC) during "KPPACtion Day." Be sure to watch your email and follow KMA on Twitter, @KYMedAssoc, for the latest updates.
While this New Year may not bring about the instant changes so many of us would like to see, I believe it does represent a fresh start to begin working towards a healthier, safer and more "normal" existence. I am thankful to have the KMA and its thousands of physicians across the state working with me to achieve these goals.