Posted January 22, 2019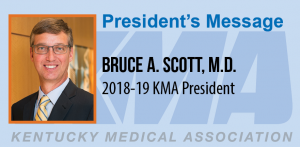 January 8 marked the beginning of the 2019 Kentucky General Assembly. While legislators are currently on a three week break and will reconvene on Feb. 5, they will hit the ground running upon their return. That's why it's so important for KMA members to take advantage of this interim period and start planning ways to stay engaged throughout the session and beyond.
Fortunately, many members of the KMA already take this responsibility seriously, and frequently devote time from their busy schedules for the betterment of the practice of medicine and the health of their patients.
Last year, several KMA members testified in front of legislative committees on issues of great importance to medicine. These individuals took time away from their practices to serve as the voice for thousands of Kentucky physicians. Having been present for many of these meetings, I can't emphasize enough how influential it is for a legislator to hear testimony directly from someone on the front lines of care. KMA is highlighting those members who advocate in such a manner with its Advocacy in Action campaign at kyma.org and on social media, and of course, we are encouraging more members to join us in Frankfort to help further this effort in 2019. If you have never testified or even had a meeting with a legislator, an easy way to begin would be to attend KMA's 2019 Physicians' Day at the Capitol, scheduled for Thursday, Feb. 21. More information and registration is now available at 2019kmapdac.eventbrite.com.
KMA is also constantly identifying additional channels for members to remain in-tune with the Association's advocacy efforts. This year, we are excited to offer a new text messaging service that will alert members to the latest updates to our priority legislation. Those who sign up for this service can receive weekly text messages regarding the status of bills and what action can be taken to help further their progress.
To enroll, members simply need to text "KMA" to 50457.
Finally, make sure you are receiving KMA's Legislative Alerts, distributed via email every Tuesday during the session. Legislative Alerts highlight the most important takeaways from each week in Frankfort and can help you stay up to date on our priority legislation as it moves through committees and chambers. Members can sign up for Legislative Alerts by emailing Laura Hartz, hartz@kyma.org.
The KMA has seen many advocacy successes in the last several years. But we can't rest on our laurels. Our mission as an organization is to work on behalf of physicians and patients to ensure the delivery of quality, affordable healthcare. Whether advocating for improvement through public health initiatives or on Capitol Hill, our members are indeed the key to our success. I urge you to get involved and help us continue this progress throughout 2019 and beyond.