My first few weeks serving as President of the KMA certainly got off to a running start.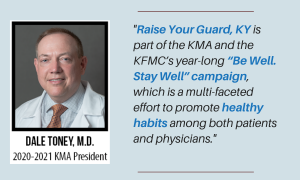 I was proud to begin my year by representing Kentucky physicians as part of the KMA and KFMC's public health campaign, "Raise Your Guard, KY," in partnership with the Foundation for a Healthy Kentucky and Anthem Blue Cross and Blue Shield in Kentucky.
Raise Your Guard, KY encourages Kentuckians to see their physician for well-visits and to update their vaccinations in an effort to maintain optimal health. It launched in August in conjunction with Immunization Awareness Month, and the initiative's kickoff video was shown by Gov. Beshear during one of his 4pm press conferences. In addition to billboards, radio, and streaming service advertisements, Raise Your Guard, KY also included targeted social media and web ads, which were distributed in areas of the state where we had seen the greatest decline in vaccination rates since the beginning of the pandemic.
I'm excited to report that more than 1.1 million social media impressions were recorded as a result of our campaign. We also estimate more than 3.7 million Kentuckians saw our billboards, and an additional 142,000 watched our ads on streaming services like Hulu and Crackle. And soon we hope to have numbers from the Department of Medicaid that will tell us how much of an increase we saw in vaccination rates across the state over these last few months.
While I'm energized by these numbers, we're not stopping there. I recently co-authored an op-ed that is being published statewide titled, "The Doctor Will See You Now: Don't Delay Important Medical Care," which calls on patients to resume routine appointments and screenings, as well as to get a flu shot.
Raise Your Guard, KY is part of the KMA and the KFMC's year-long "Be Well. Stay Well" campaign, which is a multi-faceted effort to promote healthy habits among both patients and physicians. I'm excited about this campaign for a number of reasons, but especially because it is designed to react to whatever is going on in healthcare throughout the year. Given that we are still in the midst of a global pandemic, I feel this is going to be a very effective way to reach Kentuckians and continue as a leading voice in public health throughout the state.
It's been a busy first few weeks as KMA President…but I'm proud of what we've already been able to accomplish and look forward to seeing how far we can go together.