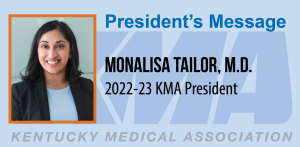 As we begin a new year, it is a time of reflection and gratitude. 2023 is no different. For us as physicians, 2023 allows us to reflect on the last three years where we have dealt with the COVID-19 pandemic and its ramifications impacting medical care, mental health, and our patients.
At the recent AMA Interim Meeting, Dr. Jack Resneck, AMA President, quoted an article from The Atlantic: "Health care workers aren't quitting because they can't handle their jobs. They're quitting because they can't handle being unable to do their jobs." Just reading that sentence, I'm sure you are flashing back to prior authorizations, letters of medical necessity, pharmaceutical shortages, and other items that are impacting your ability to provide quality care to your patients.
Contrast that with this opportunity to see medicine work well. On January 2, Buffalo Bills safety Damar Hamlin collapsed before our eyes. The medical team rushed to his aid and showed us the true value of CPR. They were able to save him, and our colleagues at the University of Cincinnati stabilized him following the incident. Healthcare workers watched this episode unfazed. We have seen codes before. However, to the lay public, this was horrifying. This was real CPR, not movie magic CPR. This was the CPR that saves lives.
As health care workers, we knew Hamlin's episode was the situation for CPR to work. He is a young, healthy male who got immediate care, preserving oxygen flow to his brain, and the induction of a medical coma to stabilize him and his body. We know these protocols and procedures, and we all breathed a sigh of relief when we knew Hamlin was ok.
Watching this unfold, I realized something. At some point in our training, we lost sight of the humanity that helps us to relate to our staff, friends, and family members who were traumatized by this experience. I saw doctors on social media explaining Hamlin's condition. Dr. Kim Williams of UofL shared a great explanation of commotio cordis to describe what happened. Our brains went to the protocols, but not the emotional pain that bystanders experienced. The ability to explain the medicine and ease the emotional angst, as physicians, is our superpower.
I have a patient who has some anxiety about his health, and always wants it to be perfect. His anxiety is appropriate, as he has had a lot of medical issues including coronary artery disease, atrial fibrillation, diabetes, and chronic kidney disease. He recently was found to have a second-degree heart block and received a pacemaker. At a follow up appointment, we compared his EKG from just this fall to the EKG he had now. His heart rate went from 78 to 40 on the recent EKG. We discussed cardiac anatomy and I explained what was going on with his heart and how they had fixed it. I told him "The pacemaker is your friend. It's going to keep you going." His concern was that it would rust or it would go off in the airport metal detectors.  I was able to reassure him it would not. It gave him a better understanding of why this device was placed. This was my joy in medicine, to educate my patient so he would better understand his own medical condition and put his mind at ease.
These types of interactions may be few right now, but this new year, I want to hold these moments in my memory to help me get through the difficult interactions and challenges like prior authorizations. These interactions are rejuvenating my desire to practice medicine this year. I hope you find these moments that rejuvenate your desire to practice medicine, too.
From organized medicine, our AMA is working to support you with the American Recovery Plan for Physicians just as our KMA is working to support you here on the state level to reduce prior authorization burdens, defend against scope of practice creep, and improve physician well-being.
I bet I know what moment will serve as rejuvenation for our colleagues at the University of Cincinnati this year. A few days after his collapse, Damar Hamlin woke up from his sedation while still on the vent. His first question in writing to his medical team was "Who won the game?"
The medical team responded: "You won. You've won the game of life."