Posted August 29, 2018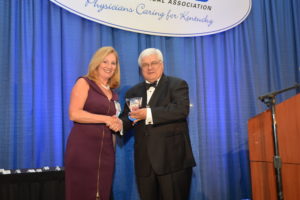 The Kentucky Medical Association presented its Debra K. Best Outstanding Layperson Award to Representative Kim Moser of Taylor Mill during the Leadership Dinner at the 2018 KMA Annual Meeting on Aug. 25.
The award is given to a non-physician or group in Kentucky who has made outstanding contributions in the field of public health and/or medical care. Rep. Moser has worked to support the medical community for many years. She recently concluded her term as President of the American Medical Association (AMA) Alliance, and was the first non-physician chair of a state association medical PAC in history when she chaired the Kentucky Physicians Political Action Committee (KPPAC) in 2014-2015. In 2015, Rep. Moser was awarded AMA's prestigious Belle Chenault Award for Political Participation for assisting friends of medicine in their quest for elected office at the state and federal levels. Upon her election in 2017 as state representative for the 64th district, she immediately got to work sponsoring and supporting legislation of importance to the medical community, along with workforce and economic development. In only two years she has become a noted expert on healthcare issues within the General Assembly. Rep. Moser notably co-sponsored Senate Bill 89 with Sen. Ralph Alvarado, M.D., which requires insurance companies to cover smoking cessation programs and was a priority issue for KMA during the 2017 session.
Rep. Moser has also worked diligently to combat the state's opioid abuse epidemic, serving as Director of the Northern Kentucky Office of Drug Control Policy and as the Legislative Liaison for the Heroin Impact Task Force. She has also sponsored several bills on heroin and opioid use.
"Rep. Moser sets the example for what an individual can do to make a difference in health care policy. Her knowledge, talents and commitment continue to make a difference at many levels," said KMA 2017-2018 President Maurice J. Oakley, M.D.