Posted May 20, 2019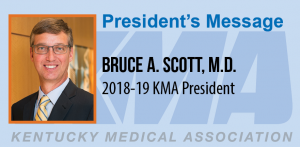 Health plans hold all the cards when negotiating with providers (reimbursement) and patients (health insurance rates). Recent attempts by health plans to consolidate have made that abundantly clear, and litigation to stop these mergers has tried to prevent a bad situation from becoming worse. In response, health plans have narrowed their provider networks, offering fewer choices to patients and far less reimbursement to providers. Physicians only recourse in these blatantly unbalanced contract negotiations is to say "no." Otherwise, to accept such lopsided terms could result in practice insolvency and exacerbate the state's access to care issue. As a result, some patients enter this byzantine world of health care and sometimes receive care by physicians who may not be in a plan's network.  Patients are then stuck with paying bills they did not expect at rates that are more than the health plan negotiated. This situation is called Out of Network (OON) Billing.
Recognizing that this was a growing problem, the House of Medicine responded. Kentucky Medical Association (KMA) leadership began meeting with representatives of the health plans over a year ago and held discussions with our federal delegation during a D.C. visit in February. Several months ago, the American Medical Association (AMA) with more than 100 state and specialty organizations, including the KMA, submitted a letter to Congress laying out principles that should guide any federal legislation. Primary among these principles is that patients should not be financially burdened by unanticipated coverage gaps in their insurance. Additionally, physicians should accept reasonable compensation for their services, but at the same time health plans should be required to negotiate contracts in good faith and ensure adequate network participation. Finally, if federal legislation prohibits billing patients for OON services they did not choose, health plans should be required to reimburse OON physicians at a rate based on the market value of their service, not a percentage of Medicare or in-network rates.
Recently the White House issued a press release and AMA responded, and now "bipartisan" legislation has been introduced in both chambers of Congress. While the current proposed federal legislation does take the patient out of the middle, at least one legislative measure appears to mandate that OON physicians accept reimbursement based upon "participating provider" rates.  In the AMA response, President Barbara McAneny said, "solutions that policy makers adopt must incorporate network adequacy requirements." She further added, "policy makers must establish incentives to negotiate fair contracts and build adequate networks." Requiring physicians to accept unacceptable contract rates would eliminate all incentives for health plans to negotiate fair contracts. The already imbalanced "negotiation" process would be tilted even more in favor of the Goliath health plans.
Ultimately, the solution is for health plans to offer fair contracts with reasonable reimbursement rates, which will result in sufficient numbers of contracted physicians in each specialty and geographic region and provide patients timely access to medical care. Since all sides agree that patients should not be trapped in the middle, the question becomes what solution is more likely to incentivize health plans to offer fair contracts that maximize provider participation. Is the answer to force physicians to accept contracts and rates that are unacceptable or to motivate health plans to come back to the negotiating table and fill their network with willing participants? To me, the answer is clear, now WE need to convince the decision makers.