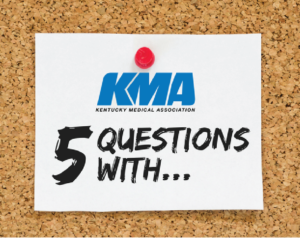 KMA is pleased to introduce a new feature series, "5 Questions With … " Each month, KMA staff will interview a person of interest or thought leader making an impact in the world of healthcare and ask them five important questions.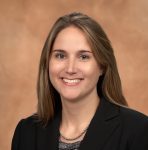 Sarah Spurlock, KMA legal counsel and attorney with Stites & Harbison PLLC, answered this month's five questions regarding KMA's upcoming Physician Employment Contracting Symposium. The event will be held Saturday, Jan. 27 from 8:30 a.m. to 12 p.m. at the Louisville Marriott East. Members who are employed or considering employment are encouraged to attend to learn more about how to modify or enter into an employment contract.
What is your background and experience in employment contracting?
Spurlock: I graduated from the University of Kentucky College of Law in 2009 and have been practicing health care law with Stites since that time.  My work involves a range of regulatory and transactional health care law, contract drafting and negotiation, health care privacy and information security, and health care litigation. I have worked with physicians at various professional stages on contract negotiations, including residents receiving their first contract, relocating physicians, and physicians transitioning from private practice to employment.
What mistakes do physicians typically make when looking at an employment contract?
Spurlock: Most people turn right to the compensation. Of course that's important, but there are lots of other items to consider that can have a big impact on the success of the relationship and the physician's satisfaction. It's important to read the entire contract to avoid surprises. If there is a term or provision you don't understand, ask questions. It may be significant from a legal perspective and you want to know that going in. It is also important to make sure the physician's expectations for the arrangement have made it in to the contract. I find that people often talk through the terms of an employment offer with one person, but those discussions aren't fully communicated to another person who draws up the contract. The result is a contract that is missing terms the physician thinks were agreed to during the preliminary conversations. If it's important to you, you need to be sure it is written into the contract.
What are your tips for getting the most out of a contract?
Spurlock: Look for opportunities to make it balanced and be sure to think about your exit strategy. If you are not happy, what are your options to end the contract? And, are there different consequences depending on how and when you terminate the contract, or maybe there are only certain times during the arrangement when you can terminate it?  No one wants to assume a position won't be a good fit, but if you wait to consider your options when you are already employed and decide you want to make a change, you may find those options are limited. It's important to understand the ways both you and your employer can terminate the contract.
What fringe benefits are the most difficult to negotiate?
Spurlock: If a particular benefit is going to create a precedent for future employees, or create discord among physicians who accepted a contract without the benefit you are seeking, it's going to be difficult to get it as part of your arrangement. Also, if you know there are certain things you have to have—limitations on travel, specific scheduling needs, and extra time off for a specific event or family obligation— it's important to discuss those early on.
Who can physicians trust to help them look over a potential contract?
Spurlock: In addition to legal counsel, physicians may want to consider consulting with an accountant or financial planner to confirm the financial terms will fit their needs. Discussing the terms of malpractice coverage with an insurance agent may also be helpful, particularly if the contract allows the physician to perform outside activities that will require the physician to have independent malpractice coverage.
This symposium is offered at no cost as a member benefit and space is limited. Contact Miranda Mosley at mosley@kyma.org or 502-814-1393. Register at www.kmacontractingseminar.eventbrite.com