Jiapeng Huang, M.D., PhD, FASA, FASE
Immediate Past President of Medical Staff
Jewish Hospital & St. Mary's Healthcare
Editor, Journal of Cardiothoracic & Vascular Anesthesia
Clinical Professor of Anesthesiology & Perioperative Medicine
University of Louisville, Louisville, KY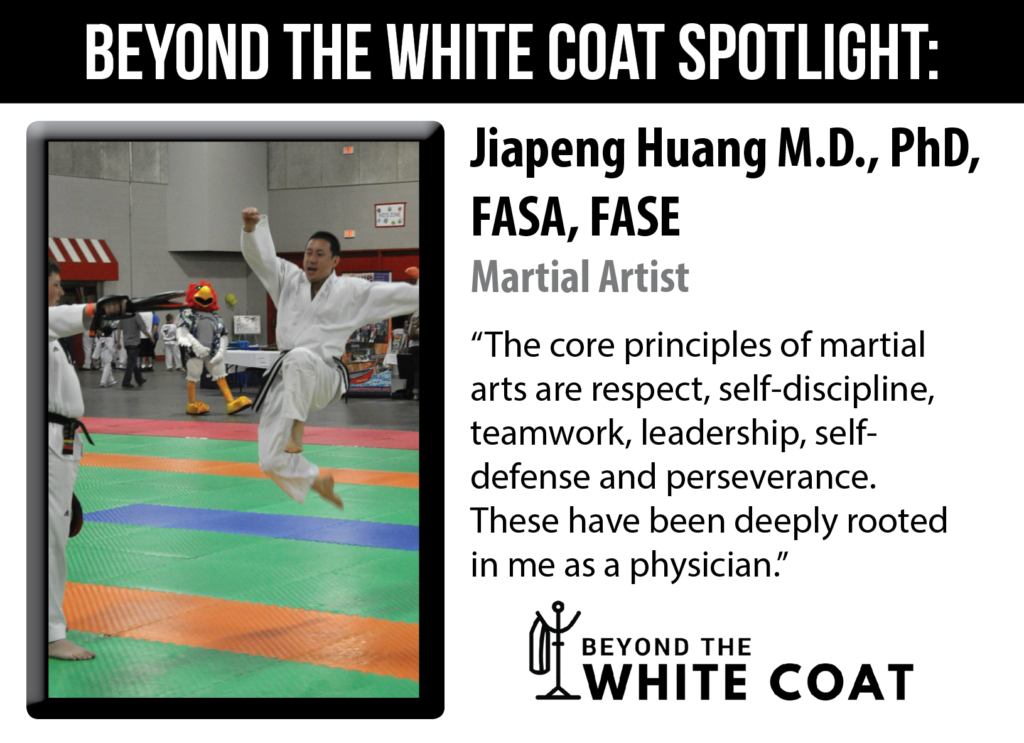 How long have you been participating in Martial Arts?
More than 10 years.
How did you get interested in this?
I always have a strong interest in martial arts and did not get to do them when I was younger. I started my marital arts training with my daughter when she was 5 years old. The core principles of marital arts are respect, self-discipline, teamwork, leadership, self-defense and perseverance. These have been deeply rooted in me as a physician. I find the physical and mental trainings in martial arts fascinating and rewarding.
Why do you enjoy it?
Martial arts are a way of life that is not only about punching and kicking. Along with the physical trainings, mental exercise is critical for success to deal with burdens, hurdles and difficulties. I found marital art trainings are fun, relaxing and healthy for me as a physician. Plus, you make great fiends and meet fantastic training partners as you go through different stages of martial arts trainings just like you do in residency.
How does it help relieve your stress?
As a martial artist, you must remain calm and focused at all times. On the mat, I do not think about anything but the form, the technique and my opponent. Martial arts help me isolate myself from work and enjoy the trainings.
Anything else you'd like to add?
Doctors take care of many people, but you need to take of yourself and your colleagues first. That is the foundation.