2018 KMA Annual Meeting Also Honors Award Recipients, Program Graduates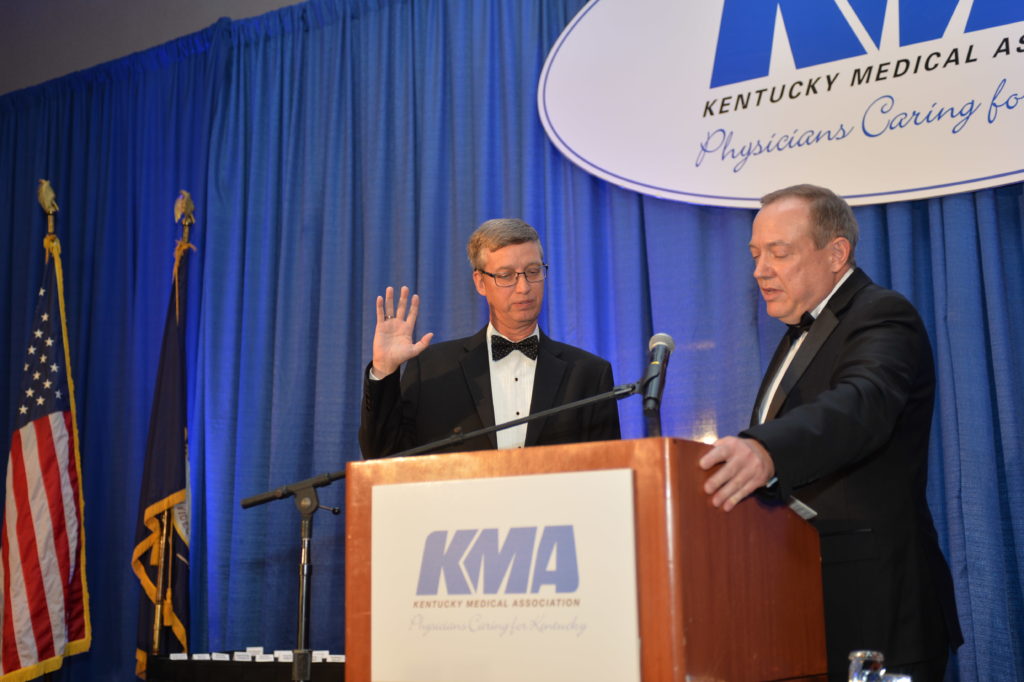 Bruce Scott, M.D., a Louisville otolaryngologist, was installed as the 168th President of the KMA on Aug. 25 during the Association's Annual Meeting in Louisville.
KMA members also elected two other officers during the 2018 Annual Meeting. R. Brent Wright, M.D., of Glasgow, was elected president-elect and Dale E. Toney, M.D., of Lexington was elected vice president.
Dr. Scott completed undergraduate school at Vanderbilt University, medical school and residency at the University of Texas Medical Branch and fellowship training at the University of Texas Health Science Center. He returned to Kentucky in 1993 and has been practicing otolaryngology in his hometown of Louisville ever since. He maintains an active clinical practice as a Partner and President of Kentuckiana Ear, Nose and Throat, serves as medical director of a multispecialty ambulatory surgery center, and holds a clinical appointment at the University of Louisville School of Medicine. Dr. Scott is board-certified in both otolaryngology and facial plastic reconstructive surgery.
While in Texas, he became involved with the American Medical Association (AMA), rising to become the Chairperson of the AMA-Resident Physician Section. After returning to Kentucky, he continued his involvement in local, state and national medical associations. He has served on the Greater Louisville Medical Association (GLMS) Board for more than 20 years, including as President and Chairperson. As a young physician, Dr. Scott was selected as the national Young Physician Section Delegate to the AMA and in 1998 was elected as the young physician on the AMA Board of Trustees. He has been a member of the KMA Board of Trustees for more than 15 years. Prior to being selected as President-Elect, he served as Speaker of the KMA House of Delegates. Dr. Scott has been a member of the KMA Delegation to the AMA for 15 years and currently serves on the AMA Board of Trustees as the Vice Speaker of the AMA House of Delegates.
During his address at the KMA Leadership Dinner, he called on the Association to unify around issues on which there was consensus among physicians, such as eliminating or reducing administrative barriers and impacting overall public health. His speech also echoed the theme of the Annual Meeting, Forward Focus: The Path to Physical and Fiscal Health.
Awards and Recognition
KMA also presented its annual awards during the meeting.
Wayne Tuckson, M.D. of Louisville, received the KMA Community Service Award, Rep. Kim Moser of Taylor Mill received the Debra K. Best Outstanding Layperson Award, and Bradon Wilhelmi, M.D., of Louisville received the KMA Educational Achievement Award. Two individuals were presented with the inaugural KMA Advocacy Award: Sen. Ralph Alvarado, M.D., of Winchester, and Mayor Brandi Harless of Paducah. David Bensema, M.D., of Lexington received the KMA Distinguished Service Award, the Association's highest professional honor.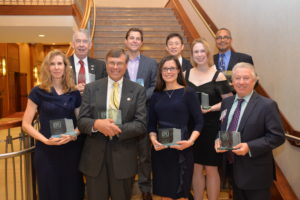 Nine physicians were also recognized for completing KMA's Kentucky Physicians Leadership Institute (KPLI). Participants completed a year-long series of learning events that aims to cultivate the next generation of physician leaders across the state. The four primary events culminated with a discussion led by participants at the KMA Leadership Academy during the Annual Meeting. Members of the 2018 class are Susan Bushelman, M.D. of Florence, Angela Dearinger, M.D. of Versailles, Joseph Hill, M.D. of Lexington, Jiapeng Huang, M.D. of Louisville, Michael Kuduk, M.D. of Winchester, Suzanne McGee, M.D. of Louisville, Theodore Miller, M.D. of Fort Thomas, Vaughn Payne, M.D., MBA of Louisville, and Wayne Tuckson, M.D. of Louisville.
KMA also recognized seven physicians who completed the KMA Community Connector Leadership Program (CCLP), which prepares and supports physicians in leadership roles and offers grants to nonprofit organizations. This year's recipients were James L. Borders, M.D. of Lexington, Lori Caloia, M.D. of Louisville, Philip Hurley, M.D. of Owensboro, Casey Lewis, M.D. of Shepherdsville, Donnie R. Stacy, II, M.D. of Louisville, Tuyen Tran, M.D. of Lexington, and Wayne Tuckson, M.D. of Louisville.
KMA also honored 58 students who completed the organization's Medical Student Outreach and Leadership Program (MSOL). Inspired by the format and success of the Community Connector Leadership Program, it was designed to engage students early in organized medicine and create future physician leaders through educational sessions and community involvement. A listing of students and their respective medical schools is available here.
A photo gallery from the 2018 Annual Meeting is available here.
Beyond the White Coat
The talents and hobbies of more than 30 physicians from across the state were on display during the Annual Meeting's Beyond the White Coat event. Attendees were able to view exhibits from member physicians who have interests in photography, woodworking, pottery, beekeeping, martial arts, painting, jewelry creation and more. Attendees to Saturday's Leadership Dinner were entertained by music from pianist and internal medicine physician James L. Borders of Lexington. Following the dinner, guests were treated to a reception featuring physician rock band The Fabulous Goatmen.
A gallery of submissions from Beyond the White Coat is available here.