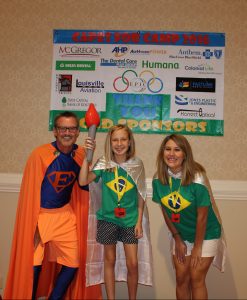 Don't be surprised if you see a grown man in tights show up at your office in the coming weeks dressed in superhero garb.
It's just Epic Insurance Solutions President Don Thompson, also known as "Epic Man."
He dresses this way for a good reason—to raise money for kids with cancer to go to camp for a week.
It's all part of Epic's "Capes for Camp" initiative with Kosair Charities to help send kids to Camp Quality Kentuckiana where children who have, or are in remission of, cancer can "come together to just be kids."
This is the fourth year Epic Insurance Solutions is helping support the initiative through its community service program, EpiCares.
Each child who is cleared to attend the camp receives a cape at the kickoff event. "They love it,"  Thompson said. "It's like their badge of honor."
This year's event is June 25. Events include a DJ, photo booth and other fun activities.
For one week each year, Epic Man goes out into the community and visits businesses, clients and people the firm knows to seek donations. Last year's fundraising goal was $25,000; it's $40,000 this year. In the past three years, Epic has helped send more than 300 kids to camp.
To support Capes for Kids, contact Charity Cissell, Epic operations manager at ccissell@ epicinsurancesolutions.com or 502-805-3742.
Thompson wishes he could take the credit for coming up Capes for Camp. But the idea grew from the camp's superhero theme one year. "It took on a life of its own," he said.  Now, it's even incorporated in Epic's website.
Kosair Charities has recognized Epic Insurance Solutions with its "Corporate Kite Award" for the company's partnership to "protect the health and well-being of children in Kentucky and Southern Indiana."
In addition to Capes for Camp, Epic employees have also chosen to contribute their time and financial support to more than 25 nonprofits since the company was founded in 2013.
The organization is so dedicated to supporting the community that it formed an EpiCares committee that meets monthly to decide which organizations to upport. These organizations include the American Heart Association, the American Red Cross, the Boys and Girls Club, the Fund for the Arts and Metro United Way, for example.
"We feel strongly about giving back to the community and being involved in as many ways as we can," Thompson said.
Every two weeks during staff meetings, the company also conducts "payday talks" where leaders invite nonprofit organizations who "line up with Epic's core values" to let employees know about opportunities at their organization.
"There's no pressure for them to be involved," Thompson said. "We just want to make them aware."
For those employees who choose to participate in EpiCare's Capes for Camp, "It's a great 'feel good' for all of us to be involved and to be able to help these kids out," Thompson said.