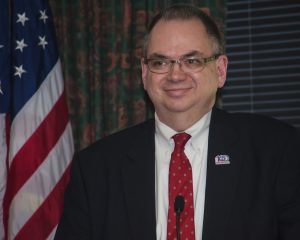 Over three decades in Louisville's emergency rooms, Robert Couch, M.D., has seen the scourge of drug abuse run the gamut from heroin to powder cocaine to PCP to meth and back to heroin again. The death rate through those changing drugs of choice remained fairly consistent. Until now.
"We're seeing so many more deaths," he said, in part because of the availability of cheap drugs that are "very plentiful."
Couch has been on the front lines in the battle against heroin addiction in Kentucky and that has brought a lot of attention to his recent experiences. Over the course of 32 hours in February, for instance, Louisville emergency services responded to 52 overdose calls. Couch was interviewed by national and local news outlets to discuss his experiences treating many of those patients.
His contributions in addressing the region's heroin epidemic garnered recognition by Business First as a "Lifetime Hero" when the publication recognized its 2017 Health Care Heroes. And his expertise dealing with the crisis is in demand for lawmakers across the country striving to address the issue. He spoke last month in Denver, and was scheduled to speak again this month in Indianapolis, to a group of legislators about the problem.
"It really is a public health crisis," Dr. Couch said of the nationwide opioid epidemic. "It's going to take everyone doing what they can to solve this problem."
Dr. Couch has been an important part in addressing the life and death issues of the problem since his early days in medicine. In fact, he touted his interest—and experience—in emergency care when he was applying to medical school. He knew that he'd like to be a part of the nascent specialty of emergency medicine, so in an effort to stand out among other medical school applicants, he and a buddy at the University of Alabama decided to become paramedics.
"We thought that would be a pretty neat way of distinguishing ourselves because no one else had done it," Dr. Couch said. He explained that in the early 1970s, the federal government was providing funds for states to develop EMS services, and the West Alabama EMS—which served Tuscaloosa—worked to develop a rather robust emergency medical service.
Besides the invaluable experience Dr. Couch gained working as a paramedic, he also was able to get college credit for the classes. He enjoyed the work so much that he continued to moonlight through college and in the breaks between the first and second years of medical school at the University of Alabama-Birmingham.
Those early years dealing with emergency medical situations lay the groundwork for Dr. Couch's continuing career as an emergency physician in Louisville.  Louisville was a good place for Dr. Couch to land—the University of Louisville has the second oldest emergency medicine department, according to a history of the program on the UofL website. Plus, Dr. Couch said, when he was ready to match for residency in 1983, UofL had what he wanted in a residency.
As he was nearing the close of his residency program, St. Mary & Elizabeth Hospital asked the Department of Emergency Medicine at UofL to run the emergency department for the hospital. As chief resident, Dr. Couch was tasked with putting together a group of residents to address that need. So with a few months left in his residency, Dr. Couch founded Southern Emergency Medical Specialists, PSC, and began staffing St. Mary & Elizabeth Hospital with his team.
In fact, the independent emergency department group of physicians, nurse practitioners and physician assistants now serves Norton Audubon, Norton Downtown and Norton Brownsboro hospitals. Dr. Couch is the Emergency Department Medical Director at Norton Audubon Hospital.
At age 60, Dr. Couch still enjoys the variety of cases that come through the emergency room doors as he did 32 years ago. A lot has changed over that time, but some things are still the same.
"Emergency medicine physicians are pretty special," he said. "We have to make decisions with very limited information. You're seeing people on one of the worst days of their life; to be able to do it well is satisfying."
Dr. Couch is a native of Tuscumbia, Ala., the birthplace of Helen Keller. He had planned to attend Auburn University with many of his high school friends, but a teacher arranged for him—a merit scholar—to get an alumni scholarship at the University of Alabama.
Dr. Couch and his wife, Wilma, have two daughters—Mary Claire and Julia.
Dr. Couch is in the third year of a three-year leadership commitment at the Greater Louisville Medical Society—he served as president-elect in 2015, president in 2016 and is now chair of GLMS. He's also on the KMA Board of Trustees and serves as chair of the Kentucky Physicians Political Action Committee.
Outside organized medicine, Dr. Couch often reaches for the clouds—his longtime hobby, though not as active now, is hot air ballooning. His passion for helping people often finds him overseas with the Teach to Transform organization, founded by a partner, Thomas McKechnie, M.D.
"For a number of years, I would do mission trips where it was a clinical model," Dr. Couch said.
But he was always left to wonder about the people who couldn't get clinical care during that trip. Teach to Transform is a medical mission, but its goal is to train leaders in a community in medical skills. These trips teach basic medical care, wound care and neonatal resuscitation skills, for instance. The second year focuses on more advanced medical skills and the third year focuses on helping those community leaders train others.
The organization, he said, is starting to partner with other organizations around the country to provide needed training worldwide. "I think it has great promise," Dr. Couch said.