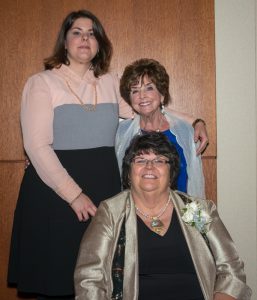 When Nancy Swikert, M.D., was considering themes for her year as KMA President, she settled on one that seems a natural fit for her philosophy, medical practice and life – the Family of Medicine. A member of the 2015 class of KMA Community Connectors, Dr. Swikert was installed as KMA President during the 2016 KMA Annual Meeting.
A native of Franklin, Ky., Dr. Swikert comes from a close-knit family – many of whom attended her installation as president of KMA and the KMA Alliance in September. She started her practice in family medicine with her husband, Don Swikert, M.D., and her children, Kevin and Montine, were often at the office.
Her belief in family extends to organized medicine. That's one reason she agreed to be President of the KMA Alliance in the same year as serving as KMA President. She also sees a strong familial connection with other parts of organized medicine in Kentucky – from local medical societies to the American Medical Association, and from the Kentucky Physicians Political Action Committee (KPPAC) to the Kentucky Foundation for Medical Care, of which she is a member of the board.
Family, of course, starts with one's roots.
Dr. Swikert's parents, Kenneth and Pauline Crawford, instilled a strong work ethic and an ambition for education. Both only completed eighth grade, Dr. Swikert said, but wanted their three children "to get out of that rut," so college was always in the cards for Dr. Swikert and her brothers, Rick Crawford, who's a family physician in Evansville, Ind., and Randy Crawford, a pharmacist who now owns the family farm in Franklin.
While Dr. Swikert had planned on becoming a biology teacher, a college adviser sparked her interest in medicine. She took an aptitude test and passed it. When she broached the prospect of a career as a physician, her parents were supportive.
In the mid-1970s, Dr. Swikert, a student at Western Kentucky University, applied to medical school, a time when students had to supply some of the equipment they needed for science classes. "Dad had to sell a milk cow so he could buy a microscope," she said. They traveled from their Franklin home to Louisville to purchase it at Bausch and Lomb.
While she had the aptitude for medicine, women at that time needed something more, Dr. Swikert said. Her adviser told her she needed to stand out when applying to medical school. So she graduated college in three years. She also worked part time as a ward clerk in a Bowling Green hospital on the weekends. Those efforts paid off. She was accepted at the University of Louisville Medical School before her 21st birthday, and started classes in 1973.
Her medical school class had around 120 students, 30 percent of whom were women, which was a high percentage at that time, Dr. Swikert said. A member of that class was Don Swikert, her husband. The couple independently decided on a path to family medicine and matched as a couple at St. Elizabeth Hospital in northern Kentucky.
When they finished residency in 1980, the Swikerts opened an office together in Florence. The office wasn't exactly finished, and Dr. Nancy Swikert said they moonlighted at the hospital to pay off the investment.
In the early years of their careers, the Swikerts realized the importance of organized medicine. Dr. Don Swikert was more involved at that time, but the couple soon started taking their young children to the meetings of KMA and AMA.
"We thought organized medicine was so important, we paid for it out of our pocket," she said. "We have learned and gained much more than we've ever spent."
Organized medicine, she said, provides "a glimpse into the future. Things start in California and work their way across the country."
Getting an early exposure to coming change, she said, allowed them to "tailor it to our practice so we could be ready for it … Organized medicine for us was looking into a crystal ball to see what's coming."
But it also has given the couple the opportunity to meet people and develop lifelong friendships, which helps when dealing with all the changes that have come along in health care.
"You find out you're not the only one fighting these battles," she said.
Dr. Swikert said she and her husband believe strongly that people should give back. Dr. Don Swikert served as KMA President in 2002-03. The Swikerts are the first couple to have both served as president of a state medical association.
Dr. Nancy Swikert served as Speaker of the KMA House of Delegates for 10 years. She also has served as President of the Kentucky Academy of Family Physicians, the KMA Alliance and the Southern Medical Association Alliance, as well as Councilor of the Southern Medical Association; she has also served as a member of many national committees. She is a member of the 2015 class of KMA Community Connectors.
As she begins her year as KMA President, Dr. Swikert said the Kentucky Family of Medicine will play a large role in whether she achieves her goals.
"You don't think of yourself as a leader," she said. "You think of yourself as a part of the team."
She intends to use her positive attitude and belief in the Family of Medicine to engender success in both KMA and the KMA Alliance.
"It goes back to stepping up and doing your job … helping others to do more," she said.
She believes that's what a family is all about and illustrates the importance she places on family.
"All of my life, it's been all of my life," Dr. Swikert said of family.