KMA is sharing the first-person accounts of physicians from across the state as they prepare for, battle, and recover from the COVID-19 pandemic. These stories will also be published at kyma.org/covid19. If you are interested in submitting an account, please email Emily Schott, schott@kyma.org. 
KMA spoke to Casey Lewis, M.D., Pediatrics of Bullitt County, 2017 Graduate, Kentucky Physicians Leadership Institute, and 2018 Graduate, Community Connector Leadership Program.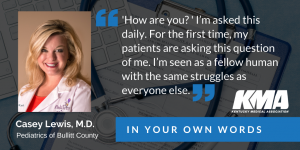 How are you?  I'm asked this daily.  For the first time, my patients are asking this question of me.  I'm seen as a fellow human with the same struggles as everyone else.  Patients and friends are aware that physicians are being affected in a way that's difficult to describe.  And they are asking how I am doing.  Most days, I say I'm doing fine.  Some of those days, I'm lying.
I have private pediatric practices in Shepherdsville and Mt. Washington.  Like many others, I educated myself about COVID-19, but didn't think we would actually need to implement the drastic measures being discussed.  I was wrong.  Within two weeks, Pediatrics of Bullitt County went from a booming office in the midst of the busiest respiratory and flu season we've ever seen, to a ghost town.  Suddenly, I'm comforting my employees and promising that we will not furlough them; I'm telling my partners that we won't be able to pay ourselves for quite some time; I'm spending every waking (and sleeping) hour scouring physician social media groups for information.  What does it look like?  How do you treat it?  How do I keep my patients and staff safe?  How will my practice survive?
And like everyone else, my personal life was turned upside down as well.  I have three young sons who suddenly needed homeschooling.  I had a husband who engineers hospitals for a living be called to hot spots to design potential emergency wards.  My grandfather died during the first week and I didn't feel like I could hug my Mom or grandmother to comfort them at the burial.  My friends and family were turning to me for advice.  Guidance.  A sense of hope.  Physicians are fixers.  And in the early stages of COVID-19, it felt like there was very little we could fix.  I grieved – for my family, my patients, my practice, and my community.
But from the ashes comes the Phoenix.  It took one week for my office to implement telemedicine.  It's a much-needed addition that we would have continued to put off naught for COVID-19.  We are taking advantage of our slower schedule to finetune templates and office procedures.  Patients appreciate our commitment to them during this uncertain time.  I'm no longer rushing from work to baseball, swim, soccer, and music lessons.  The evenings and weekends at home cooking dinner and spending quality time with my family is my favorite part of this pandemic.  It's the main piece I want to "keep."
New Normal is a cliché.  But it's the truth.  As we settle in to wearing uncomfortable masks, examining some patients in their cars, and providing healthcare virtually, it will begin to feel normal.  Masks at the grocery will feel normal.  Homemade chicken and dumplings on a Tuesday night will feel normal.  And eventually, all of my "I'm doing fines" will be the truth.