KMA is sharing the first-person accounts of physicians from across the state as they prepare for, battle, and recover from the COVID-19 pandemic. These stories will also be published at kyma.org/covid19. If you are interested in submitting an account, please email Emily Schott, schott@kyma.org. 
KMA spoke to James Borders, M.D., Chief Medical Officer, Baptist Health Lexington and 2017 Graduate, Kentucky Physicians Leadership Institute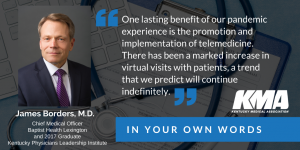 COVID-19 Response: Baptist Health Lexington
Baptist Health Lexington gathered expertise from many sources to make a response to the threat of COVID-19.  As with all other hospitals, we created areas designated for COVID-19 positive or at-risk patients awaiting test results, curtailed elective procedures, made every effort to conserve personal protective equipment, restricted visitation, and planned for a surge in cases.  Our ethics committee met locally and with the Baptist system to reach conclusions about how to manage if resources became scarce, particularly with regard to ventilator availability.
While we at Baptist Health Lexington experienced early mortality from COVID-19, we have had no deaths for nearly two months despite several on ventilators who survived to hospital discharge credited to close collaboration of our experts in infectious disease, pulmonary and critical care medicine, and hematology/oncology using a combination of recovered patients' plasma donation, treatment of the "cytokine storm" with IL-6 inhibition, and "late" corticosteroid therapy.
Now, as we attempt to follow the governor's executive orders, our focus is upon the seemingly more difficult process of ramping up services.  Surgeons meet and review procedures that were delayed to decide which cases should be operated on earlier.  Whenever a procedure requires endotracheal intubation or may produce a respiratory aerosol, circumstances known to greatly increase the risk of viral shedding, pre-procedural testing for COVID-19 is required to assure medical staff protection and to reduce the risk that the patient is not in the prodrome phase of COVID-19 clinical disease.  In order for the test to be useful, we are insisting that the test be performed within 72 hours of the scheduled procedure.  At the time of this writing, we have increased elective procedural volume to 50% of normal with plans to return to 100% by the end of the month.
One lasting benefit of our pandemic experience is the promotion and implementation of telemedicine.
There has been a marked increase in virtual visits with patients, a trend that we predict will continue indefinitely.  However, just as important is the promotion of the idea that it is safe to return to physicians' offices and the hospital for care.
KMA produced several public service announcements on telehealth and the reopening of healthcare services to help educate Kentucky patients. They are available for viewing and download here.