KMA is sharing the first-person accounts of physicians from across the state as they prepare for and battle the COVID-19 pandemic. These stories will also be published at kyma.org/covid19. If you are interested in submitting an account, please email Emily Schott, schott@kyma.org. 
KMA spoke to Charles Papp, M.D. regarding telehealth and his work advocating for solutions to some of its challenges, which were recently recognized by Congressman Andy Barr.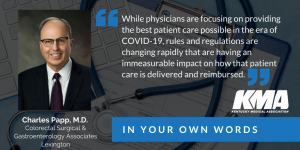 As a physician in private practice, I've dealt with COVID-19, both clinically and as a business owner.  Working in a hospital setting is harder, especially with the limitations on PPE.  In the meantime, I've tried to use telemedicine whenever possible in my practice and I wrote about that recently in the Lexington Medical Society newsletter.  Up to now its use in the hospital has been limited. New government regulations and recommendations have made it clear that telemedicine's use should be maximized. Unfortunately telemedicine visits in the hospital setting had significant billing difficulties.   When these difficulties were pointed out to our local Congressman, Andy Barr, he agreed and worked to make changes that corrected this problem.  The Department for Health & Human Services adopted these changes, thanks to his efforts.  (See Barr's press release and more information about the change).
This is just one example of advocacy and I'm sure there are others.  It is important to remember that our advocacy never stops and government leaders listen to physicians.  While physicians are focusing on providing the best patient care possible in the era of COVID-19, rules and regulations are changing rapidly that are having an immeasurable impact on how that patient care is delivered and reimbursed. And the value and necessity of robust advocacy has never been more clearly demonstrated than during this current crisis. Whether it be the public, policymakers, or patients, each have turned to us for our clinical advice and counsel. We remain their trusted source for information and expertise. We should embrace that role and use our influence to effect positive change for patients, physicians, and the entire health care system.
But to advocate, we must build relationships with our government officials.  I have had the opportunity to meet with my state and federal legislators by participating in the KMA Physicians' Day at the Capitol and the AMA National Advocacy Conference. I have enjoyed these visits immensely and have considered it both a privilege and an obligation to do my part by advocating on behalf of my profession and my patients.  And I fostered those relationships in many ways, including with Congressman Barr and other local leaders.  I would encourage you to do the same.
As the dust settles and we look back on lessons learned, one lesson I hope we remember is that as physicians, we have a voice. It is a loud voice that can reverberate across society – if only we choose to use it.