As reported in earlier Member News Alerts, Wednesday, May 6 marked the beginning of Phase II of the reopening of healthcare services. Gov. Beshear recently signed a new Executive Order detailing the requirements for facilities to reopen in this phase. The new directive is available here.
In Your Own Words: Charles Papp, M.D.
KMA is sharing the first-person accounts of physicians from across the state as they prepare for and battle the COVID-19 pandemic. These stories will also be published at kyma.org/covid19. If you are interested in submitting an account, please email Emily Schott, schott@kyma.org. 
KMA spoke to Charles Papp, M.D. regarding telehealth and his work advocating for solutions to some of its challenges, which were recently recognized by Congressman Andy Barr.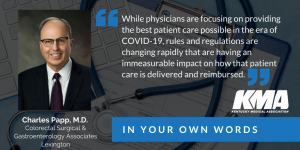 As a physician in private practice, I've dealt with COVID-19, both clinically and as a business owner.  Working in a hospital setting is harder, especially with the limitations on PPE.  In the meantime, I've tried to use telemedicine whenever possible in my practice and I wrote about that recently in the Lexington Medical Society newsletter.  Up to now its use in the hospital has been limited. New government regulations and recommendations have made it clear that telemedicine's use should be maximized. Unfortunately telemedicine visits in the hospital setting had significant billing difficulties.   When these difficulties were pointed out to our local Congressman, Andy Barr, he agreed and worked to make changes that corrected this problem.  The Department for Health & Human Services adopted these changes, thanks to his efforts.  (See Barr's press release and more information about the change).
This is just one example of advocacy and I'm sure there are others.  It is important to remember that our advocacy never stops and government leaders listen to physicians.  While physicians are focusing on providing the best patient care possible in the era of COVID-19, rules and regulations are changing rapidly that are having an immeasurable impact on how that patient care is delivered and reimbursed. And the value and necessity of robust advocacy has never been more clearly demonstrated than during this current crisis. Whether it be the public, policymakers, or patients, each have turned to us for our clinical advice and counsel. We remain their trusted source for information and expertise. We should embrace that role and use our influence to effect positive change for patients, physicians, and the entire health care system.
But to advocate, we must build relationships with our government officials.  I have had the opportunity to meet with my state and federal legislators by participating in the KMA Physicians' Day at the Capitol and the AMA National Advocacy Conference. I have enjoyed these visits immensely and have considered it both a privilege and an obligation to do my part by advocating on behalf of my profession and my patients.  And I fostered those relationships in many ways, including with Congressman Barr and other local leaders.  I would encourage you to do the same.
As the dust settles and we look back on lessons learned, one lesson I hope we remember is that as physicians, we have a voice. It is a loud voice that can reverberate across society – if only we choose to use it.
CMS Clarifies Telehealth Guidance
In response to the COVID-19 pandemic, the Centers for Medicare & Medicaid Services (CMS) has made temporary yet significant changes to health care regulations, including the rules pertaining to telehealth. These changes generate numerous questions from physicians regarding proper compliance and interpretation of the new rules. CMS attempts to address these questions by providing guidance through a resource called COVID-19 Frequently Asked Questions (FAQs) on Medicare Fee-for-Service (FFS) Billing.
Recently, due to physicians' inquiries, CMS sought to clarify its guidance regarding on-site visits via video or other telecommunication means by answering the following questions.
If the physician and the patient are located in the same facility, but not in the same room, and are communicating via telecommunication, then should such interaction be reported as a telehealth visit?
If the answer is yes, should physicians use the codes that describe the visit as an "in-person" communication?
CMS revised guidance now states that if the beneficiary and the physician furnishing the service are in the same institutional setting, such as a hospital or clinic, but are "utilizing telecommunications technology to furnish the service due to exposure risks, the practitioner would not need to report this service as telehealth and should instead report whatever code described the in-person service furnished." In addition to the revised CMS guidance, this information has been confirmed by a press release from a member of Kentucky's federal delegation.
CMS advises physicians to contact their Medicare Administrative Contractor with any questions.
HHS Extends Deadline for Attestation, Acceptance of Terms and Conditions for Provider Relief Fund Payments to 45 Days
The Department of Health and Human Services has extended the deadline for healthcare providers to attest to receipt of payments from the Provider Relief Fund and accept the Terms and Conditions. Providers will now have 45 days, increased from 30 days, from the date they receive a payment to attest and accept the Terms and Conditions or return the funds. As an example, the initial 30-day deadline for providers who received payment on April 10, 2020, is extended to May 24 from May 9, 2020. With the extension, not returning the payment within 45 days of receipt of payment will be viewed as acceptance of the Terms and Conditions.
The CARES Act and Paycheck Protection Program and Health Care Enhancement Act will provide $175 billion in relief funds to hospitals and other healthcare providers on the front lines of the coronavirus response. This funding will be used to support healthcare-related expenses or lost revenue attributable to COVID-19 and to ensure uninsured Americans can get treatment for COVID-19.
In allocating the funds, the Administration is working, among other things, to address both the economic harm across the entire healthcare system due to the stoppage of elective procedures, and addressing the economic impact on providers particularly impacted by COVID-19.
More information on the allocations is available at hhs.gov/providerrelief. Recipients of payments from any of these allocations must attest and accept the Terms and Conditions within 45 days.
HHS is distributing $50 billion across the healthcare system to providers and facilities that bill Medicare.
Recognizing the financial strain from COVID-19 inpatient admissions, HHS is distributing $12 billion to hospitals that reported at least 100 COVID-19 inpatient admissions through April 10 to HHS.
HHS is distributing $10 billion to rural hospitals and clinics.
HHS is distributing $400 million to tribal healthcare providers.
HHS is using a portion of the Provider Relief Fund to reimburse healthcare providers, at Medicare rates, for COVID-related treatment of the uninsured.
HHS is working to provide relief to additional healthcare providers including skilled nursing facilities, dentists, and other providers significantly impacted by COVID-19.