KMA is sharing the first-person accounts of physicians from across the state as they prepare for and battle the COVID-19 pandemic. These stories will also be published at kyma.org/covid19. If you are interested in submitting an account, please email Emily Schott, schott@kyma.org. 
KMA spoke to Wayne Tuckson, M.D., FASCRS, FACS, Colorectal Surgeon and KET host and producer of "Kentucky Health" and "Coronavirus: A Kentucky Update" and WHAS Radio host of "Centered on Health with Baptist Health"
What I Did During the Pandemic: Or, How I fought the Coronavirus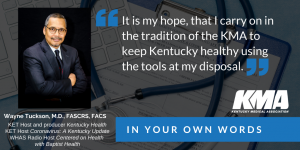 Unlike my colleagues, I am not on the front line risking career and life while treating COVID-19 patients. During this time, I have mostly been out of the game.
Rarely do I give credence to inspirational missives, but this one "in crisis lies opportunity" there is a ring of truth. Thanks to the willingness of my colleagues to be guests on Kentucky Health, I have been able to hone my broadcasting skills. Thanks to COVID-19, this "skill" placed me in a position for some new roles.
At the onset of COVID-19, KET saw the need for a show to summarize, inform, and enlighten the Commonwealth about all things related to the pandemic. After the special, Coronavirus: A KET Forum, which I hosted, the weekly show "Coronavirus: A Kentucky Update" was born. Since inception I have been the host and the KMA has been a major underwriter.
Coincident with the arrival of COVID-19, WHAS radio, in partnership with Baptist Health, started a weekly medical call in show entitled "Centered on Health with Baptist Health". I, along different physician guests from Baptist Health, host the show.
I am not on the front lines putting myself and my skills to the test as so many of my colleagues are doing. Rather, I am employing what "skill" that I have to educate and assuage the fear and confusion that surrounds all things related to COVID-19.
It is my hope, that I carry on in the tradition of the KMA to keep Kentucky healthy using the tools at my disposal. At the minimum, I can always look back and say that I was a doctor, playing a broadcaster, on TV and that I gave it my best shot.