Posted July 1, 2019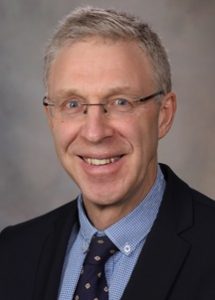 In the United States, colorectal cancer is the third leading cause of cancer-related deaths in men and in women, and the second most common cause of cancer deaths when men and women are combined, according to the American Cancer Society. It's expected to cause about 51,020 deaths during 2019.
But with increased screening and treatment, the number of deaths from colorectal cancer has been dropping for several decades.
Piet C. de Groen, M.D., Professor of Medicine, Division of Gastroenterology Hepatology and Nutrition at the University of Minnesota, uses artificial intelligence (AI) in colonoscopy screenings to derive metrics about endoscopist-related factors from video files obtained during colonoscopy.
He will talk about this method in his presentation, "Real Time Feedback During Colonoscopy," as the featured speaker at the Kentucky Society of Gastrointestinal Endoscopy (KSGE) Annual Meeting, Friday, Sept. 20 at 12:00 p.m. at the Louisville Marriott East, which takes places in conjunction with the Kentucky Medical Association Annual Meeting Sept. 20-22.
An international expert in medical informatics, primary liver cancers and colonoscopy, Dr. de Groen has created a a first-of-a-kind new software system that automatically captures and analyzes "inside-the-patient" video information of medical procedures performed via endoscopy, together with collaborators at Iowa State University and the University of North Texas.
Dr. de Groen is also an emeritus staff at Mayo Clinic College of Medicine and is the former Program Director of the Mayo Clinic/IBM Computational Biology Collaboration.
"We think that effective methods to ensure an excellent quality colonoscopy will significantly decrease missed lesions and expect that insights gained from software tools we have developed will be able to derive metrics about endoscopist-related factors from video files obtained during colonoscopy, which will ultimately lead to improved detection and prevention of colorectal cancer," Dr. de Groen said.
According to the World Journal of Gastrointestinal Endoscopy, AI has also been utilized to identify gastrointestinal bleeding, to detect areas of inflammation, and even to diagnose certain gastrointestinal infections.
For more information and to register, contact Thomas Abell, M.D. at Endoscopy@ksge.cc