Posted June 27, 2019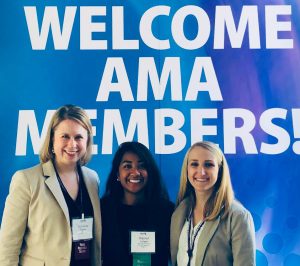 KMA's delegation to the American Medical Association (AMA) proudly represented the organization during the 2019 AMA Annual Meeting June 8-12 in Chicago. Delegates provided testimony on a variety of issues and voted on important policy to the body of medicine.
Alternate Delegate Shawn Jones, M.D., served on a reference committee focused on issues surrounding science and technology. University of Kentucky medical student Anita Shanker began her service as AMA Medical Student Section Alternate Delegate to the AMA House of Delegates. In addition to Shanker, several other students from the UK College of Medicine and University of Louisville School of Medicine were in attendance and participated in the Kentucky delegation caucus, which provided invaluable insight into the medical student's perspective on a variety of issues. KPLI graduate Suzanne McGee, M.D., of Louisville, represented Kentucky as the Young Physician Delegate. Senior delegate Greg Cooper, M.D., continued his work and service in the Southeast Delegation as Immediate Past Chair and KMA Board of Trustees Member John Roberts, M.D., represented the Academic Physicians Section.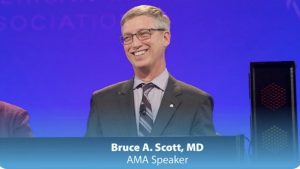 The highlight of the meeting was the election of KMA President Bruce Scott, M.D., as Speaker of the AMA House of Delegates. Dr. Scott successfully led the House as Vice Speaker and we look forward to his continued leadership and vision for the future as Speaker.