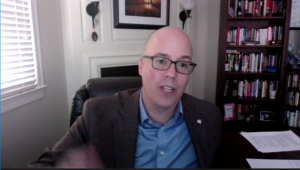 Graduates of the KMA and the KFMC's award-winning Kentucky Physicians Leadership Institute (KPLI) were invited to attend a candid, virtual conversation with Kentucky Public Health Commissioner Steve Stack, M.D. on April 19 as part of the program's "Beyond the KPLI" continuing education offerings.
Dr. Stack discussed "Leadership in the Spotlight," and the challenges he faced coming into a position that very quickly placed him center-stage during the pandemic. He also offered leadership advice to attendees, stressing the importance of mentors.
"Finding great mentors is key to becoming a great leader. You want to learn from who you want to be like. Developing and maintaining those relationships is so important," said Dr. Stack.
Opportunities for additional "Beyond the KPLI" sessions will be shared with alumni. For more information about the KPLI program, visit kyfmc.org/leadership.