Event Covered by Every Television Station in Kentucky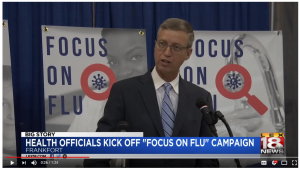 On Tuesday, Sept. 18, KMA, the Kentucky Foundation for Medical Care (KFMC) and the Foundation for a Healthy Kentucky launched a joint public education campaign aimed at mitigating the effects of another deadly influenza outbreak.
The press conference announcing "Focus on Flu" in the State Capitol Rotunda was attended by dozens of health officials from across the state. KMA President Bruce Scott, M.D. and KMA President-Elect Brent Wright, M.D. introduced the campaign's three simple messages– get your shot, consult your doc, and stop the spread—and announced the statewide 'flu shot day' on Sept. 26. Ben Chandler, President and CEO of the Foundation for a Healthy Kentucky, discussed the group's interest in teaming up with Kentucky physicians to make an impact on flu vaccination and prevention. Allison Adams, President of the Kentucky Health Departments Association, also spoke on behalf of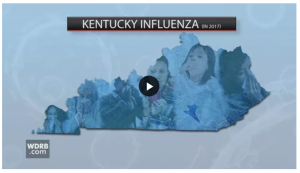 public health departments and expressed their support for the campaign.
Dr. Scott, Dr. Wright, Adams and Chandler were then joined by Kentucky Department for Public Health Commissioner Dr. Jeffrey Howard, Cabinet for Health and Family Services Secretary Adam Meier, and Personnel Cabinet Secretary Thomas Stephens, and received their flu shots during the event, compliments of Premise Health. Custom Focus on Flu band aids were used by those receiving their shots, who then shared the photos on social media with the hashtags #GotMyShot and #FocusOnFlu. Within minutes of the event, Governor Matt Bevin, tweeted photos praising Secs. Meier and Stephens for receiving their shots.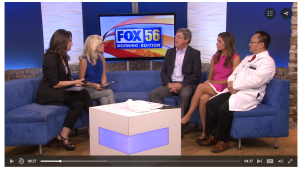 Dozens of media outlets covered the event. LEX18, the NBC affiliate in Lexington, offered a live feed of the entire event to viewers online, and designated it as their "Big Story" at noon. The event spurred several stations to produce field reports in which individual physicians and health department officials from across the state gave flu updates and reinforced the campaign's messaging. By the end of the day on Tuesday, every television station in the state had produced a segment on "Focus on Flu," and the majority produced segments for midday, evening, and late-night broadcasts.
On Wednesday, Sept. 19, KMA Communications Director Emily Schott and Lexington Medical Society President Tuyen Tran, M.D. appeared with Chandler for "Fox Morning Edition" in Lexington, where anchors Andrea Walker and Miranda Combs, along with weatherman Jim Caldwell, received their flu vaccines as part of the segment.
While the media attention surrounding the Focus on Flu launch has been extensive, more events are planned. On 'Flu Shot Day'—Sept. 26—Dr. Scott will appear along with Chandler for WDRB's "Fox in the Morning" broadcast to discuss the campaign and administer a flu vaccine to host Candyce Clifft. KMA will also partner with Passport Health Plan to promote Focus on Flu during Louisville's "Waterfront Wednesday" event from 6-9 p.m. on Sept. 26.
A full listing of Focus on Flu's extensive media coverage is available here. A full video of the press event is also available. More information and updates on Focus on Flu is available at kyma.org/flu.