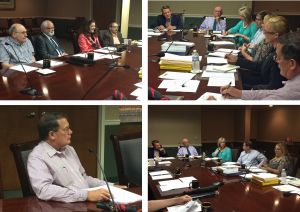 Have you ever considered how KMA's Continuing Medical Education (CME) activities are planned an executed?  Have you wondered who monitors hospitals and other organizations for compliance in accrediting local continuing medical education?
KMA's CME Committee and Council have.
Members of the KMA CME Committee and Council, chaired by John L. Roberts, MD, and James Borders, MD, respectively, recently met to review and approve KMA CME offerings and provider accreditation decisions.
The CME Committee is responsible for monitoring and making accreditation decisions for over 20 CME providers in the state. Members review recommendations made by KMA member volunteer survey teams and work with CME providers to create and maintain robust CME programs.
The CME Council is responsible for reviewing and aiding in the development and implementation of KMA's accredited CME offerings.
At the most recent meeting, the Council discussed the speakers for the KMA Annual Meeting, which include Tony Buettner of the Blue Zones Group, who will share information on areas where people are living longer, healthier lives, and students from Middlesboro Elementary, who will speak about advocating for a local smoking ban.
"Several of our KMA accredited programs are strategically positioned to impact population health in their communities," said Dr. Roberts. "First, these sponsoring institutions have access to the health statistics of their community or region. Second, they have the reach and resources to impact change. Finally, they have the wisdom to entrain their staff physicians, through CME, to be champions for change."
In addition to assuring that KMA accredited programs achieve ongoing accreditation, Dr. Roberts said, the CME Committee also educates sponsoring organizations about "the value of using CME to align the knowledge, skills and behavior of physicians with their organization's quality and safety goals.
"It is time for leaders of health care organizations to view Continuing Medical Education (CME) differently," said Dr. Roberts. "Hospitals and health care systems invest money and personnel to support CME. Long regarded as a 'physician benefit,' today, CME should be seen as an opportunity to align the physician's practice of medicine to the organization's annual goals and quality and safety initiatives."