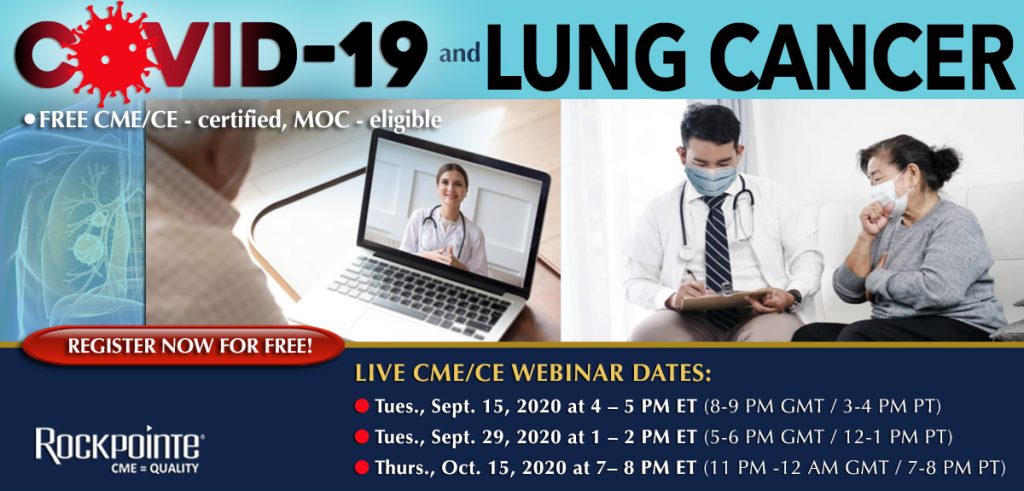 To assist clinicians in managing their patients with lung cancer during the current pandemic, Rockpointe, a leading continuing medical education provider, has collaborated with MEDCHI, the Maryland State Medical Society, state medical societies, and global oncology associations, to offer the latest guidance and recommendations for patient care through three live CME/CE-certified, MOC-eligible webinars. This free CME activity is accredited by Boston University School of Medicine, the Maryland Nurses Association (MNA), and the Potomac Center for Medical Education (PCME), and is supported through an educational grant from Daiichi Sankyo.
A growing body of data from the COVID-19 pandemic confirms that patients with lung cancer face a greater risk of infection and complications from SARS-CoV-2.  A recent study in the Annuls of Oncology showed a high burden of severity in patients with lung cancer, including 11% mortality.  Management of these patients includes an emphasis on telemedicine over in-person visits where possible, demanding special attention because some symptoms of COVID-19 infection are similar to common adverse events associated with lung cancer treatment.
Many patients with lung cancer do not have the option of delaying visits, therapies, and/or procedures. For clinicians who treat these patients, knowing how COVID-19 alters physiology is crucial to providing care that will ameliorate infection symptoms while not exacerbating lung cancer symptoms. Further, clinicians must be aware of factors that increase these patients' risk for COVID-19 infection, including decreased immunity due to pharmacotherapy and abnormal anatomy and cellular structure after surgery and/or radiation therapy.
Lung Cancer and COVID-19 in the Outpatient Setting: What Clinicians Need to Know will provide participants with the most up-to-date guidance, including information about the pathophysiology of SARS-CoV-2, factors that raise the risk of infection in patients with lung cancer, and strategies to manage patient care and counsel through telemedicine.
The webinars are spaced out over time for global participation and the dates include:
Tuesday, September 15, 2020 
4:00 – 5:00 PM ET (8:00 – 9:00 PM GMT / 3:00 – 4:00 PM CT / 1:00 – 2:00 PM PT)
Tuesday, September 29, 2020
1:00 – 2:00 PM ET (5:00 – 6:00 PM GMT / 12:00 Noon – 1:00 PM CT / 10:00 – 11:00 AM PT)
Thursday, October 15, 2020
7:00 – 8:00 PM ET (11:00 PM – 12:00 AM GMT / 6:00 – 7:00 PM CT / 4:00 – 5:00 PM PT)
"This series demonstrates the importance of education for clinicians treating lung cancer patients which are a very vulnerable population for COVID-19.   There is a tremendous need for clinicians to better understand how to treat and protect lung cancer patients with COVID-19.  This is only possible with the cooperation of many global organizations working together to see education in lung cancer on COVID-19 and the funding support from Daiichi Sankyo," Thomas Sullivan, President Rockpointe.
This hour-long educational initiative is intended for clinicians responsible for the daily management of patients with lung cancer. It is designed to address ACGME and NAM competencies, including delivering patient-centered care and practicing evidence-based medicine; and to address ACPE competencies, including foundational knowledge and essentials for practice and care. At the program's conclusion, participants should be able to:
Discuss the most current understanding of the pathophysiology of COVID-19.
Recognize and evaluate factors that increase risk of COVID infection among patients with lung cancer.
Integrate consensus recommendations for the safe and effective management of patients with lung cancer during the COVID-19 pandemic.
Provide counsel to patients with lung cancer regarding concerns or fears related to COVID-19.
This activity has been planned and implemented in accordance with the accreditation requirements and policies of the Accreditation Council for Continuing Medical Education (ACCME) through the joint providership of Boston University School of Medicine and Rockpointe. Boston University School of Medicine is accredited by the ACCME to provide continuing medical education for physicians.  Boston University School of Medicine designates this live activity for a maximum of 1.0 AMA PRA Category 1 Credit™.
Successful completion of this CME activity, which includes participation in the evaluation component, enables participants to earn up to 1.0 Medical Knowledge MOC point in the American Board of Internal Medicine's (ABIM) Maintenance of Certification (MOC) program. Participants will earn MOC points equivalent to the amount of CME credits claimed for the activity.
PCME is accredited by the Accreditation Council for Pharmacy Education as a provider of continuing pharmacy education and designates this knowledge-based activity for a maximum of 1.0 contact hour (0.10 CEU) of continuing education credit.
This activity has been submitted to the Maryland Nurses Association for approval to award contact hours. The Maryland Nurses Association is accredited as an approver of nursing continuing professional development by the American Nurses Credentialing Center's Commission on Accreditation.
There is no fee for this activity, which is supported by an educational grant from Daiichi Sankyo. To receive credit, participants must register, view the live CME/CE activity in its entirety, and then complete the post-test, with a score of 75% or better, and evaluation. The estimated time for completion of this activity is one hour. To receive a certificate, participants must demonstrate mastery of the presented material via the post-test. Participants are allowed to take the post-test multiple times.
Through effective continuing medical education, Rockpointe strives to improve and advance the quality of patient care. Its educational programs have been at the forefront of new issues in healthcare, such as managing challenges posed by COVID-19, addressing racial disparities in care, and combating the nation's opioid crisis. As part of its commitment to quality, Rockpointe works to inform the continuing-education community of significant quality-improvement issues through news and analysis on Policy and Medicine. In addition, its popular Medical Education Exchange (MEDX) CME regional meetings include sessions on the basics of quality improvement and alternative payment models, as well as relevant and scientifically accurate sessions on numerous disease states. All sessions include links back to associated National Quality Priorities to reinforce the bigger picture and the triple aim of: 1) improving health and 2) lowering cost to 3) better the patient experience. At Rockpointe, education equals quality.
For session times, and to register for Lung Cancer and COVID-19 in the Outpatient Setting, go to https://www.pathlms.com/rockpointe/courses/21511 or click here.