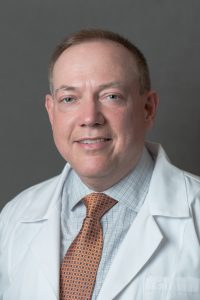 The 2020 KMA Virtual Annual Meeting concluded this weekend with the installation of its 170th President, Dale Toney, M.D., of Lexington.
A lifelong Kentuckian, Dr. Toney is a board-certified internist in Lexington. He is employed by the University of Kentucky Albert B. Chandler Hospital, is an Associate Professor at the University of Kentucky College of Medicine, and is the Interim Division Chief of General Internal Medicine and Women's Health. He previously served as Vice President of the KMA, served as an Alternate Trustee from 2008-2013 and as Trustee from 2013-2018 on the KMA Board of Trustees. He served as Vice Chair in 2015 and as Chair from 2016 – 2018. Dr. Toney was President of the Lexington Medical Society (LMS) in 2004 and Vice President in 2001. He was also a member of the Kentucky Board of Medical Licensure from 2016 – 2019 and served as Chair of Panel A and Vice President in 2019. Dr. Toney has practiced medicine for 30 years.
In his virtual inaugural address, available here, Dr. Toney discussed his goals for the year, including the promotion of the KMA and KFMC's "Be Well. Stay Well." campaign, which encourages Kentuckians to take simple steps to protect and improve their health. The campaign began earlier this month with the launch of the "Raise Your Guard, KY" initiative, which is a partnership with the Foundation for a Healthy Kentucky and Anthem Blue Cross and Blue Shield in Kentucky.
"Throughout the year we will identify important issues and subsequent ways to improve the physical and mental health of Kentuckians and Kentucky physicians and then we will also spend time convincing the public and physicians to heed the advice," said Dr. Toney.
KMA members also elected three other officers during the 2020 meeting. Neal Moser, M.D., of Crestview Hills was elected President-Elect, Michael Kuduk, M.D., of Winchester was elected Vice President, and Jiapeng Huang, M.D. of Louisville was elected Secretary-Treasurer.
A full list of the results of the 2020 KMA House of Delegates is available here.
KMA Wraps Successful Virtual Annual Meeting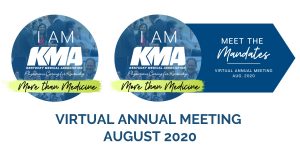 The 2020 KMA Virtual Annual Meeting culminated over the weekend with the presentation of its popular "Meet the Mandates" educational sessions, which allows physicians to receive all of their mandated CME prior to the end of the three-year cycle.
More than 350 physicians from across the state gathered virtually from Friday, Aug. 28 through Sunday, Aug. 30 to hear from speakers on Domestic Violence Education, Pediatric Abusive Head Trauma and Clinical Considerations of Substance Abuse and Critical Components of Proper Prescribing. Meet the Mandates was presented in partnership with the Kentucky Board of Medical Licensure, and the House Bill 1 sessions were made possible in part by a grant from the Federation of State Medical Boards (FSMB) Foundation.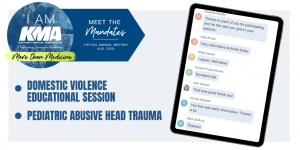 Meet the Mandates followed a series of four live town hall style events on the COVID-19 pandemic. The popular sessions resonated with physicians and were held throughout the month of August. Topics included "Clinical Considerations of COVID-19," "Telemedicine-Today and Tomorrow," "Leadership in Times of Crisis," and "The Future of Medicine for the Emerging Physician."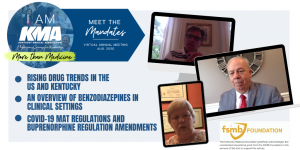 Feedback from all sessions was overwhelmingly positive, and allowed KMA members to connect with one another and learn while remaining in their home communities to stay safe and serve their patients.
Attendee Khalil Rahman, M.D. said, "Thanks for the wonderful advice from the leadership group to make changes, starting Monday."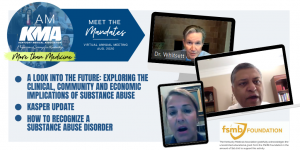 "Good teams have good players. Great teams have great teammates. At KMA we have great teammates. Thank you for making this presentation another exceptional learning experience," said attendee William Thornbury, M.D.
More than 800 physicians in total registered for at least one portion of the Annual Meeting.
FDA Broadens Emergency Use Authorization for Veklury (Remdesivir) to Include All Hospitalized Patients for Treatment of COVID-19
On Aug. 28, the U.S. Food and Drug Administration (FDA) broadened the scope of the existing emergency use authorization (EUA) for the drug Veklury (Remdesivir) to include treatment of all hospitalized adult and pediatric patients with suspected or laboratory-confirmed COVID-19, irrespective of their severity of disease.
In May 2020, the FDA issued an EUA that authorized Veklury for the treatment of hospitalized adult and pediatric patients with severe COVID-19. As noted in the initial issuance of the EUA, the emergency use of Veklury was limited to those patients with severe disease, which was defined as patients with low blood oxygen levels or needing oxygen therapy or more intensive breathing support such as a mechanical ventilator.
On Friday, based on the Agency's ongoing review of the EUA, including its review of the totality of scientific information now available, the FDA has determined that it is reasonable to believe Veklury may be effective for the treatment of suspected or laboratory-confirmed COVID-19 in all hospitalized adult and pediatric patients. The Agency's review has also concluded that the known and potential benefits of Veklury outweigh the known and potential risks for these uses.
"The FDA continues to make safe and potentially helpful treatments for COVID-19 available as quickly as possible in order to help patients. The data to support today's action are encouraging. The data show that this treatment has the potential to help even more hospitalized patients who are suffering from the effects of this devastating virus," said FDA Commissioner Stephen M. Hahn, M.D. "We are working with drug developers to conduct randomized clinical trials to further study the safety and effectiveness of a number of potential therapies for COVID-19."
More information and the full release from the FDA is available here.