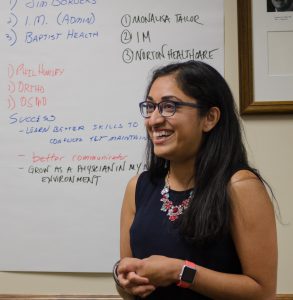 Monalisa Tailor, M.D., had an on again, off again interest in medicine growing up.
Dr. Tailor, an internal medicine physician at Norton Community Medical Associates: Barret, had targeted a career in cardiology when she was a high school student in Bowling Green.
Then her beloved grandmother, Dhanu Tailor, began experiencing cardiac problems. "I didn't know much about medicine at the time," she said, adding she questioned whether it was wise to put her grandmother through some of the prescribed treatments. "It made me question whether I wanted to do medicine at all."
So she opted out of medicine as she was a student at the University of Kentucky. A self-described politico, she instead focused on political science, with biology mixed into her major studies.
When she began to help care for her grandfather, Nat Tailor, she found her heart still pulled her to the medical field. While she was also accepted at the UK Medical School, Dr. Tailor decided another change was in the Cards—she decided to attend the University of Louisville School of Medicine intent on specializing in pediatrics. When she found herself catching many of the ailments from her young patients, she made the move to internal medicine.
"You get that puzzle … you have to be Sherlock Holmes to figure out what is going on with the patient," she said. "And you care for the whole patient."
Dr. Tailor became involved with KMA in 2006, her first year of medical school. She now serves as Kentucky's delegate to the American Medical Association's Young Physicians Section. She's a member of the 2016 class of KMA Community Connectors. As a political science major in college, Dr. Tailor said it just makes sense for physicians to be involved in organized medicine, particularly dealing with legislation affecting medicine at both the state and federal level.
She said her AMA involvement has helped her use her voice to speak out on issues such as health care reform and recognition of health issues, such as the recent AMA action recognizing obesity as a disease. She said such actions help physicians "see the other side of a patient" which can "help with the empathetic side of a physician."
That's important to Dr. Tailor. She tells of a patient in his mid-20s who came in with MSSA endocarditis as a result of heroin addiction. She took the time to get to know him because "he was really, really motivated" to get his life on track. He's a father, she said, and really wants to be around for his daughter. Had she not taken the time to get to know him, "he would just be a substance abuser."
It's been good, she said, to see the patient get on track. She knows it doesn't happen overnight and sometimes it takes constant encouragement to help patients, whether it's controlling drug addiction, quitting smoking or losing weight.
"Hopefully, something you've done or something you have said helps motivate them to make a change," she said.
Dr. Tailor is in the first cohort of KMA's Kentucky Physicians Leadership Institute, offered in conjunction with Butler University. She serves as treasurer for the Kentucky Physicians Political Action Committee, or KPPAC, and as secretary for the Greater Louisville Medical Society. She also is a member of the 2016 class of the KMA Community Connector Leadership Program.
Leadership isn't new to her. She was chief resident at UofL and was a member of the 2016 class of Ignite Louisville through the Leadership Louisville Center, a leadership program for young professionals. Leadership roles are important for physicians, Dr. Tailor said.
"Patients think of that Norman Rockwell image of patients looking to doctors for answers," she said. "Even with the changing times, and the internet researching, patients still look to physicians to be a leader and to have the answers. Having those kinds of leadership skills are important for the work environment as well."
Dr. Tailor's parents, Mohan and Indu Tailor, owned and run a motel in Bowling Green. She started helping out at the front desk when she was a kid in elementary school and sometimes still helps out when she goes home for a visit.
Her hobbies include arts and crafts; she's an avid reader and likes board games. One of her favorite games now is Pandemic, in which players have to diagnose and eradicate a disease.
That on again, off again interest in medicine is now permanently on … and extends to what she finds entertaining.