President's Message
Nancy C. Swikert, M.D.
We talked about being a leader in the June KMA Kentucky Health eNews. Leadership can begin at any stage of your life.  You don't have to wait until you are old to do good for the community around you.  Lets look at one of the recent KMA graduates of the Medical School Outreach Leadership (MSOL) program.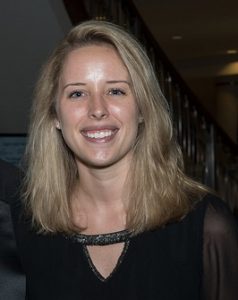 Mel Ruberg is a fourth year medical student at University of Louisville School of Medicine.  She found an opportunity a few years ago with medical students visualizing a dream to change healthcare starting with inner transformation. This dream grew out to be a movement of conscious health care workers that are spread across the globe. This year, the movement has led to the beautiful state of Kentucky for the first-ever Humans of Health Leadership Conference held outside of Europe.
This Healthcare Leadership School (HLS) is a weeklong event where medical students, young doctors and social entrepreneurs are offered a platform for personal development. Participants from all over the world come together, share their stories, passion and dreams, and attend interactive peer-education sessions where they learn how to create sustainable change. The summer school offers them tools and inspiration to be proactive, conscious and compassionate health care workers.
The objectives of the HLS are as follows:
To make participants aware of their own identity and potential as an individual and as part of this generation of young leaders
To make participants aware of their future role as key figures in their societies
To broaden participants' perspective on the mind-body connection and its role in medicine
To teach participants about compassion in the health care environment
To give medical students skills in change management, productivity and synergy
To expose medical students to the scale of different health care change organizations and models
To create a community of medical students sharing a vision on health care
The first Healthcare Leadership School took place in 2012 in Austerlitz, The Netherlands. There were 64 participants, 20 trainers, speakers and volunteers from a public invitation.  Hundreds of students were mobilized and had the great honor of welcoming Dr. Patch Adams to the first school.  Dr. Adams was a doctor who truly walked his talk and served as an example of a different kind of practicing physician. The HLS was held again in the Netherlands in 2013. The 2014 HSL was delayed until March 2015 in South Africa and the 2015 HSL was held in October in Portugal.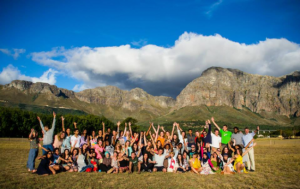 Mel became involved with HLS as a fortunate accident. A friend of a friend told her about this great opportunity to go to Portugal. Little did she know that it would flip her medical career on its head. In 2015, Mel, and another medical student from the University of Louisville's School of Medicine, journeyed to HLS Portugal to experience HLS firsthand. During the weeklong retreat, Mel replaced her frustration with the current system with a motivation to change it, and the belief that it can actually be changed.
The two medical students became inspired and determined to make it possible for their peers and a broader cross-section of the "health care team of the future" to benefit from the personal and professional growth and global network of support they realized during their HLS experience.  These two medical student leaders committed countless hours in the creation of the curriculum for HLS 2016, which was delayed until June 2017.
The growth of HLS coincided with the flourishing of Compassionate Louisville's Healthcare Constellation. The Constellation's work was heavily influenced by the wisdom of Dr. Robin Youngson, an international champion for compassion in health care and an enthusiastic supporter of HLS.
This year, that beloved Compassion Champion, Dr. Robin Youngson, was part of the faculty that catalyzed the growth of compassion among the participants when they gathered June 10-18, 2017, in Leitchfield, Ky. The 2017 HSL had 26 participants from eight  different countries.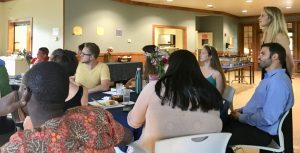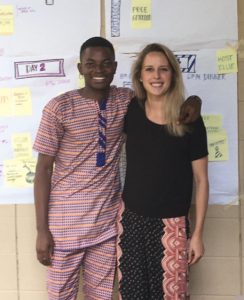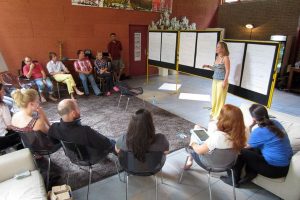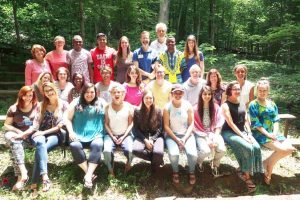 Two of the participants were medical students from Nigeria, Eddy and Courage. Eddy wants to return to Nigeria and become a trauma surgeon and help develop a network of EMS ambulances for his home community.  Courage wants to become an OB/GYN and young leader to advance the care of medicine. Courage has become a friend to me on Facebook.  He has asked me to be a mentor to him and help him with questions about the practice of medicine.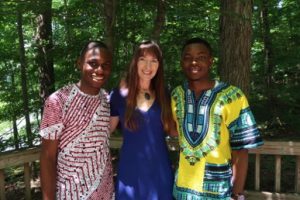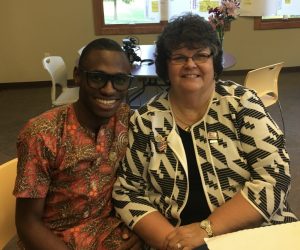 All in all, since that first Healthcare Leadership School, nearly 500 students and young professionals from more than 44 different countries have been a part of the Healthcare Leadership School community and now form a network of compassionate leaders poised to be the change they envision for the health of their own communities.
The founders of HLS are amazed by the ripple effect that emerged from a small but clear intention to catalyze change. It is clear that we are not alone in bringing health care to what it really is about: Using compassion as the driving force to elevate the care and healing of those we serve.
As Mel Ruberg says, "As health care professionals, we have been given such a unique gift to influence so many lives for the better."