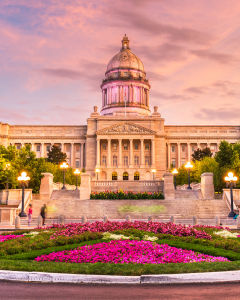 The following is a summary of Senate Bill 47, which passed the General Assembly this session and was signed into law. SB47 legalizes the use of cannabis for qualifying medical conditions. This summary is provided courtesy of Stites & Harbison, PLLC from the Stites & Harbison Client Alert, originally published April 3, 2023.
By Jennifer J. Cave
On March 31, 2023, Governor Andy Beshear signed Senate Bill 47 into law legalizing the use of medical cannabis in the Commonwealth. The bill establishes a structure to regulate the medical cannabis program, including dispensaries, cultivators, practitioners, processors and products, and a procedure for issuing identification cards to patients and caregivers. The bill establishes the authorization process for practitioners to recommend the use of medicinal cannabis and establishes the cannabis business license application process and requirements.
Under the law, a Qualified Patient with a Qualifying Medical Condition or their designated caregiver can legally possess up to a 30-day supply of medical cannabis, medical cannabis products, or raw plant material. Qualifying Medical Conditions include cancer; chronic, severe, intractable or debilitating pain; epilepsy; multiple sclerosis; chronic nausea; and post-traumatic stress disorder.
Physicians and advanced-practice registered nurses authorized to prescribe controlled substances in Kentucky must apply for an authorization from their state licensing board before providing written certifications to patients for the use of medical cannabis. In addition to being authorized, the medical cannabis practitioner must also establish a bona fide relationship with the patient, diagnose the patient (or confirm a diagnosis provided by another health care provider) with a medical condition for which the medical cannabis practitioner believes the patient may receive therapeutic or palliative benefit from the use of medical cannabis, and consult with the patient. Although the bona fide practitioner-patient relationship may be maintained by telehealth, the relationship cannot be established by telehealth. After a patient receives a written certification from their medical practitioner, the patient must apply to the Cabinet for Health and Family Services for a registry identification card. The Cabinet is required by the law to approve or deny registration card applications within 30 days.
In addition, the law requires medicinal cannabis cultivators, processors, producers, transporters, and dispensaries to secure a license from the Cabinet. While the law directs the Cabinet to create a uniform application form for cannabis business licenses, the application, at minimum, will require:
Submission of the proposed legal name of the cannabis business;
The proposed physical address of the cannabis business and GPS coordinates of any proposed cultivation activities;
The names, addresses, and dates of birth of each principal officer and board member of the cannabis business; and
A description of any instances in which a business or not-for-profit entity that any of the prospective board members managed or served on the board of was convicted, fined, censured, or had a registration or license suspended or revoked.
The Cabinet is required to approve or deny cannabis business licenses within 45 days of receipt of a completed application. Notably, a medical cannabis practitioner cannot serve as a principal officer or board member of a proposed cannabis business.
Licensed cannabis businesses are required to conduct criminal background checks on each principal officer, board member, agent, volunteer, or employee before that person can begin work and cannot employee any person convicted of a disqualifying felony offense or anyone under the age of 21. In addition, the cannabis business must implement security measures to deter and prevent the theft of medical cannabis or unauthorized entry into medical cannabis areas and demonstrate sufficient capital to establish its business. A cannabis business may not:
Be located within one thousand (1,000) feet of an existing elementary or secondary school or daycare center; and
Cannot acquire, possess, cultivate, process, transport, dispense, or sell raw plant materials with a delta-9 tetrahydrocannabinol content of more than 35 percent, medical cannabis products intended for oral consumption such as an edible, oil or tincture with more than 10 milligrams of delta-9 tetrahydrocannabinol per serving, any medical cannabis product with a delta-9 tetrahydrocannabinol content of more than 70 percent or any medical cannabis product that contains vitamin E acetate.
The law also contains specific requirements for medical cannabis cultivators, medical cannabis dispensaries, medical cannabis processors, medical cannabis producers, and safety compliance facilities.
The law directs the Cabinet to develop an electronic monitoring system to enable medical cannabis practitioners to issue written certifications to qualified patients, to verify the validity of registry cards by the government and dispensary agents, to allow law enforcement and dispensary agents access to medicinal cannabis sales data, and to track medicinal cannabis from the point of cultivation to the point of sale to cardholders. In addition, the law directs the Cabinet to promulgate administrative regulations establishing: (1) the procedures for the issuance, renewal, suspension, and revocation of registry cards; (2) the procedures for the issuance, renewal, suspension and revocation of cannabis business licenses; (3) a definition of the amount of medicinal cannabis or delta-9 tetrahydrocannabinol that constitutes a daily supply, a 10-day supply, and a 30-day supply of medicinal cannabis plus the amount of raw plant material that medicinal cannabis products are considered equivalent to; and (4) rules governing inventory control, security, employment, and training requirements for licensees and their agents, sampling and testing, packaging and labeling, worker health and safety, and advertising restrictions.
While the law does not take effect until January 1, 2025, the Governor's November 15, 2022, Executive Order remains in effect permitting Kentuckians who suffer from at least one of 21 medical conditions including cancer, multiple sclerosis, terminal illness, post-traumatic stress disorder, and muscular dystrophy the ability to obtain medical cannabis out of state.