By Melinda Ruberg, Fourth Year Medical Student, University of Louisville School of Medicine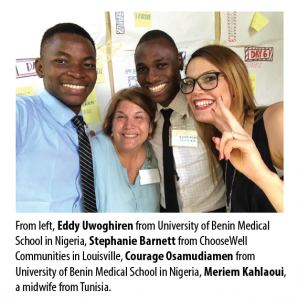 Diabetic patients of highly empathetic primary care physicians have 42 percent fewer hospital admissions for metabolic crises compared to patients of low empathy physicians, according to a 2012 article in "Academic Medicine: Journal of the Association of American Medical Colleges."
A randomized trial of compassionate care for homeless patients presenting to the ER resulted in a 30 percent reduction in repeat visits the following month; the study was shared in a 1995 report in The Lancet, a medical journal in Great Britain.
A 1964 student publishing in the New England Journal of Medicine found having a preoperative visit conducted in a supportive manner resulted in patients requesting 50 percent less opiates in their postoperative stay.
Simply put, more compassion equals better health care.
Despite this, at times I have found myself working in a system that has instructed me otherwise. In college, I was asked to rewrite my personal statement for medical school because I was showing too much attachment toward my patients. I was told that I was making myself appear weak. I was once told that we did not need to give pain medication before a chest tube insertion because "patients don't die of pain." I have felt myself afraid to hold the hand of a patient because it may seem unprofessional.
I had seen the research in action—a physician whose inviting nature encouraged his patients to show up for their diabetic check-ups, a resident who spent extra time with a patient, resulting in that patient seeking help for his drug addiction. I wanted to work in a system that not only witnessed this activity but encouraged it.
Four years ago, a Dutch physician shared the same frustrations I did. After unsuccessful attempts to reform care at a policy level, Hanaâ Benjeddi decided to change it from the bottom up—one person at a time. She created the Healthcare Leadership School as a personal journey toward changing health care.
At the leadership school, participants are asked to spend six days exploring three different pillars: Who Am I, Holistic Health, and Making a Change. They are asked to remember why they went into health care, to learn how deeply humans are connected, and how to create the kind of health care system they look forward to working in.
One month ago, Dr. Robin Youngson flew from New Zealand to present at the fifth Healthcare Leadership School in Leitchfield, Ky. Robin helped inspire 26 individuals representing 11 different health care professions, spanning five generations from seven different countries. After nearly two years of planning, I had the privilege to assist this group in becoming a compassion support group.
I stood in awe as they utilized their shared intellect and experience to help each other develop blueprints to make a change. I listened with chills to Eddy Uwoghiren describe his dream of creating the first ambulance system in Nigeria so that no one is left to die on the streets.
I am grateful every single day to be working in health care. I am grateful for the nurses, respiratory technicians, physicians, midwives, psychologists and even the insurance companies that help make our health care system function the way that it does.
But great things never came from comfort zones. I am most grateful to the 26 people who left their comfort zone to attend the first Healthcare Leadership School held in the United States, and to all of the local organizations that helped make it happen.
When Eddy sits in a Nigerian Emergency Room and welcomes his first ambulance, we can share in his success.