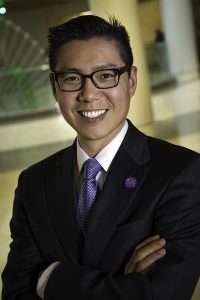 In 2015, more people died from a drug overdose than died in motor vehicle accidents, and many of those overdoses involved opioids.
As a trauma surgeon, Phillip Chang, M.D., chief medical officer at University of Kentucky HealthCare, deals with those issues every day.
"It's a wakeup call that we should all do something," said Dr. Chang. "The message is that it doesn't just lie in the hands of addiction specialists."
The UK trauma team has adopted a protocol to try to treat acute pain with non-narcotics first. The hospital has established an opioid stewardship committee to guide opioid prescribing practices for inpatient use.
Dr. Chang will talk about UK's experience with its opioid stewardship committee during the Leadership in Action session, "Take the Lead in Solving the Opioid Epidemic," Aug. 26 during the 2017 KMA Annual Meeting. The daylong event has been approved for 4.5 hours of CME credit mandated to fulfill requirements of House Bill 1. The three-year cycle for physicians to meet the requirements ends in December.
While the problem has grown to epidemic proportions in states like Kentucky, Dr. Chang many people are aware of the problem, but many aren't faced with the magnitude of the problem.
"The incredible scope of the problem, I think, the addiction specialists are keenly aware," he said. "I would say the everyday practicing surgeon knows it's a problem in the background."
Resolution of the problem, he said, will take everyone's help.
"We all need to do our part," said Dr. Chang. "There is something we can do about it."
That's one reason for the stewardship committee at UK. It's modeled after the antimicrobial stewardship committees that many hospitals have. Dr. Chang said it involves monitoring the prescribing patterns and educate physicians, nurses and pharmacists about the rules around prescribing. "The physician needs to educate the patients, but it's much more effective when all disciplines are saying the same thing."
While dealing with the current opioid epidemic is overwhelming in itself, Dr. Chang believes a key to stemming the epidemic is prevention. "That's really where we come in as inpatient hospital medicine," he said, "preventing the next patient who is going to be dependent on opioids."
He said it's important for physicians to be a part of the solution and do a better job at self-governing "before more restrictive legislation comes our way."
"We need to understand legislation, we need to help shape it," he said, "but we also need to self-govern."
While his presentation will focus primarily on inpatient prescribing, Dr. Chang said there are some parallels to outpatient prescribing.
"It's all linked," he said. "As a patient improves, we need to taper and get them off narcotics as soon as possible."
Other topics to be addressed at the meeting are prescribing trends and statistics in Kentucky, as well as an overview of KASPER; prescribing limitations and an overview of House Bill 333, which passed in 2017; and stories of medically assisted treatment as told in the KET documentary, "Inside the Opioid Epidemic."
After attending the presentations, attendees will be given a topic and a case study scenario to review. Groups will then discuss and formulate recommendations and share ideas for addressing these challenges.
Visit kyma.org/2017-kma-annual-meeting to learn more about the Annual Meeting and to register for this and other events.