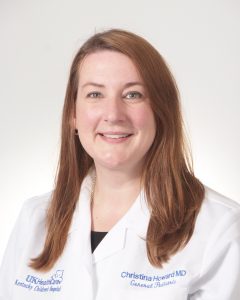 In 2007, Kentucky led the nation's death rate due to child maltreatment. In 2015, Kentucky was second in the nation for child abuse cases.
"There's been a study on children who've died of physical abuse and a lot of those children had been seen by some type of medical provider within two weeks of their death," said Christina Howard, M.D., FAAFP, a child abuse pediatrician and chief of the Division of Forensic Medicine at the University of Kentucky. "They had an injury that should have been recognized and could have potentially prevented their death."
Howard will discuss this issue at KMA's "Meet the Mandates" Aug. 25 at the Hyatt Regency in downtown Louisville. Meet the Mandates is funded by the Kentucky Foundation for Medical Care. Her presentation, "Understanding Abusive Head Trauma and Child Physical Abuse," aims to educate physicians on the signs of abuse and provide guidance on what they can do.
The former term, shaken baby syndrome, limited the meaning and scope of the abuse. In 2009, the preferred term became known as abusive head trauma.
"A lot of times, it's not just the child is shaken, we've also found a lot of evidence that there's impact—and it doesn't just happen in babies," she said. She's seen a 4-year old child with abusive head trauma.
Dr. Howard sees 30-40 deaths due to child maltreatment and another 30-60 near deaths each year.
She's concerned that the state's opioid epidemic will increase those numbers.
"We know this is a big risk factor for child maltreatment," she said. "The fatality and near fatality review panels that are conducted in Kentucky for these cases, a large number of them had substance abuse in the home."
Physicians can help play a role in reducing these numbers, she said. "We're here to help in these situations and understand what we're looking at."