Posted August 29, 2018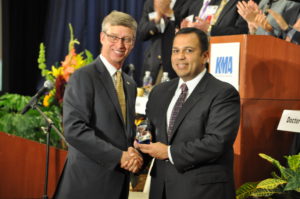 The Kentucky Medical Association presented its inaugural Advocacy Award to Sen. Ralph Alvarado, M.D. of Louisville during the House of Delegates at the 2018 KMA Annual Meeting on Aug. 26.
The award is presented to individuals who have effected positive change in the healthcare space through their advocacy efforts. Sen. Alvarado witnessed over the years how government impacted the practice of medicine, and he wanted to do something about it, deciding to run for political office. He was elected to the State Senate in 201, defeating the incumbent senate minority leader and becoming the first Hispanic member ever elected to the Kentucky General Assembly.
During his time in the Senate, Sen. Alvarado has since earned a reputation for working with both sides of the aisle. He serves on a number of legislative committees, and because of his diverse medical background, has focused heavily on public health, protecting the physician-patient relationship, and healthcare finance. He has sponsored numerous bills relating to these issues, including many KMA legislative priorities. In 2017 he co-sponsored Senate Bill 89, which requires insurance companies to cover smoking cessation programs, and in 2018 he sponsored Senate Bill 112, which includes provisions that requires, aside from some exceptions, health plans and Medicaid Managed Care Organizations to reimburse providers at the same rate for services delivered in-person or via telehealth.
"Sen. Alvarado will do what needs to be done for his profession, his patients, his local community, and his state," said KMA President Bruce Scott, M.D. "His work in such a short period of time has made a lasting impact on the entire Commonwealth."